Have your kids started school yet? My kids start in a few weeks and I have already starting thinking about some school lunch ideas to fill up their lunchboxes. My kids tend to have the same sandwich every day, but this year I want to switch things up a bit. Luckily, I discovered all sorts of sandwich and lunchbox inspiration. If you are looking for new ways to enjoy a sandwich, you will love this post on school lunch ideas which has been sponsored by Sara Lee® Bread.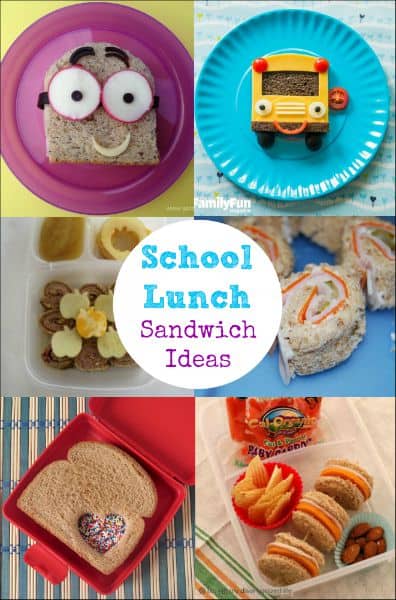 School Lunch Ideas
Make a Fairy Sandwich from Kids Activities Blog
The dash of sprinkles in this sandwich make it oh so magical!
Sandwich Sushi from JDaniel4's Mom
Who knew you could make sandwich sushi just by rolling the bread with a rolling pin? Genius!
Toasted Ham and Cheese from Childhood 101
If your kids love toasted sandwiches but find that they turn soggy in their lunch box, try this tip!
Heart Sandwich from Meaningful Mama
These are not just for Valentine's day! They are perfect to pair with love notes.
Sandwich Skewers from I Love My Disorganized Life
Get our the school lunch rut with this new take on a sandwich.
Fun School Bus Sandwich from 3 Boys and a Dog
This would be a great first day of school lunch!
Minion Sandwiches from Eats Amazing
Bring some fun to school lunch with a favorite character.
Pinwheel Sandwiches from Frugal Family Home
There are so many fillings use can use with the fun pinwheel sandwiches.
My kids are pretty traditional when it comes to school lunch. A sunflower butter and jam sandwich on Sara Lee® Bread is their lunch of choice. Sara Lee® Bread is a perfect lunchbox addition because it has a wholesome, great taste. There are over 18 varieties so you are sure to find something for everyone! My favorites are the Delightful varieties since they are only 45 calories per slice. While this doesn't matter to my kids, when I am watching my calorie intake, it matters to me.
To bring some variety to lunch, I use cookie cutters to cut my kids sandwiches into fun shapes.
I also like to add my own personal lunchbox note. I love to include lunch notes because kids get a special reminder that they are loved and special during their day. Who wouldn't like to be reminded of that? A simple note can turn around a bad day and put a smile on a child's face. I just used the same cookie cutter I used on the sandwich to make my lunchbox note. I traced the cookie cutter onto brown construction paper, cut it out and wrote a fun message on it.
You don't have to be super creative to include a memorable note in your child's lunch box. Sara Lee® has come up with "Lovable Lunch Notes" just in time for Back-To-School season. Simply visit them for the next 6 weeks and you can download and print out 30 free and different "love notes" that you can include in your child's lunchbox. You can even enter your child's name for personalized notes! Oh and don't forget to grab a coupon for Sara Lee® bread while you are there.
Check out these cute videos of how lunch notes can make your kids day!
This is a sponsored post written by me on behalf of Sara Lee® Bread.
Want more Mess?