My youngest daughter is starting Kindergarten this year. She is 18 months younger than her twin sisters, and the fact that they got to go to "big kid" school and she didn't always irked her. She is very proud that she too will soon be going to the "big kid" school. But I have noticed that in the months leading up to Kindergarten she has become very clingy and reverted to baby talk. Clearly she is feeling some anxiety about the changes coming up. There are lots of good suggestions for dealing with that anxiety in Helping a Shy Child Prepare for Kindergarten. But since I am dealing with my own anxiety about sending my "baby" to Kindergarten, I thought a different type of post was in order. Since I had twins first, my youngest is the only child who has had significant one-on-one time with me while her sisters were in school. I think it will be a tricky transition for both of us, but these tips on Sending Your Youngest Child to Kindergarten have helped. These tips work for those of you with only children as well.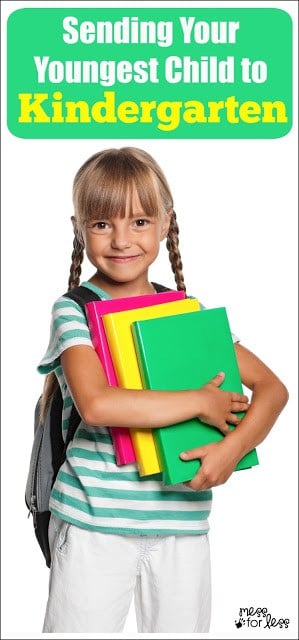 photo purchased from Shutterstock
Tips to Make the Kindergarten Transition Easier for Both of You
1. One-on-one time
In the weeks and moths prior to your child starting Kindergarten, up the amount of one-on-one time you spend with them. This can be difficult with other kids around, but even 10-15 minutes of uninterrupted time can make a big difference. Play a board game, go for a walk, cuddle, have a pillow fight - these are just a few ways you can spend the time. I try to do this while my older kids are reading, playing with Dad, using their tablets or any other time I can sneak away with my youngest. No phones, no distractions. Even after school starts, keep up the one-on-one time. If your child has not gone to preschool at all, they will probably be missing you and the time they had with you before starting Kindergarten. This time together will be reassuring to the both of you.
2. Set up playdates and meet other parents
Your child may go to a school where they arrange Kindergarten playdates prior to the start of the year. If this is the case, please take advantage of them! Not only is this a great opportunity for your child to meet future classmates, it is a great way for you to meet other parents. You will probably find that many of them have the same thoughts and feelings you do about sending their child to Kindergarten. Also, meeting your child's classmates and seeing your child interact with them can ease some of your anxieties about your child making friends. If you school does not set up playdates prior to school, set up your own as soon as possible after school starts. Chat up some moms after drop off and see if they want to head to a park after school. The sooner you find other parents in similar situations that you can connect with, the easier the kindergarten transition will be.
3. Do something fun together to prepare
Most schools will send out a supply list of items they want kids to bring to Kindergarten. Some of my favorite school memories are heading out with my mom to pick up some new outfits and school supplies. Head to the store with just the child starting Kindergarten (if possible) and pick up a lunch box, crayons and other needed supplies. Or, if your budget allows, try on a few outfits and buy one to wear on the first day. At home you can make different lunches together to decide which your child might want to bring to school. These shared experiences will help build excitement for the big day while creating special memories for just the two of you.
4. Plan your days
If you are a stay at home mom and your youngest child has started Kindergarten, this time is full of transitions. Yes the house will seem very quiet at first, but this is a wonderful opportunity to do things you may have been putting off. Maybe take a class in something that interests you, finally get organized, start an exercise program. Really the possibilities are endless. In many schools parent volunteers are always needed so you have a chance to give back and enjoy interacting with your child in a new way.
5. Don't jump into after school activities
It is tempting to get your child involved in lots of after school activities especially if your child attends a half day kindergarten. But since there are so many changes going on at the beginning of Kindergarten, wait a few months until you and your child have adjusted. At this point you don't need another thing to do. It may cause you more stress. Your child is getting used to being away and learning the rules of their teacher and classroom. They may need the down time of being home without the additional pressure of learning more rules and getting used to another situation. Of course, you know your child best. If you and your child have had an easy Kindergarten transition, then they may want to participate in some after school activities.
I would love to hear from you. Are you sending your youngest or only child to Kindergarten this year? If you already have, what are your tips for easing the Kindergarten transition for you and your child?
These are some of my favorite books to share with my kids before they start Kindergarten.
The Night Before Kindergarten
Adventure Annie Goes to Kindergarten
The Kissing Hand