You might think of shaving cream as something that you only use to remove unwanted hair. But here at Mess for Less we use it for a lot more. Whether it's creating Shaving Cream and Water Bead Cupcakes or playing a Sensory Sight Word Game we go through a lot of shaving cream here. The Sensory Alphabet Hunt I am sharing today helps bring messy, sensory play to an alphabet hunt. So shake up that can of shaving cream and join us!
You will need:
26 glass stones (the lighter colors work better)
Plastic bin (shoe box sized)
Shaving cream
Permanent marker
White glue
Small paintbrush
This activity requires a bit of prep work. I would recommend lettering the stones the day before, so they will be ready to go when you need them.
Use a permanent marker to write the alphabet on the flat side of the stones. When the kids play with them they will do so with the flat side down, so some of the letters will need to written backwards so they can read correctly when the stone is turned over. The following letters will need to be written backwards: F, G, J, L, N, P, Q, R, S, Z.
This next step is very important. How do I know? Well, I tried the activity without the glue and the marker started coming off the stones when they were in the shaving cream. Fail. I make the mistakes here so you don't have to.
So, once the marker has dried, brush over the letter with some white glue. This will prevent the marker from smearing when used with the shaving cream and will allow you to use these letters again and again.
When the glue has dried on the letter stones, fill up a small bin with shaving cream and drop your stones inside.
I thought it would be fun for my daughter to use tongs to pick the letters out of the shaving cream.
But she had other ideas. She got a few letters out with the tongs and decided it would be more fun to get her hands messy on this Sensory Alphabet Hunt.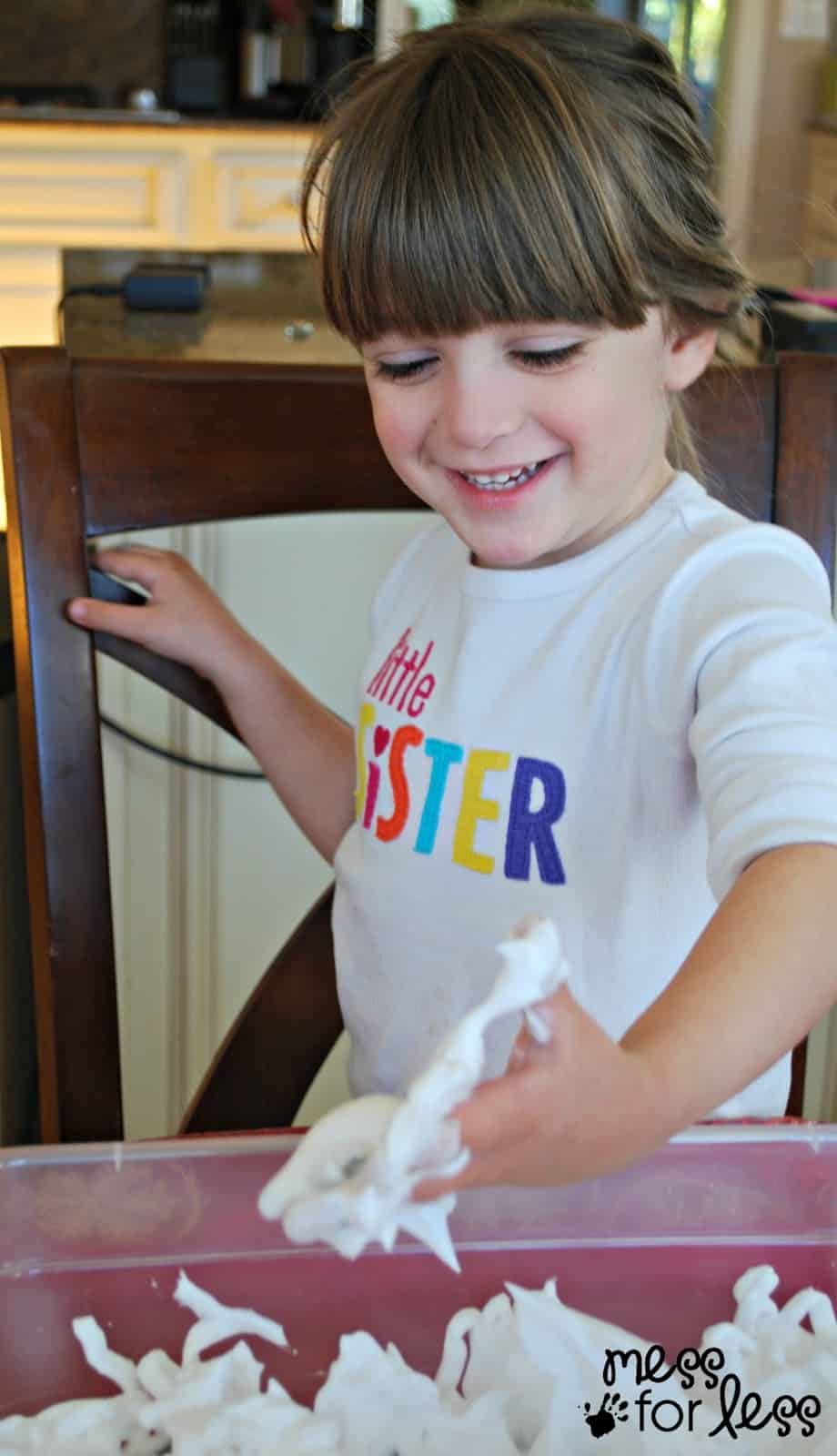 If you want to keep the mess factor low, use the tongs. But getting her hands in the shaving cream sure made my kid happy!
Once she dug around and pulled out all the letters, we dried them with a paper towel and she got started putting them in the correct order.
She kept saying the alphabet out loud and it really helped her to get all the letters in order. We will be using these letters again to play and learn.
For more ideas for sensory play check out: