This post on shape sorting for toddlers is from the wonderful Hayley at Minne Mama. For more fun shape activities check out Contact Paper Shape Art. One of the things I love about Mess for Less is how budget friendly the activities are! I am always trying to create meaningful learning experiences for my 20-month-old son using materials we already have on hand and using the things I purchase to their full potential.
I bought wooden circles to create a color sorting activity (also using recycled egg cartons - one of my favorite craft materials!) and even though I only needed the medium size rounds for that, I wanted to find a way to use the small and large pieces as well. We found a fun art project for the small rounds, using them as "fish eyes" based off the book with the same title by Lois Ehlert. The project I am sharing at Mess for Less today is how we utilized the large wooden rounds!
My son, Skyler, does not get a lot of screen time, but this activity was inspired by a game he occasionally plays on my iPad. On the mornings that we do not have to rush off to a class, Skyler will often wake up and want to snuggle in my bed with me for awhile. We cuddle, read books, and sometimes play one or two of the (free!) Fisher Price apps. Skyler's favorite game is the shapes and color music show featuring some cute smiling shapes, a puppy that plays peek-a-boo, and a musical key board. Since he has shown interest in shapes, I knew this would be a great way to encourage that skill.
To create our wooden shapes, I used the same paint samples from our color sorting activity, just one shade lighter. I cut out yellow stars, red hearts, blue circles, green triangles, and purple squares (which is also how they are colored in the game).
I used the wood glue to attach the shapes to both sides of the wooden round. For older children, this probably wouldn't be necessary, but I wanted to make it more simple to use for Skyler, and knew that if it were on both sides he wouldn't have to be looking for the shape.
Since this is similar to our colored rounds, I wanted to come up with a couple of different ways to play and sort our shapes! The first method we used was to sort them onto large cut outs in the same shape and color. I taped the shapes onto the top of Skyler's new activity table. I thought about covering the table with contact paper so he could stick them to the shapes (I also played with the idea of doing this on the wall, but my dad had so kindly put this table together the night before), but I didn't end up covering them and it was fun without the sticky paper!
When Skyler got up from his nap he walked straight to this inviting activity! By the time I grabbed my camera he had a handful of shapes and was walking around the table to put them on the correct cut out. I was happy to see him engaging in this activity without any sort of introduction from me, he knew exactly what to. I love how you can see even in the pictures how he would carefully look at the shape in his hand and look around the table for the correct match before placing it down! I am not sure if he was sorting more based on the color than the shape, but as he went along we talked about both the shape and color. By the end he was saying many of the shape words, in his toddler lingo 🙂
Great sorting, baby boy!
I could tell that my little one enjoyed this sorting play invitation because he had a huge smile on his face as he walked around the table and would let out a happy squeak every time he put one of the wooden rounds in the correct spot. He has gone back to play with this often!The second way we are sorting our colorful shapes is with this one-to-one correspondence activity. I taped extra shape cut outs from the paint samples onto the holes of an ice cube tray. There are not as many holes on the tray as there are rounds, so we have one extra triangle (Skyler usually adds the extra shapes into a corresponding hole that already has a round!)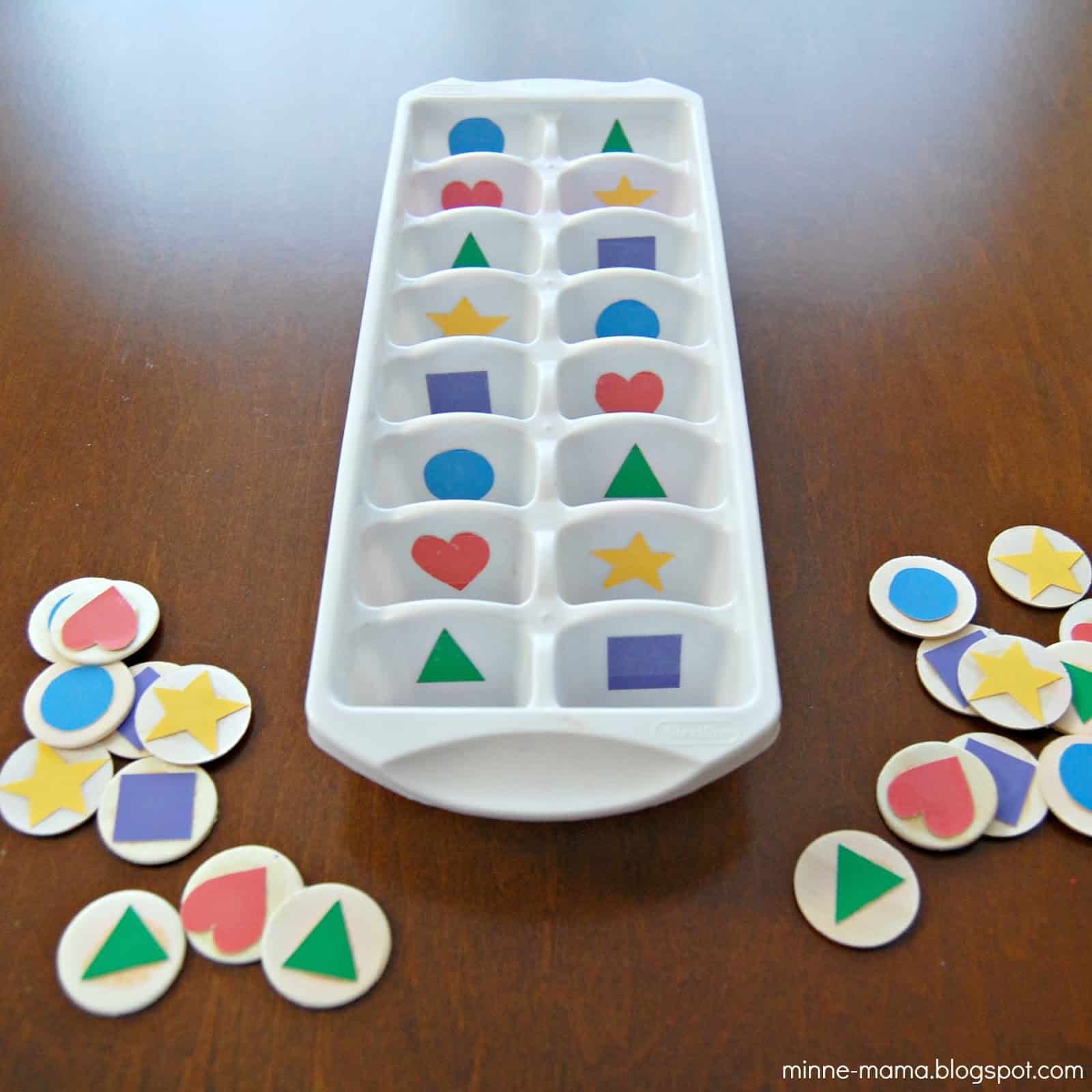 We haven't done a lot of one-to-one correspondence, but Skyler does love to play with puzzles and some of the fine motor activities I have made for him require him to put one material into one hole (like a feather or pipe cleaner). I wasn't sure if he would grasp the idea of putting a red heart into one hole and then when he grabbed a different red heart putting it in a different hole, but he actually did put one in each space until the extras! He had a blast with this activity and was so proud when he made a correct match!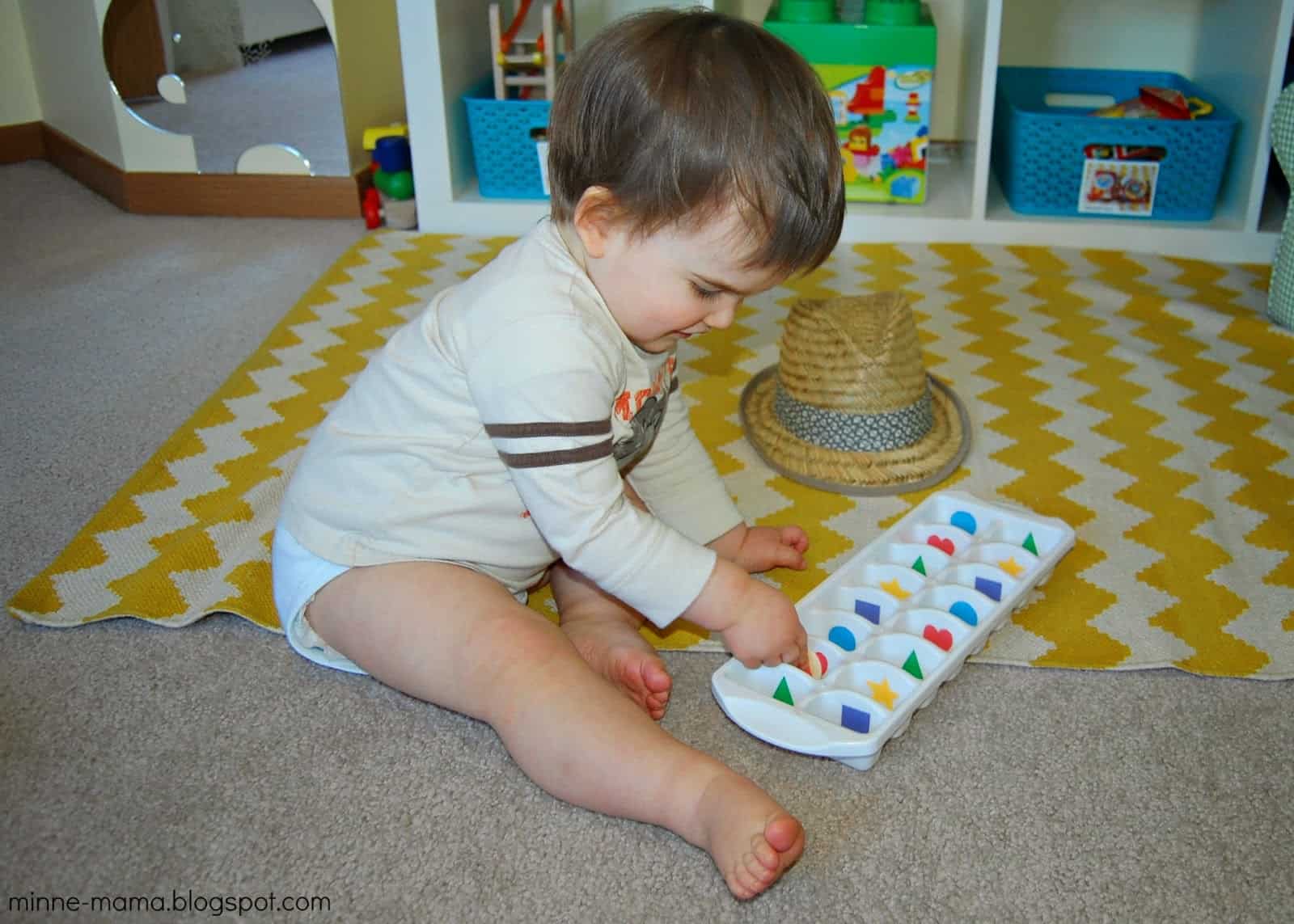 This was serious work, he took his fedora off after wearing it all day!
Both of these activities were great to introduce shape sorting with a toddler, but there are so many other ways to play with the colored shape rounds. For older children, if the shape is glued onto only one side, these would made a fun and simple memory match game. You could also add other shapes and colors to the mix!
Thank you so much Hayley! I love both of these activities and it's clear they were a hit with Skyler as well. For more great activities from Hayley, visit her at Minne Mama.
If you liked this shape sorting for toddler activity, you'll love:
DIY Shape Stickers
Shape Paintings with Mega Bloks
SAGO MINI BOX FOR PRESCHOOLERS
SAGO Mini Box is a monthly make-and-play subscription box for creative kids ages 3-5. Each preschool box includes a Sago Mini collectible figurine and a set of kid-friendly activities that explore fun themes from road trips and oceans to pets and tools. You'll find amazing play-based learning opportunities in each box, plus, the shipping box even transforms into a toy! Learn more here.