If you have followed Mess For Less for a while, you know that we love shaving cream. In the past we have
painted with shaving cream
and made
shaving cream greeting cards and gift wrap
. Today we used shaving cream to make pretty Christmas trees which we later decorated. Warning: this is super messy and will get all over hands, tables and shirts.
This post includes affiliate links.
You will need:

Draw a tree on white paper and cut it out.
I suggest doing this project on a large tray to try and minimize the mess to your table. Notice I said minimize and not eliminate. I got these large trays at Target a while ago and use them for all sorts of messy play.
Add a generous amount of shaving cream to your tray and squeeze on 4-5 drops of green food coloring.
Give your child a Popsicle stick and have them mix the food coloring with the stick.
For the purpose of this activity, you do not want all of the food coloring mixed into the shaving cream. You are looking for a marbled effect to occur.
Have your child press the paper Christmas tree gently into the marbled shaving cream.
When you pull up the tree you will be left with shaving cream on the paper. Use the flat side of the Popsicle stick to scrape off any extra shaving cream. Then you will reveal a pretty marbled tree that feels oh so soft!
You can either leave the tree as is or decorate it with glue and glitter. Fill a cup with some white glue and provide your child with a small paint brush. Then they can just brush on glue dots and lines of glue.
After, they can shake glitter on the tree.
You can expand this idea but cutting out Christmas ornaments or a candy cane instead of a tree and using different color food coloring.
If you liked these Shaving Cream Christmas Trees, you'll love: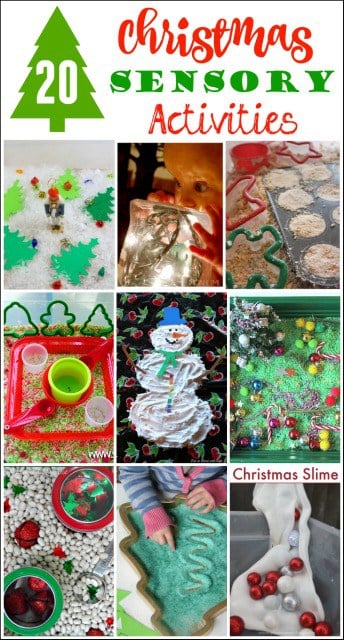 Want more Mess? Subscribe via Email or follow us on Twitter, Facebook, or Pinterest