As part of a sponsored post for Collective Bias® Social Fabric® Community, I created some fun and easy
Sliders on a Stick and Fruit Kabobs.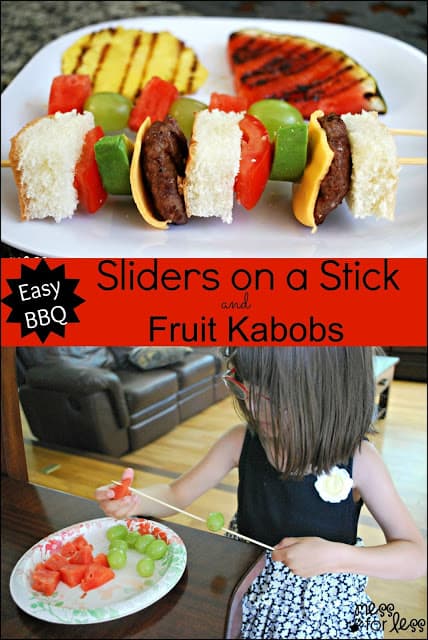 With summer drawing to a close, I am trying to take advantage of the days and get in some last summer activities. We have been swimming, spending more time outdoors and grilling. Last weekend, we had a low key family BBQ. I was able to go shopping at Lucky Super Market to pick up some items for our BBQ. Burgers are one of our favorite things to grill and I decided to mix it up this time by making Sliders on a Stick. My kids thought this was such a fun way to eat a burger. After all, food is more fun when it's on a stick!To have a later summer BBQ you will need:
Watermelon
Grapes
Pineapple
Hamburger buns
Ground beef
Sliced American cheese
Avocado
Tomato
Burger Seasoning
Skewers
Preheat the grill and get started preparing your sliders. Using the ground beef and your choice of burger seasonings, form your sliders. If you've made burgers before, just make mini versions of those and you've got sliders. When they are formed, toss them on the grill so they can start cooking. We grilled ours for 3 minutes on each side.
I could not wait to slice into the watermelon. One of my daughters is obsessed with watermelon. I swear, she would eat an entire melon on her own if I let her.
The kids can help make these while you are grilling your sliders. Obviously, you will want to make sure your child is old enough to work with a skewer. I cut up some watermelon and asked my daughter to make a pattern with the fruit on her stick. She happily helped me prepare the skewers.
If you are looking for a way to get your child to eat more fruit, these kabobs are worth a try!
They were a hit with my picky eaters!
I sliced up some more watermelon and prepared it to be grilled. If you've never had grilled watermelon before, you must try it. Brush both sides of the watermelon slices with some olive oil and apply salt and pepper.
Grill the watermelon for two minutes on each side until grill marks appear.
We had some leftover pineapple and decided to throw it on the grill with our melon, burgers and sliders.
Cut your hamburger buns into cubes and slice up your tomatoes, avocado and cheese. Now it's time to start assembling your sliders. Push a cube of bun ¾ down on a skewer. Next comes the mini burger, a square of cheese, slice of avocado, slice of tomato and another bun. Repeat.