We don't get snow where we live in California, which drives my kids crazy. They are always asking when we can take a trip to go see snow again. Until that day, they have to settle for fun winter activities and making snowmen from other materials. These Snowman Activities are a fun way to get kids excited for a snow day or help them deal with the absence of snow in their lives. Best of all, no shoveling! Be sure to check out this Stacking Snowman activity for more snowy fun!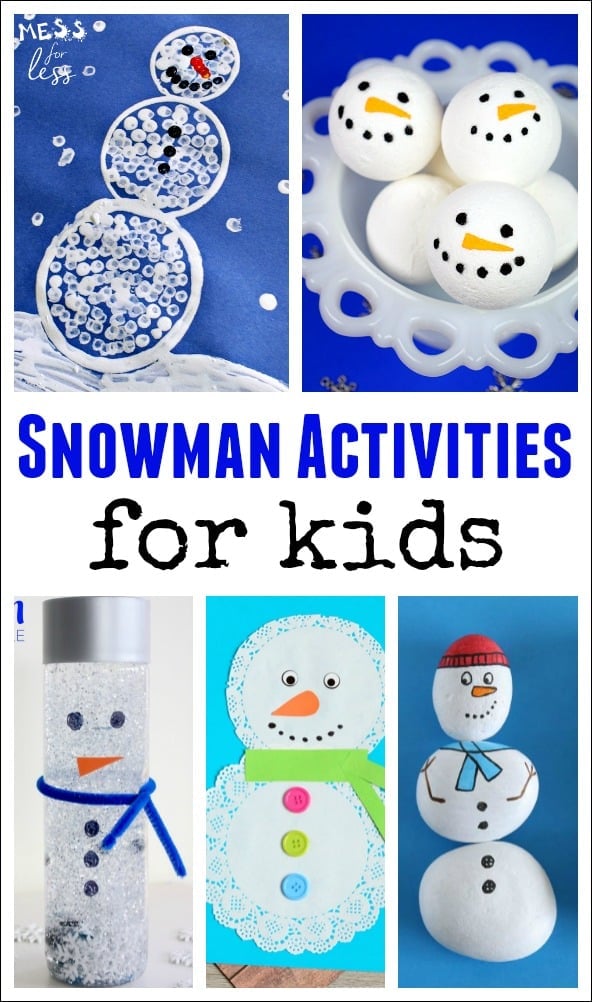 Snowman Activities
Winter Shaving Cream Paint from Mess for Less - We used this shaving cream paint that we made to create adorable winter snowmen. This is one of our favorite snowman activities.
Build a Snowman from Stir the Wonder - If you don't get any snow in your area or it is too cold to go out, you can make this fun Styrofoam snowman.
Melted Snowman Craft and Poem from Messy Little Monster - An easy recipe for puffy paint allows kids to create a whimsical snowman friend.
Q-Tip Painted Snowman Craft from Mess for Less - such a fun winter craft for kids. They love painting with q-tips!
Doily Snowman Craft from Easy Peasy Fun - Make a fun and fancy snowman with some doilies and other craft items.
Snowman Sensory Bottle from Little Bins for Little Hands - This bottle is just fun to play with, but it can also be used as a calm down bottle for kids to watch while they try and recover from a tantrum.
Snowman Bath Bomb Recipe from Happiness is Homemade - Bath Bombs are all the rage and kids can help make these for gifts or to use at home.
Snowman Painted Rocks from Frugal Fun for Boys and Girls - This is such a fun idea! Painting each rock to be a different section of the snowman allows kids to mix and match to make their own snowman creation.
Snowman Sensory Squish Bag from Fantastic Fun and Learning - This activity will keep kids busy and engaged. Since this is a quiet activity, it is perfect to bring to a restaurant or while waiting at a doctors office.
Cotton Ball Snowman Craft from A Little Pinch of Perfect - A fun activity for preschoolers. Kids will enjoy working with the soft, fluffy cotton balls.
Snowman Donuts from I Heart Arts and Crafts - Kids will love helping to make this no-cook snack and of course, eating it! Fun for a school party or play date.
Snowman Factory with Homemade Play dough from Buggy and Buddy - First make some sparkly winter play dough and them use it and other craft items to create countless variations of snowmen!
DO YOU WANT YOUR KIDS TO LEARN ABOUT THE WORLD IN A HANDS-ON WAY?
If your kids love travel or science, then Little Passports the is the perfect subscription box for your child. My kids love to explore, and this subscription box contains so many engaging activities for kids. I think even kids who haven't traveled would enjoy getting the world delivered to their mailbox. Plus, Little Passports also offers science and stem based subscription boxes designed to get kids started on a lifelong journey of learning. Little Passports has boxes for kids as young as 3 to as old as 12. Check out subscription options here.
If you liked these snowman activities, you'll love: