While my family enjoys chicken, sometimes they get bored with the same old chicken dishes I typically prepare. To switch things up a bit I made this Southwestern Baked Chicken using yogurt and crushed tortilla chips. The result was chicken that was moist on the inside, yet had a satisfying crunch on the outside. You must try this if you are looking to add a little variety to your chicken dinner. Your family will thank you!


This post contains affiliate links, so if you buy a linked item I get a small commission. For more information please read
my disclosure
.
To make this Southwestern Baked Chicken you will be using plain yogurt. Dipping the chicken is the yogurt provides a great coating for the crushed tortillas and helps keep the chicken moist and tender while cooking.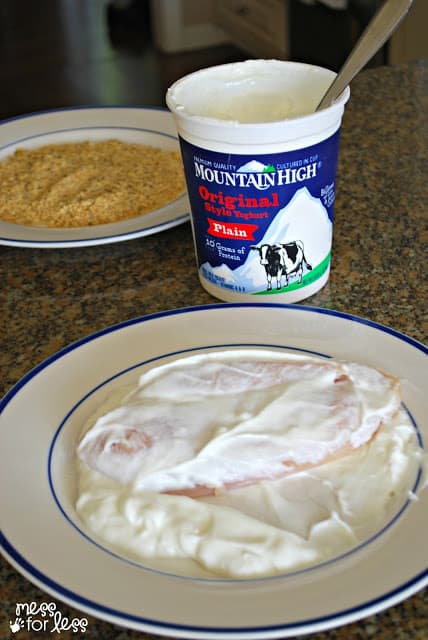 To make the tortilla crumbs, you will crush the chips in a zippered plastic bag by rolling over them with a rolling pin. If you have a little helper in the kitchen, this would be a fun step for them to help with.
Dip the chicken breast on both sides into the yogurt and then dredge through the tortilla crumbs, carefully covering both sides.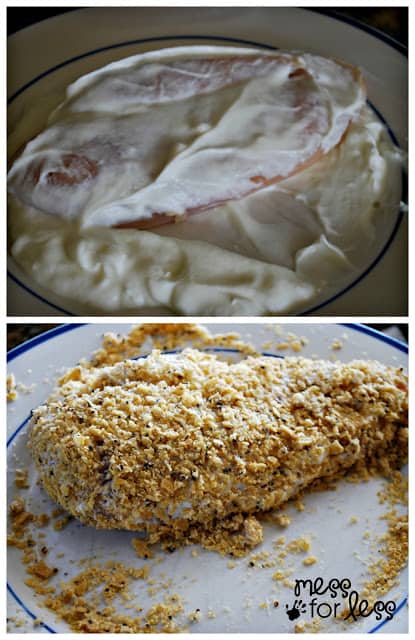 You will then bake the chicken and when it comes out of the oven, it will be moist on the inside and crunchy on the outside.
To make an easy and delicious meal out of this, just serve over some white rice.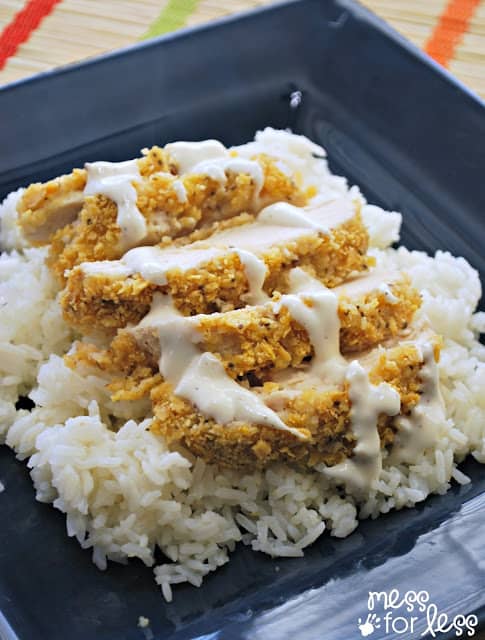 Southwestern Baked Chicken
Ingredients:
2 large skinned, boneless chicken breasts
1 cup tortilla chip crumbs
1 cup of plainYogurt
Salt and pepper to taste
¼ cup ranch dressing
Rice (optional)
Directions:
Preheat oven to 350 degrees.
1. Crush tortillas into crumbs by placing them in a zip top bag and rolling them with a rolling pin. Place the crumbs in a large plate and set aside.
2. Pour 1 cup of yogurt into a large plate.
3. Dip chicken breasts into the yogurt, covering on both sides.
4. Next, dip the chicken into the tortilla crumbs, coating both sides.
5. Bake on a greased baking sheet at 350 degrees for 30 minutes or until the chicken reaches an
internal temperature of 165 degrees.
6. Slice the chicken and drizzle ranch dressing over the top. If you'd like, serve over a bed of rice.
If you are looking to feed a family and save money with make ahead meals, then one of the best resources I have found is MyFreezEasy. You will be able to create your own meal plans so you can make 10 to 12 meals for your freezer in less than one hour. You can choose from gluten free, slow cooker and clean eating options. You'll be able to get 10 meals into your freezer without spending all afternoon in the kitchen.
Want more Mess?