Disclosure: I'm proud to be working with CVS Pharmacy to help spread the word about how to #BeGreater with #SensimistAtCVS. All opinions expressed are my own, and all product claims or program details shared should be verified at CVS.com or with the appropriate manufacturers.
They say many hands make light work and no where is that more evident than when it comes to cleaning. Unfortunately for me, the many hands in my house seem to disappear when I mention cleaning. It is the time of year to get started on spring cleaning and the kids have no interest in helping me. I mean, I can't really blame them for wanting to enjoy outdoor activities in the warmer weather, but I do need some help around here. Especially since I suffer from allergies and cleaning can kick up all sorts of irritants for me. But I've figured out some easy ways to do spring cleaning with the kids and keep my allergies in check. Remember, little hands can be a big help around the house – if you let them!
Most people don't like spring cleaning, but if you are an allergy sufferer then it can be more than just inconvenient. Dust and pet dander that have been laying dormant can be kicked up causing sneezing, itchy, watery eyes, runny nose and nasal congestion. Not ideal when you are trying to clean.
Many allergy sufferers treat their symptoms with pills, but they don't experience nasal congestion relief. For a great alternative to allergy pills, check out Flonase Sensimist which is available at CVS Pharmacy. It provides non-drowsy 24 hour relief, which is great because who wants to be tired when spring cleaning. Full prescription strength Flonase Sensimist works directly in the nose to help relieve nasal congestion and the itchy, watery eyes that are typically caused by pollen, mold, dust and pet dander.
Scent free and alcohol free, Flonase Sensimist uses MistPro technology for easy application. It's side activated delivery system is unique and helps to deliver a fine, gentle mist in your nose with virtually no drip. The ergonomic design provides consistent dosing each time.
If you have kids that don't suffer from allergies, they can help with some of the more triggering chores. Typically during spring cleaning, you would open up all the windows and allow some fresh air in the house. However, if you suffer from allergies, keeping windows closed might be a better bet as it keeps pollen from coming in the house. If during your spring cleaning, your allergies do act up, simply grab some Flonase Sensimist at CVS and be greater than your allergies!
Spring Cleaning with Kids
Here are some simple tasks that kids can do to help with spring cleaning.
Vacuum
Believe or not, many kids find vacuuming fun. I know, it's crazy. It must be the novelty or the noise. Either way, take advantage of this but allowing them to vacuum. If your child is on the younger side, start with a small space like an area rug. If you are an allergy sufferer, you'll enjoy skipping this task.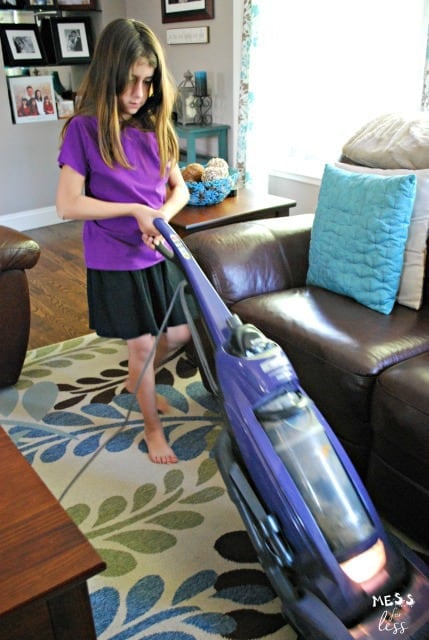 Fur Removal
If you have a pet, then you are familiar with pet hair ending up all over your house. If you have a cat like ours then pet hair and dander are inevitable.
As part of the spring cleaning process, we focus on pet hair removal. Kids can be a big help here. Let kids use a lint roller to gather pet hair that accumulates on chairs and furniture.
You might be shocked with the results. My daughter got all this fur off of one chair. So if you are coming to our house, it is now safe to sit in our chairs.
Clean Trim
Okay, this part is very embarrassing for me to share, but just shows what an important spring cleaning task it can be. The trim, baseboard, and corners in our house were just a dusty mess. Since dust can irritate my allergies, I asked my daughter to help with this chore.
Cleaning these areas can be done by kids with a wet cloth or with some spray made from a 50-50 mix of water and vinegar.
Organize Closets
Spring is a great time to clear out closets. Kids can help by picking out winter clothes and shoes and moving them to a less accessible spot in the closet. Or they can package up out of season items for you to bring to the attic or basement.
Toy Purge
I confess, while my kids are at school, I have been known to go through their toys and donate those that they longer use. Typically, they don't even notice that their toys are missing. However, this means more work for me. I have decided to let them try their hand at paring down their own toys and deciding which ones they want to donate. They took into account the last time they had played with toy as well as how likely they were to play with the toy in the future. They then made a pile of the toys to discard and organized those that they wished to keep.
What are some of your favorite ways to do spring cleaning with kids? Comment below to share and tell me how you will #BeGreater with #SensimistAtCVS
WANT TO MAKE A HEALTHY LIFESTYLE EASY?
If you are looking for ways to create and sustain a healthy, beautiful home you must try Grove Collaborative. Grove Collaborative is a scheduled delivery service that ships natural home, beauty, and personal care products directly to your door!
Every product sold is nontoxic, effective, sustainable, and cruelty free. Everything you buy from Grove is good for you, your family, your home, and the planet.
To help you maintain healthy choices, Grove recommends monthly shipments and product refills that you can edit or move at any time. No monthly fees or commitments are required.
Click here to learn more and get your FREE Mrs. Meyer's Set which ships free and includes a free trial of Grove's VIP shopping option.