We love doing crafts around here and this one was inspired by a trip with took to the county fair this summer. There was some beautiful stained glass art made by students on display. I could tell that it was made with shapie markers on foil. I loved the bold colors and decided to add black borders throughout the art to make everything really pop. I just love the results of this Stained Glass Art with Sharpies.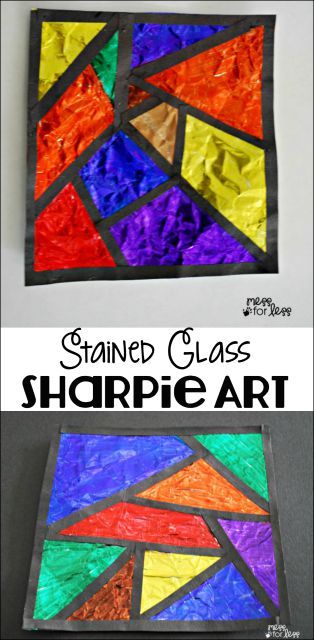 You will need:
Foil
Scissors
Sharpies (in assorted colors)
Black construction paper
White glue
Cut a length of foil that you will use to create your stained glass art. I don't recommend a very large piece with little kids since it will take a lot longer to color. On the piece of foil, use a black sharpie to create lines and angles. Older kids can do this step themselves and can even use a ruler to help.
Now it is time to start coloring the foil. Since we had a nice assortment of colors, the kids had lots of design options.
The markers on the foil dry pretty fast so we didn't have much of a mess.
When the coloring of the foil is done, it is time to cut strips of black construction paper. I cut strips of a ¼ of an inch. Older kids can do this step themselves. The strips get measured, cut and glued to the black lines on the foil. You also use the strips to make a border around the entire art piece.
My daughter holds up her completed stained glass art. You can tell when she started getting tired and just rushed to fill in the brown section.
I just love how vibrant these look! When my husband saw them he could not figure out what we used to make them.
For more kids art ideas check out:
Watercolor Circle Art Square Collage
Want more Mess?