This shop is part of a sponsored social shopper marketing insight campaign with Pollinate Media Group™ and Cottonelle but all my opinions are my own. If you have young kids then you remember the thrill you felt when they were finally potty trained. No more diapers, no more messes. Ummm wait...I thought there were supposed to be no more messes to clean up. So why are my kids (four and five years old) complaining about rashes, itches and soiled underwear? I'll be honest with you, they are not great wipers. Few kids are. But I have found a solution to their uncomfortable problem and it's the Cottonelle Clean Care Routine. Use this when you are Teaching Kids to Keep Clean After Using the Potty.
I purchased Cottenelle Clean Care toilet paper and Cottonelle Fresh Care flushable cleansing cloths at Walmart and used them to help my kids learn how to take better care of their personal hygiene.
The cleansing cloths come in a holder that can be refilled whenever it runs out.
The cover keeps the wipes moist when not in use.
I placed the flushable cleansing cloths behind the toilet so the kids could easily reach them. We then talked about how they needed to make sure they were extra clean when they made a #2. I explained how they would wipe carefully with the Clean Care toilet paper and follow up by cleaning with the cleansing cloths.
My kids have been told many times not to put baby wipes in the toilet, so I needed to explain that wipes that came in the Cottonelle container were fine to flush. I did have a talk about using one at time and not stuffing a bunch in the toilet. To make this routine become a habit more easily, I offered a little incentive in the form of a sticker chart (get yours below). Each time my kids did all the steps in the clean care routine they were able to earn a sticker on their chart. My kids love stickers, so they were quite excited about the possibilities!
They couldn't wait to try the clean care routine the next time they needed to go #2, but we noticed that we were running low on toilet paper. No need to worry, it's Cottonelle Clean Care to the rescue!
My kids love to help with everything and even though they usually take three times as long as I would, I let them. My daughter insisted on stacking the toilet paper on the holder. I always keep a bunch in the bathroom so the kids know where to get some if they run out.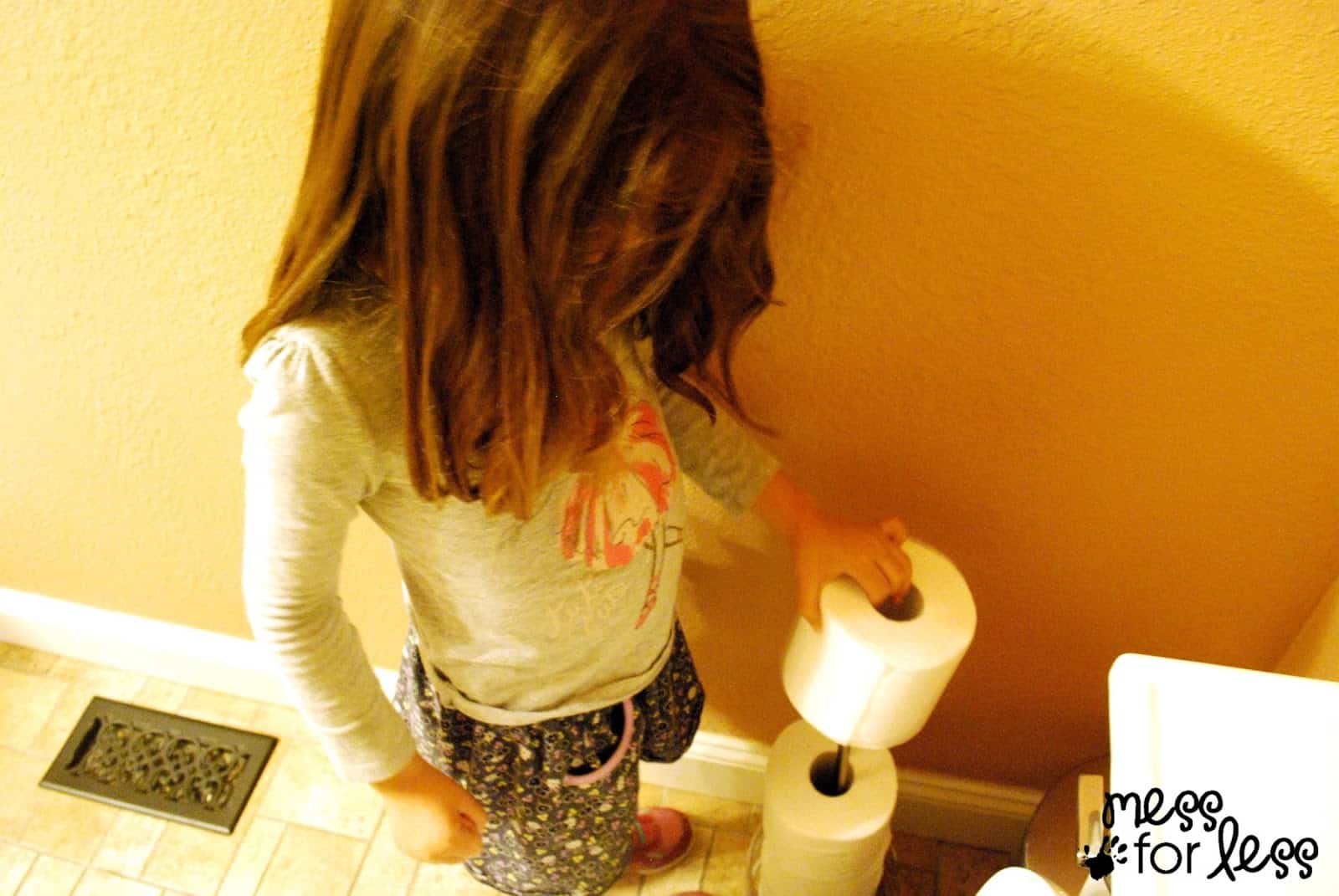 Enter little sister who wanted to help too. Of course by that point I had run of out things I needed help with, so I asked her to demonstrate the Clean Care Routine.
After making #2, wipe with toilet paper.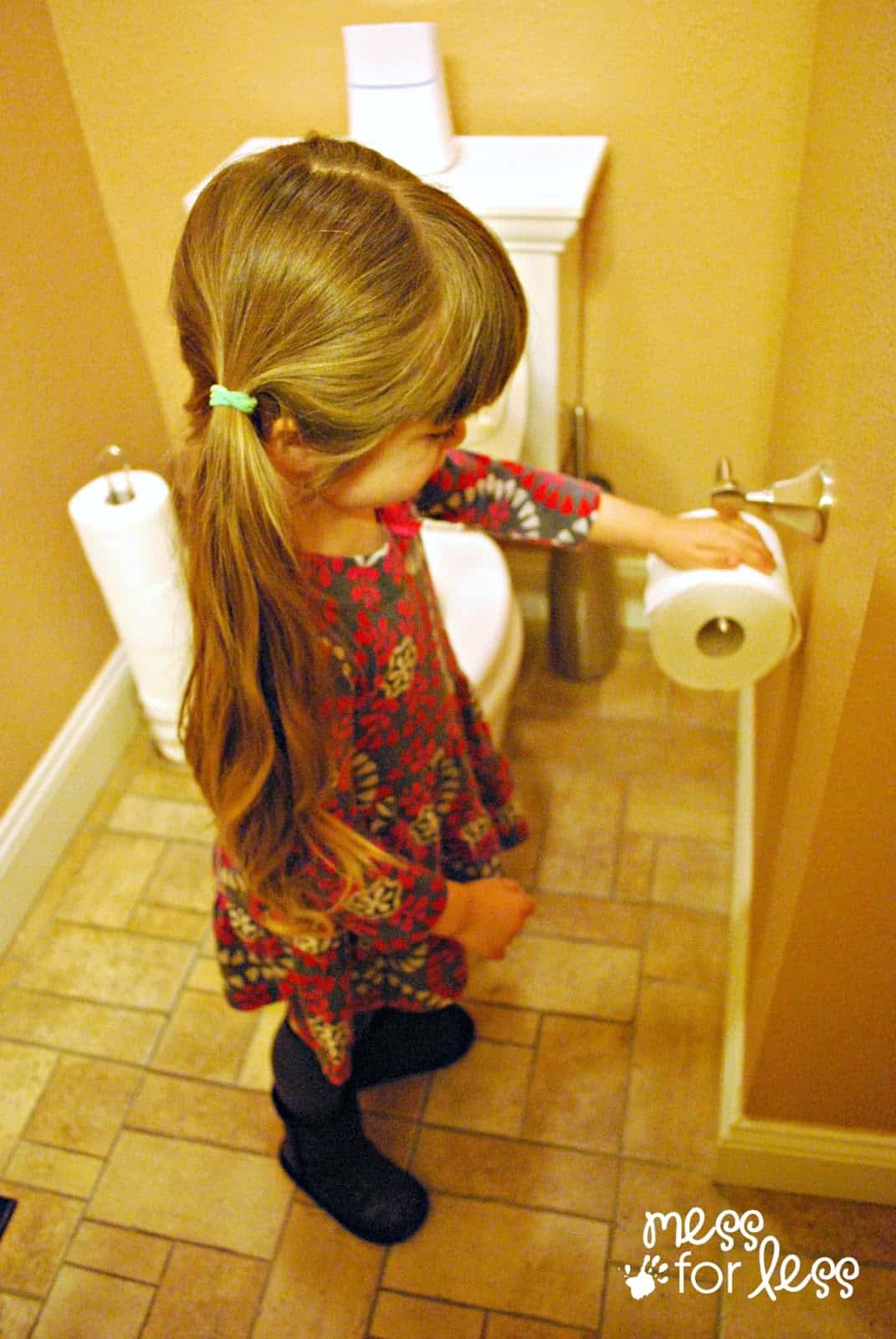 Pull a cleansing cloth from the dispenser.
Wipe with the cleansing cloth until no dirt remains. (I recommend your child not be wearing pants for this step. My child is wearing pants for the demonstration because the internet doesn't need to see her business.)
Step 4
Flush.
Step 5
Wash.
When the Clean Care Routine is done correctly, it's time to put a sticker on the chart.
This routine has resulted in cleaner, fresher bottoms for my kids and less clean up work for me - both good things. If you want to try the Clean Care Routine for yourself, get my free printable and head to Walmart and purchase both Cottonelle Clean Care toilet paper and the moist Cleansing Cloths.
Get the free Clean Care Routine by clicking here.