With the school year drawing to a close, many parents are figuring out their summer plans. This could mean lots of travel, a relaxing summer at home, or summer camp. While we love the opportunity to travel or to relax and do nothing, my kids will be attending some summer camps this summer. What are the benefits of summer camp? Read on to find out. This is a sponsored post. I received a product or service for free but my opinions are 100% my own.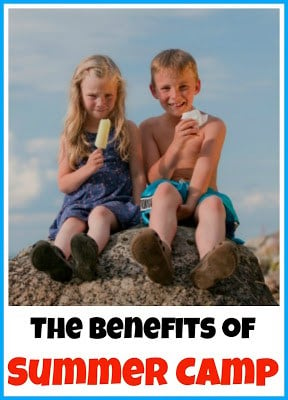 Image courtesy of Poulsen Photo / FreeDigitalPhotos.net
The Benefits of Summer Camp

Summer camps offer kids a great opportunity to stay engaged during the summer months. They allow children to continue to have routines like they are used to during the school year. Camp also gives kids the chance to have new experiences and best of all, make new friends. What's really great about most summer camps is that kids are attending from a variety of schools and children can make friends with kids they normally would not have met.
Once you decide you want to send your child to summer camp, the real challenge begins… What kind of camp will you send them to? There are full day camps which typically have similar timing to a traditional school day. There are also half day camps which are great for younger kids or those looking for a shorter experience. If you work and will be using the camp for childcare as well as fun, then a full day camp is a great option. If your kids participate in other activities, or you just want them to have time to relax and play at home or with neighborhood friends then a half day option works well.
Will they go for the entire summer or just a week here and there? This depends on what your needs are from camp and the personality of your child. Some kids like being busy and get bored easily. For them, going to various camps throughout the summer would probably be ideal. Other children like to rest and relax more and really enjoy the unstructured nature of summer. For them, a week of camp might be long enough.
There are as many camp options as there are interests. There are music and sports camps, science camps, art camps, drama camps and camps for almost everything under the sun. If your child has a passion in a certain area, chance are there is a camp for it. My girls are obsessed with amusement parks. It's my fault, we have been taking them to Disney World and Disneyland since they were babies. I was so excited to discover that Galileo camps offers a week long Amusement Park camp. I just know my girls will love it! They are so excited to attend and participate in art, science, and outdoor activities built around an amusement park theme.
I fondly remember my summer camp experiences as a kid. I didn't get to go to many because of our financial situation, but the ones I attended were always so much fun. If your financial situation prevents you from sending your child to camp you can always create a neighborhood camp with other families. If you have a small group of children and some trusted adults you can take turns creating activities and outings for the group. It's a nice way to get the kids out of the house and give them a camp experience.
One final word about summer camps – once you decide where you want your child to go, register them as early as possible. In our area camps fill up quickly and registering early will assure that you get the camp you want.
If you liked the benefits of summer camp and are looking for more summer activities for kids, check out:
Parenting Tips to Get You Through the Summer
15 Summer Activities Kids Will Love