My kids love playing games. Almost everyday we play either a board game or a game we make up ourselves. The great thing about playing games with kids is that they can learn a lot while having fun. Math games are a particular favorite in our house. If you are looking for the best math games for kids, look no further. I have included some of our favorite math games that you can create and play at home. Kids will have so much fun playing these, that they won't realize they are learning.
Math Games
Ice Cream Math Game – Use felt to create this fun ice cream math game that teaches counting, pattern making and number order.
Outdoor Math Game – This outdoor math game gets kids moving and learning. All you need is some chalk and rocks to play and learn!
What is the Bagel Pico Fermi Math Game – What is Bagel Pico Fermi? It is an addicting math game that kids and adults can play. We love to play this on long car rides.
Pattern Making with Felt – Such a fun, hands on way for kids to learn and practice patterns! Easy to make and play!
Make a Number Math Game – Kids learn about number sense as they figure out ways to make numbers.
Kindergarten Math Game – Bubbling Addition – This Kindergarten Math Game will help kids learn and review addition facts in a fun, hands-on way.
Number Sense Game – Works on fine motor skills and helps kids figure out how to make numbers.
Sticky Math – This math game gets kids moving and learning. It is loosely based on skee-ball, so kids love it!
Clothespin Math -This preschool math activity is easy to make at home and even lets kids practice their fine motor skills.
Post It Math Games – Children learn basic math concepts from fun math games you can make with Post Its.
Number Hunt – This math game combines learning and movement. When kids are learning through movement, they are having more fun than they would learning passively and their motivation to learn increases.
Counting Activity for Kids – Download a free book that will improve number recognition, counting skills, word recognition and even fine motor skills.
Toilet Paper Knock Down – We all have toilet paper. Now you can use it to help kids learn math and other concepts.
Numbered Ball Toss – This is fun for kids and adults. Challenge your kids to a game!
Counting Fun with Ping Pong Balls – This math game helps kids with numerical order, number recognition and even fine motor skills. It involves water which just makes everything so much more fun!
Pattern Block Math Game – Pattern blocks are so versatile! See how you can create a math game at home that will entertain and educate little ones.
If you liked these math games check out: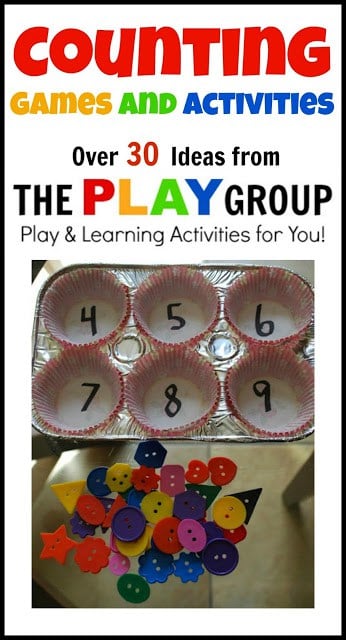 If you are looking more fun ways to engage your kids, I highly recommend KiwiCo. As a former teacher, I was really impressed with the quality of materials found in KiwiCo. Some moms have told me that they want to do activities like I do on Mess For Less with their kids, but they just don't have to the time to go buy all the supplies and prepare them for the activity. KiwiCo is the perfect solution.
Every month your KiwiCo will focus on a particular theme like Colors, Dinosaurs or Gardening. KiwiCo offer a variety of projects ranging from crafts, imaginative play, science experiments and more.