I just love tissue paper! If you have been around here any length of time, then you have seen all of the tissue paper crafts we have done like these Coffee Filter Flowers Made with Tissue Paper. Tissue paper is easy for kids to work with and can be used in a variety of ways. One of my favorite purchases has been a box of tissue paper squares that we use all the time. This activity just came about organically as the kids opened our craft closet looking for something to do. They pulled out some tissue paper and a roll of contact paper and an art activity was born!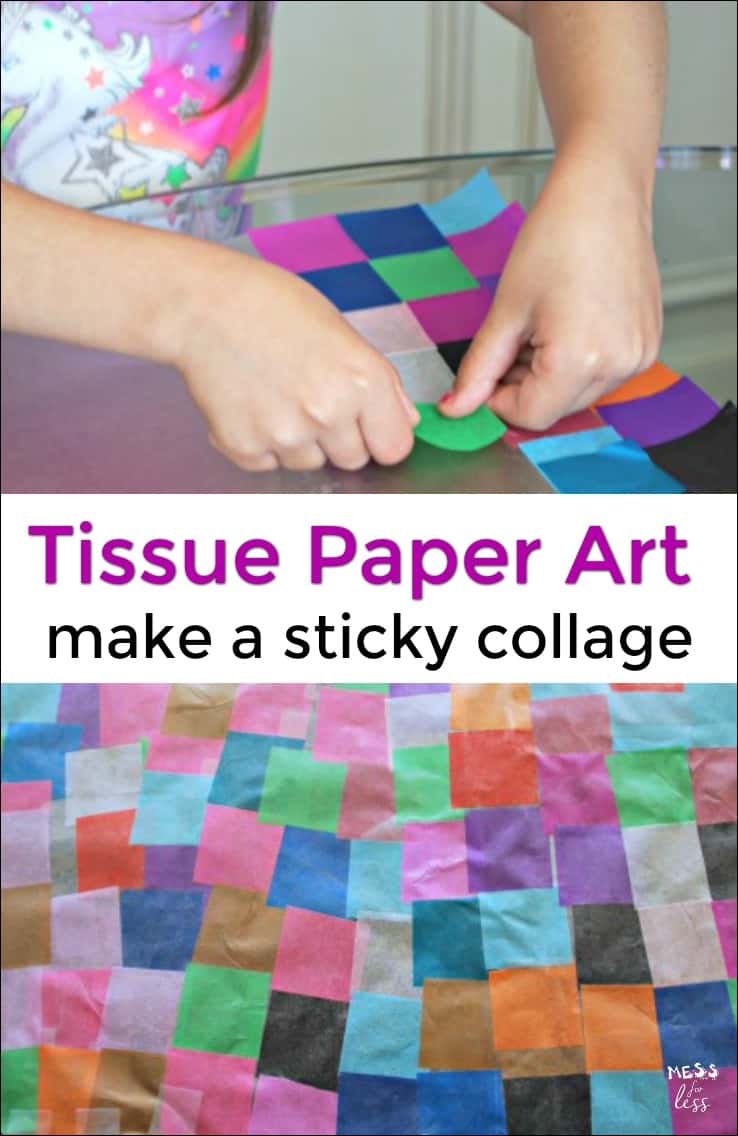 Tissue Paper Crafts
Materials:
Directions:
Cut a length of clear contact paper and peel off the back. Tape it to your work surface with the sticky side of the contact paper facing up.
Have your child place tissue paper squares on the contact paper. They can do this with random colors or using just a few colors that they choose. We made sure our tissue paper squares lined up so that there wouldn't be much gap in between. When doing tissue paper crafts, you can also just place the squares on the contact paper haphazardly and not worry about the direction and whether they are touching or not.
When your child is done, they might notice there are small gaps in-between the tissue paper squares. My daughter solved this problem by cutting the tissue paper into smaller slivers and using those to fill in the gaps.
Finished Product:
The best part about tissue paper crafts like this one is that there is no drying or waiting time. When you are done, you're done! My daughter chose to hang her collage in the window.
You can also decide to cut a shape out of the contact paper. How pretty would this be cut into a heart shape?
I hope you enjoyed these tissue paper crafts. If you are looking more fun ways to engage your kids, I highly recommend KiwiCo. As a former teacher, I was really impressed with the quality of materials found in KiwiCo. Some moms have told me that they want to do activities like I do on Mess For Less with their kids, but they just don't have to the time to go buy all the supplies and prepare them for the activity. KiwiCo is the perfect solution.
Every month your KiwiCo will focus on a particular theme like Colors, Dinosaurs or Gardening. KiwiCo offer a variety of projects ranging from crafts, imaginative play, science experiments and more.
If you liked these tissue paper crafts, you'll love: