One of our favorite holiday traditions is to have an Advent calendar to help us count down the days until Christmas. Every year we use an Easy DIY Advent Calendar that I have filled with events and activities designed to encourage family time and create memories. Each of my children also has their own Advent calendar each year. These calendars are a little more whimsical in nature and often contain a small toy or candy. Today I am sharing some wonderful options for Toy Advent Calendars.
Toy Advent Calendars
Barbie Advent Calendar– If your child collects Barbie dolls, they will love this Advent calendar which includes a dress for Barbie and daily accessories.
LEGO Friends– Countdown to the big day with build-able gifts. This includes some mini figures and accessories for them. What makes this product unique is that kids can visit the LEGO site to get instructions on what to build with their newly acquired pieces.
LEGO Star Wars– Includes mini figures, vehicles and other accessories that will inspire your kids to act out their own Star Wars adventure.
LEGO City– This set includes 6 mini figures and lots of different items for building and adding on to existing LEGO sets.
VTech Go! Go! Smart Animals– Perfect for younger children! These pieces make sounds and melodies when placed on SmartPoint locations. Sure to delight kids aged 1-5.
Mega Bloks Teenage Mutant Ninja Turtles – Get a turtles themed surprise each day leading up to Christmas. This Advent calendar can be connected with other Mega Bloks Teenage Mutant Ninja Turtles sets.
Olaf's Frozen Adventure– Delight your little Frozen fan with this calendar which comes in an adorable tree shaped package.
Little People– Does your toddler love Little People? They will be excited to get this set which includes Little People and holiday themed accessories.
Hot Wheels– Add some new cars to your child's collection with this Advent calendar. Kids will open eight Hot Wheels vehicles and accessories as they count down to Christmas.
PLAYMOBIL– Help the elves get ready for Christmas with this fun set based in Santa's workshop.
Crayola Christmas Countdown Activity Advent Calendar– Get kids busy crafting with this creative Advent calendar featuring Crayola products. Perfect for crafty kids!
Disney Tsum Tsum Countdown to Christmas– We had this Advent calendar last year and it was a big hit with my kids. We saved all the little toys and the kids still play with them. Collect and stack them all!
Paw Patrol– Christmas will be here on the double, so this advent calendar contains toys with beloved Paw Patrol friends. Kids will be thrilled to receive a new figure each day.
Schleich Horse Club Advent Calendar– This Advent calendar is totally unique and perfect for the horse and pony lover on your list. I love how this calendar encourages pretend play.
Cabbage Patch Kids Little Sprouts – Cabbage Patch Kids were super popular when I was a kid and they are again. Kids can enjoy the little doll figures and accessories in this calendar.
Mega Bloks Monster High– Does your kid love Monster High? Well, there's an Advent Calendar for that! This one comes with mini fashion figures and style accessories.
Charm Bracelet Advent Calendar– The Advent calendar contains jewelry gifts that allow kids to create a bracelet and necklace. I love this unique calendar since it allows kids to make something that they can then give as a gift.
Ooshies DC Universe– Celebrate the season with your favorite DC heroes and villains. Kids can incorporate these fun toys into their play.
Tsum Tsum Marvel Countdown to Christmas– If your kids like Tsum Tsum figures and Marvel comic characters, this is for them. This set includes 16 figures and accessories to encourage hours of play and fun.
Peppa Pig – This calendar folds out into a winter wonderland scene. Use it to play with all the fun Peppa Pig characters you receive. This set can help introduce young ones to numbers and counting.
Fisher-Price Thomas & Friends MINIS– Is your little one obsessed with all things Thomas? Let them create their own adventures with this calendar which includes 6 exclusive holiday themed MINIS engines.
American Girl– American Girl lovers will be thrilled with this set based on the dolls and books. It comes with 2 articulated mini figures and lots of accessories to help personalize them. Reveal a new American Girl themed surprise each day.
Create Your Own Christmas Decorations Advent Calendar– I love this Advent calendar because it contains items that will help kids to create their own greeting cards and presents. How fun is that? The activities are great for parents and kids to do together.
Now that you have researched the best toy Advent calendars there, it is time to start Christmas shopping. If you are looking some fun and educational Christmas gifts, I highly recommend KiwiCo. As a former teacher, I was really impressed with the quality of materials found in KiwiCo. Some moms have told me that they want to do activities like I do on Mess For Less with their kids, but they just don't have to the time to go buy all the supplies and prepare them for the activity. KiwiCo is the perfect solution.
Every month your KiwiCo will focus on a particular theme like Colors, Dinosaurs or Gardening. KiwiCo offer a variety of projects ranging from crafts, imaginative play, science experiments and more.
If you enjoyed these toy Advent calendars, you'll love:
Free Preschool and Kindergarten Worksheets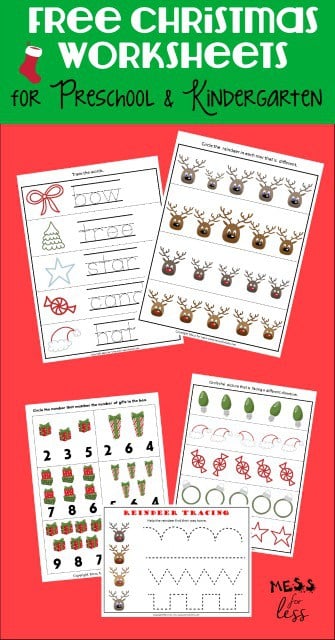 20 Christmas Fine Motor Activities