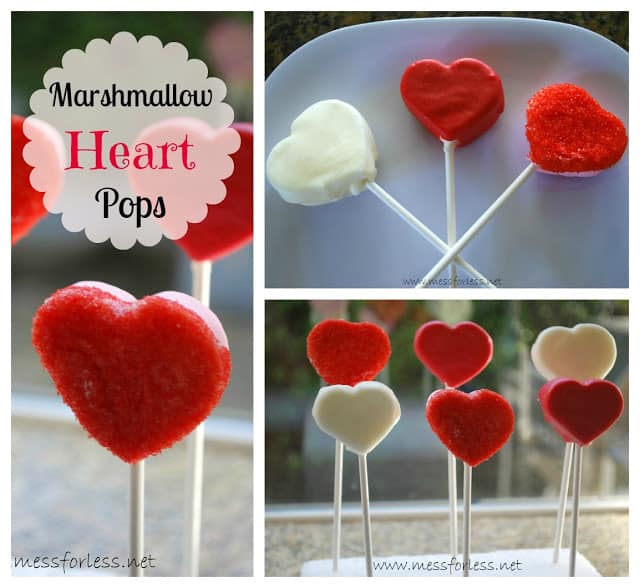 Today for Food Fun Friday I am sharing an easy recipe for
Valentine's marshmallow pops
. I wouldn't recommend you make these with little ones because the melted candy is pretty hot, but little ones will definitely enjoy eating them as you will see. If you are looking for some Valentine's treats to make with kids check out our
Valentine's Cupcakes
and our
Monster Lollipops for Valentine's Day
.
You will need:
White and red candy melts
Heart shaped marshmallows
Valentine sprinkles (we just used red sprinkles)
Styrofoam
Melt the candy melts in the microwave in 30 second intervals, stirring every 30 seconds. I did white and red pops so I kept the candy melts separate but you can mix them if you want pink pops.
Decide what color pop you want to make and dip your heart marshmallow into the melted candy.
After you dip the marshmallow in the candy, dip it in the sprinkles.
To achieve the look below, simply dip one side in the melted candy and then dip in the sprinkles and let dry. When dry you can push the lollipop stick into the bottom.
You can also completely cover the marshmallow in the melted candy and get a pop like the ones below. To do a completely dipped pop insert your lollipop stick in before dipping. Make sure you shake off the excess melted candy or it will drip and then your pop will dry lumpy. Push the pops into the Styrofoam and let them dry for about 30 minutes or until the candy has completely hardened.
With just a few items you can make a variety of pops. Wrap these in a small plastic candy bag and tie with a ribbon for a Valentine's treat!
The kids loved the Valentine's Marshmallow Pops and so did my hubby. I may have tried one (or two) just to make sure they were edible.
For more Valentine recipes check out: