Have you been feeling like you need to lose weight? Have you tried to count calories and been unsuccessful? I was in the same boat. It seemed like I would start a new eating plan every week full of excitement and energy. But within a few days, I gave up, feeling worse about myself than when I started. I had many excuses that kept me from losing weight and holding myself accountable. What about you? What is Your Excuse for Not Losing Weight? I was provided a free Jenny Craig Weight Loss Starter Kit. However, the opinions expressed are entirely my own.
What is Your Excuse for Not Losing Weight?
Obviously, some people have legitimate reasons, health and otherwise, for not losing weight. But that is not the case for most of us. There are a number of excuses people make when it comes to weight loss. These are the most commons ones I have found.
Too hard to count calories and prepare special food
Moms are busy and often don't have time to prepare special meals and count calories and weigh and measure everything they eat. Between work and kids, there are many times I feel overwhelmed. When losing weight involves more work and time on my part, it adds to that overwhelmed feeling and I can't stick with it.
No will power
If you are always preparing meals for your family then you are around food a lot. It can be hard to control yourself when you are around food constantly. Serving your family one meal and getting to have a tiny portion for yourself takes a great deal of will power.
No support
Everyone needs accountability. Losing weight alone is hard. When you have someone by your side who supports your goals and motivates you, it gets easier. Whether this be a spouse, a friend or a professional, support is key to achieving and sustaining weight loss.
Don't want to feel deprived
This is a big one. Who wants to feel like they are sacrificing taste and flavor? This will leave you bitter and resentful and in the long run will sabotage you. Incorporating snacks and "treats" into your eating will keep your satisfied and on track.
I recently have been able to get back on track with my weight loss and I was able to do it with Jenny Craig. Jenny Craig eliminates all of the above excuses with their easy to follow plan. They take the guesswork out of meals and provide you with the support you need to keep going.
After I had my third child and was having a hard time losing weight, I joined Jenny Craig and lost 20 pounds. I kept it off for 5 years and then after a recent cruise vacation, I noticed I was up 7 pounds. Yikes! Since I had so much success with Jenny Craig in the past, I decided to try this program again and I have lost 11 pounds since Thanksgiving.
This has been my experience, but you don't have to take my word for it. It is easy to see if Jenny Craig will work for you with the Jenny Craig 5 day weight loss starter kit which is available exclusively at Walmart in participating stores and can be found in the diet/weight loss aisle.
This kit is like a sampler platter of what Jenny Craig has to offer. It includes 20 delicious meals – 5 breakfasts, 5 lunches, 5 dinners and 5 snacks. If the kit just included the food it would be worth getting, but it includes much more. Now you can try the meals and experience the Jenny Craig lifestyle all from the comfort of your own home.
Each #JennyCraigKit includes a free month of consultations for any Jenny Craig center in the US (or via telephone at Jenny Craig anywhere) plus a $50 food credit when you sign up with Jenny Craig.
I have had great experiences with my counselors at Jenny Craig. Since they have done the program, they get it. Their success is inspiring and they are not only supportive, but they can offer personalized solutions to any roadblocks or issues you might be having with weight loss.
Each item in the Jenny Craig kit is labeled and color coded so that you will know exactly what to eat when. This just makes life so much easier So what comes in the Jenny Craig Kit at Walmart? All the meals you see below. Check out the video at the end of the post where I unpack the box and show you each and every meal.
It is hard for me to pick a favorite Jenny Craig meal. I am a big fan of snacks, so things like the S'more Bars and the Lemon Cooler Cookies are always high on my list. But as far as lunches go, my favorites are the Turkey Chili and the Cheese Ravioli.
You are free to supplement the Jenny Craig program with servings of fruits and vegetables and items such as almonds and light string cheese. All the this is explained in the First Step to Success booklet that is found in the starter kit.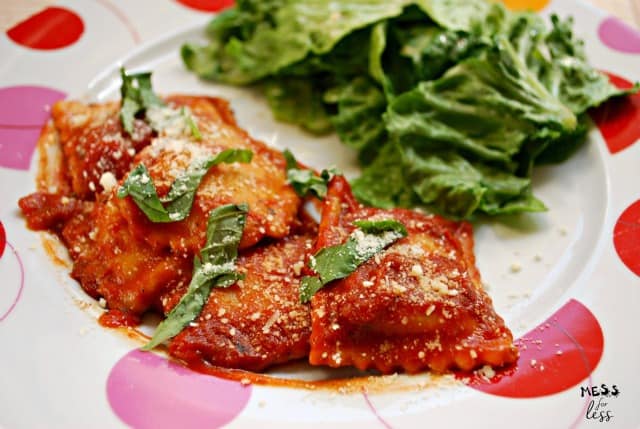 What is Your Excuse for Not Losing Weight? It's time to shatter those excuses and break through to weight loss success!
Results not typical. Members following the Jenny Craig program, on average, lost 1-2lbs. per week.
Want more Mess?