As a mom, I have plenty of experience with time outs. Time out is a chance for my kids to remove themselves from a tense situation and take a break to calm down and collect their thoughts. When I started thinking about times outs, they started sounding pretty good…for me. There are plenty of tense situations I find myself in as a mom. Can you relate? Please, tell me I'm not the only one. Time out started sounding better and better and thanks to
Glade®
Wax
Melts, smelling better and better too. Read on to see how you can have a mommy time out of your own.
So how do you know if you need a mommy time out? Here are some signs that you need a break.
1. You 
find yourself yelling at your kids and losing your cool over minor incidents. This is not good for anyone. Even if your yelling results in your child changing their behavior, you end up feeling awful afterwards for not handling
things better.
2.You are feeling overwhelmed with needy kids. "Mom, help me with this game," "Mom, my sister's being mean to me," "Mom, have you seen my shoe?" When my three kids come at me all at once with a thousand requests, it sends me over the edge.
3. You have been "on" all day. Being with kids every second of the day is stressful and can overwhelm any mom.
4. You are engaging in a battle of wills with your child. This happens a lot with me. I have gotten into a major battle with my daughter over her having a bite of banana. I am a little wiser now and know to just remove myself from certain situations before they escalate.
So now you've determined that you need a mommy time out, but how does that work exactly? Do you stand in the corner for a few minutes? Not exactly. A mommy time out is meant to renew and refresh you. You will need to remove yourself from the situation, but where will you go?
When my kids were babies I would place them in a pack and play with some toys and run to the bathroom where I would close the door and just breathe (and sometimes cry). If you are in that stage of life, that may the only time out you get. If your husband is at home or another adult is there, see if you can take a 20-30 minute break where you can just unplug from all the stress. My kids are four and five years old and can sit and play or color for a few minutes without causing injury to themselves or destruction to the house. In my case, I can get a 3-5 minute mommy time out. After that amount of time someone usually needs help with something. Every child is different. Please use your best mommy judgement if you need a mommy time out.
You don't need an elaborate set up for a mommy time out. As I mentioned, I used a bathroom for many years. Now that my kids are older, I use a guest bedroom. I can still hear the kids, but I have told them not to disturb me for 5 minutes unless there is an emergency. Then I set a timer for them and head off for 5 minutes of recharging. I have the guest bedroom stocked with magazines (you know, all those I subscribe to but never actually have a chance to read), some relaxing music, and my Glade® Wax Melts Warmer.
Scent really has the power to inspire and calm me. The warmer simply plugs into a wall and works with Glade® Wax Melts to deliver the perfect scent when I need it.
My favorite scents are the Hawaiian Breeze and Cashmere Woods.  Hawaiian Breeze helps me imagine that I am in
a tropical paradise, instead of in my guest room, and Cashmere Woods has that rustic scent that inspires images of relaxing in front of a crackling fire.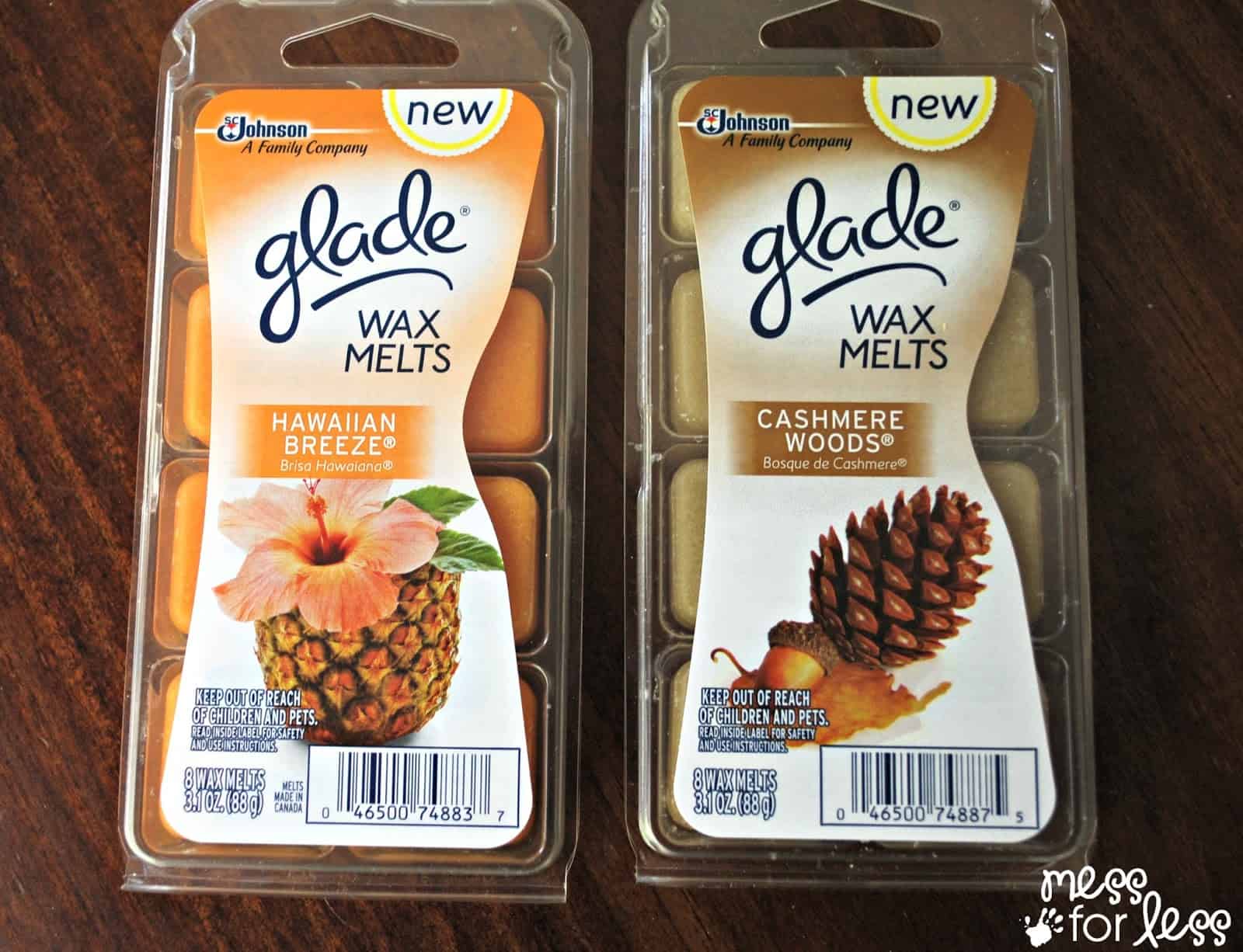 Each package of cubes delivers 96 hours of fragrance which is enough to cover LOTS of mommy time outs.
The electric, table top warmer features a warming plate, on top of which a warming dish and cube are placed.
Simply plug it in and turn it on for some delicious fragrance. The warmer makes a great decorative piece to keep out even when not in use. The color and style will fit in with a variety of decors.
Mommy time outs don't need to be long to be effective. Mine average around five minutes, but between interesting reading material and being surrounded by fresh, invigorating scents, they are all I need to get back into the game. I find when I return to my kids, I more relaxed, playful and optimistic. If you ask me, that's a great investment of my time.