I was in the grocery store recently and happened upon these brightly colored clothespins. I just loved them and knew I could use them for an activity. You don't need to have colored clothespins for this preschool math activity. Any clothespins you have on hand will work. We love math games and have had fun with Post It Math Games, Number Books and Ice Cream Math Games. What I love about this clothespin math activity is that it requires very little set up time and give kids an opportunity to practice math as well as strengthen fine motor skills.
You will need:
6 paint cups or other sturdy cups
Paper
Marker
Tape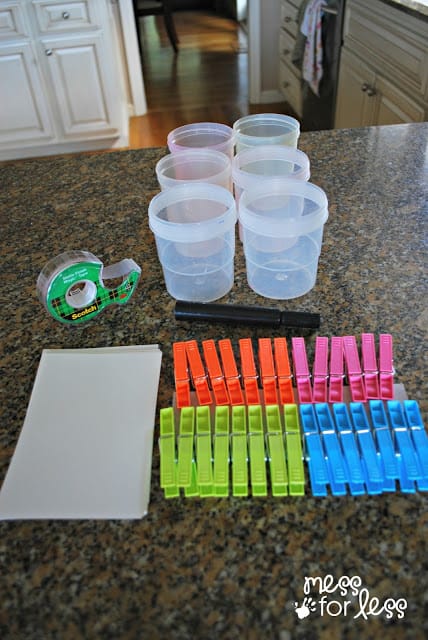 I used six paint cups for this activity. You will need a sturdy cup so that it doesn't tip over when your child clips on the clothespins. On slips of paper write some different numbers. The numbers you use will depend on your child's level. If your child is just starting to count and recognize numbers, then you will want to stick with smaller numerals. We used some bigger numbers. Just make sure you have enough clothespins for all the cups.
Your child will be reading the number on the cup and clipping the correct number of clothespins on to the cup.
In addition to being a learning game, clothespin math is an opportunity for kids to work on their fine motor skills. Repeatedly opening clothespins
My daughter had a great time with this game. She counted each clothespin as she clipped it on the cup and then when she thought she was done, she went back and counted just to make sure.
She also had to do a bit of pre-planning. For cups that had larger numbers on them, she needed to make sure to place the clothespins on close together so she would have room for them all.
This math activity was a big hit!
For more preschool math activities that you can make at home check out: