Since my kids are so excited about Halloween, I thought I would try and incorporate some
Halloween activities
into our learning activities. This
Candy Corn Counting
game takes little time to set up and can played using any variety of candy you happen to have around. If your little ones are counting down the days until Halloween, you can also have some fun with a
Halloween Invitation to Play
and
Black Glue and Watercolor Pumpkins
.
You will need:
10 Foam sheet pumpkins
Candy corn
Permanent Marker
We found these foam pumpkins at the dollar store. They have a jack o'lantern face on one side and the other side is blank. We used the blank side. If you can't find these pumpkins you can make your own using sheets of orange craft foam.
I used 10 foam pumpkins and I wrote the numbers 1-10 on them. Then I filled a cup with candy corn and explained how we would be placing the correct number of candy corns on each pumpkin.
This yummy math game is a great opportunity to practice counting and even fine motor skills as little fingers pick up the candy corns.
Sometimes my daughter would place her candy corn on the pumpkin so fast that she had the incorrect amount. I had her count when she done with each pumpkin to check her work.
If you do candy corn counting, you will probably have your child asking if they can eat some candy corn. I promised my daughter a few pieces when she was finished with the activity.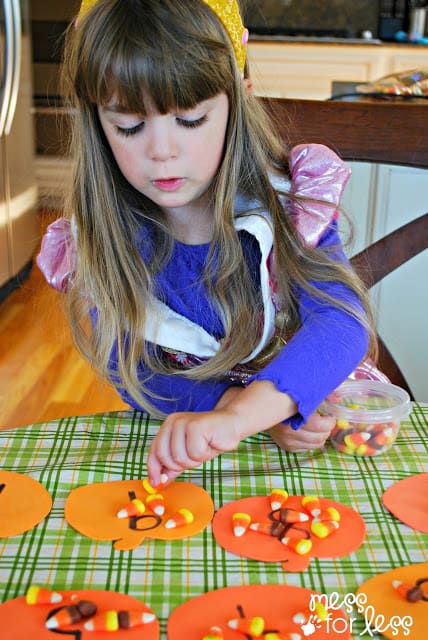 When she finished all her counting, I let her pick one of the pumpkins from the top row (1-5) to eat the candy corn from. She of course picked 5 since she noticed that it has the most candy corn.
Here are some more Halloween activities fun: