During the summer, my kids spend hours each day outdoors. Sometimes it's at the park or at a beach, but most of the time it's in our own backyard. These are some of our favorite and most used outdoor toys and supplies that my kids come back to again and again. Some are designed to get kids moving, others to inspire imagination and creativity, and some are great for keeping cool during the hot summer months. Did your favorites make the list of our 20 Best Outdoor Toys for Summer? After your kids get tired of being outdoors do some of these fun summer art activities together.
Best Outdoor Toys for Summer
Perfect for sleeping under the stars in the backyard. I love the waterproof floor and the fact that it can be used indoors in colder months.Plus, the mesh top allows you to see everything going on inside.
This is great for developing hand-eye coordination. My five year old can't fling and catch the balls yet, but she can use it to toss and catch balls. We have spent many an afternoon playing with this.
This is the perfect accompaniment to the tent above. This set really encourages outdoor pretend play. The lantern and stove light up which just adds to the fun!
We use our hopscotch mat often. It's great for getting kids moving and practicing their gross motor skills. The interlocking pieces make this a fun puzzle as well.
My youngest is obsessed with bugs. If you have a bug loving kid too, they will enjoy using this kit to explore the great outdoors and collect some nature along the way.
Hands down our most used outdoor toy. This water table helps cool kids off on summer days. We actually use it year round. You can fill it up with other objects for sensory play when the weather is cooler.
We are never without sidewalk chalk. Something about summer and sidewalk chalk just go together. Countless hours have been spent outdoors creating and coloring. Plus the fact that these are washable make clean up a breeze.
Is there a better way to beat the heat than by getting wet? We have had this sprinkler for years. It is very durable and holds up well when left in the hot sun for months at a time.
Who doesn't love an egg and spoon race? This is sure to be a hit at summer play dates or parties. The best part is when the eggs hit the ground, there is no mess to clean up.
I am always amazed by the number of ways my kids find to play with these cones. They have used them to make an obstacle course, build with, and even to prevent people from stepping into a puddle.
I love water balloons but hate taking a lot of time to fill them when they are used up in a few minutes. This set makes it simple and quick to fill up lots of water balloons.
Grab a kite and head to the park. If you've never flown a kite with your child, this kite is easy to assemble and fly. It takes all the frustration out of flying a kite.
Bubbles are a summer staple and this machine will keep the bubbles flowing at your place. It makes 500 bubbles per minute which is way more than I can make on my own.
We have had our Plasmacar for a number of years. We started off using it mainly indoors but now it is used almost exclusively outdoors. There are no gears or pedals - kids just get on, steer and go. Since it can hold up to 220 pounds, hubby and I have had fun riding it as well.
Playing with this target game is a great gross motor activity. Plus, kids get to practice math as they add up their score.
This is fun for the entire family. Made from dense foam, this set will last, but not damage anything indoors or out. I love that it comes with a bag so you can keep all the pieces together.
Grab a helmet and go! I have to admit, I am not great with a scooter. But my kids just hop on it and zip along. It comes in a variety of colors and patterns, so you're sure to find one to suit your needs. This scooter is designed for kids 6 and under.
This set comes in its own bag which makes it easy to transport to and from the beach. We use ours a lot at home in our sandbox.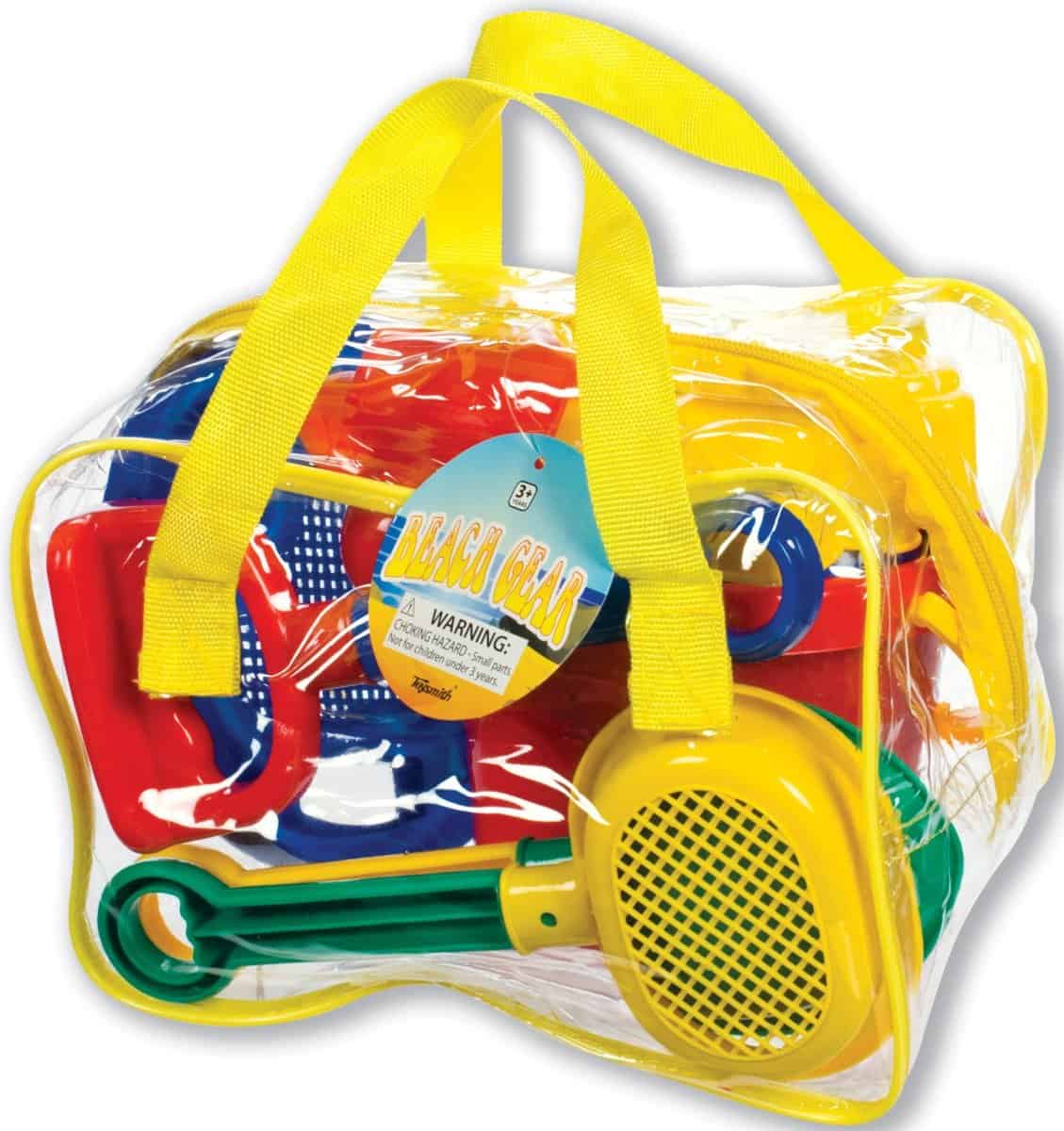 If you think a tee ball set is just for boys, think again. I have all girls and our tee ball set is used all the time. The kids like to see how far they can hit the ball. Running after the ball and putting it back on the tee burns off lots of energy. This is another toy that helps with hand-eye coordination.
My five year old is a hula hoop master. She can spin multiple hoops and even uses them for jumping. Since you need a lot of space to hula hoop, these are the perfect outdoor toy.
So what outdoor toy gets the most use at your house? What were your favorites as a kid?
For more summer outdoor recipes check out these Camping Recipes to Cook Outdoors.
If you enjoyed the best outdoor toys for summer, check out:
Gifts for Kids to Promote Thinking and Learning
20 Gifts for the Budding Artist