We have had the chance to test out a number of subscription boxes - some great, others not so much. I decided to assemble a list of The Best Subscription Boxes for Kids to help those who might be looking for a perfect gift for a child. What's better than the gift of creativity and family fun? For more fun gift ideas check out Best Subscription Boxes for Boys and 20 Gifts for the Budding Artist.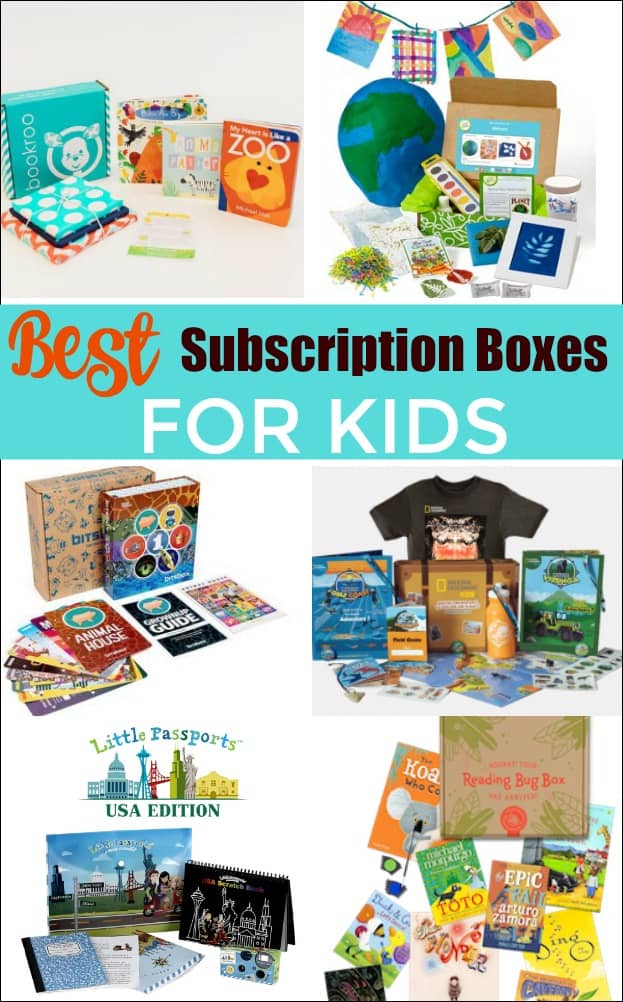 Jump to:
Why Subscription Boxes are Awesome
When I think of the best gifts, they are the kinds that create memories and provide experiences. Subscription boxes make great gifts for just those reasons. They provide children with all the tools they need to have an experience. The experience may be educational, artistic or just plain fun. These make great gifts for the kid who has everything.
Is Shipping and Handling Included?
Most of these subscription boxes include shipping and handling in the cost. When they don't, I have indicated it under subscription options. All prices were current at the time of this writing, but they may change at any time.
Do your kids love cooking? I have long been a proponent of cooking with kids. There are so many things kids learn by helping out in the kitchen. Math, reading, chemistry and cooperation, and more are used while following a recipe.
​Raddish is a monthly subscription box for kids that is a cooking club, culinary lesson, and mealtime solution all in one. Young children get to work with an adult, while older kids and teens independently indulge their culinary curiosity! And it's perfect for picky eaters — kids who cook, eat!
​A new kit is delivered to your doorstep every month​! You can choose from the Cooking Club, Baking Club or Global Eats Club.
Each kit features a unique culinary theme! You'll also get a shopping list emailed to you prior to delivery so you will be ready to cook. These kits are a great way for kids to develop new cooking skills and confidence in the kitchen while the entire family builds memories together.
Subscription options:
Raddish Kids offers a number of subscription options. Monthly subscriptions are $27.95 per month. A 6 month subscription is $25.95 per month and a 12 month subscription is $23.95 per month.
Subscribe here.
This subscription box takes the intimidation out of doing science with kids. The Spangler Science Club delivers amazing hands-on science to your door every month. These make great STEM gifts for budding scientists. Each month, your child will receive the most amazing science experiments delivered to your door. A new theme will be explored every month such as kitchen chemistry, the power of air or bubbling potions. Ideal for kids in grades K-6.
Subscription Options
The Spangler Science Club offers a variety of subscription options. Individual kits are $32.99 and do not include free shipping, but you can choose which kit you'd like.
A 6-month subscription is $27.99 and includes free shipping.
Subscribe here.
Green Kid Crafts is an earth-friendly monthly craft subscription box for kids that sparks creativity while teaching kids respect and love for the environment. These boxes are themed and each month will be filled with 4-6 fun projects and creative activities than can be enjoyed by kids from ages 3-10.
Since Green Kid Crafts is an earth-friendly company, they use sustainable, safe materials in all of their products. They also give a portion of each sale to environmental non-profits.
Subscription Options
A monthly subscription is $29.95 per month. A six-month subscription is $26.95 per month.
Subscribe here.
Give the gift of reading! With Reading Bug Box, each month your child will receive beautiful books that have been handpicked for your child's age and interests. With books that range in age from newborn to independent readers, there is something for every kid. In addition to the books, your child will receive gifts and extras that have been matched to the theme of the box.
Subscription Options
Reading Bug Box is personalized for a child ages 0-13 - starting at $27.99 per month.
Baby Bug Box is curated for ages 0-30 months from $18 per month.
Subscribe here.
If your kids love to travel or science, then Little Passports is the perfect subscription box for your child. My kids love to explore, and this subscription box contains so many engaging activities for kids. I think even kids who haven't traveled would enjoy getting the world delivered to their mailbox. Plus, Little Passports also offers science and stem based subscription boxes designed to get kids started on a lifelong journey of learning. Little Passports has boxes for kids as young as 3 to as old as 12.
Subscription Options
Monthly $29.95 per month.
6 month subscription 27.95 per month.
Subscribe here.
Book boxes make great gifts and what makes Owl Post Books unique is the fact that they offer subscription book boxes for older kids. Each Young Adult box includes three new YA books for kids (14 and up) that love fantasy books. If you get these, be aware that YA books may contain content that is not suitable for younger children.
Subscription Options
Subscribe here.
👍Expert Tips
Tip 1: To find a variety of subscription boxes on any subject or theme you can imagine, check out Cratejoy.
🤷🏻‍♀️ Subscription Box FAQs
I don't want to sign up for a monthly subscription. Can I just buy one box?
Yes, most companies allow you to just purchase a solo box. This way you can see if you like it before committing to a longer subscription.
📦Related posts
🌟If you try this recipe, leave a star rating below or a review in the comment section. Be sure to sign up for my newsletter to get my latest recipes!