My twins have a birthday coming up. Friends and relatives are asking what the girls want. They have enough clothes and toys and many of those barely get used. When I think of the best gifts, they are the kinds that create memories and provide experiences. Subscription boxes make great gifts for just those reasons. They provide children with all the tools they need to have an experience. The experience may be educational, artistic or just plain fun. These make great gifts for the kid who has everything. We have had the chance to test out a number of subscription boxes – some great, others not so much. I decided to assemble a list of The 10 Best Subscription Boxes for Kids to help those who might be looking for a perfect gift for a child. What's better than the gift of creativity and family fun? For more fun gift ideas check out 20 Gifts for the Budding Artist.
This post contains affiliate links.
Subscription Boxes for Kids
Most of these subscription boxes include shipping and handling in the cost. When they don't,  I have indicted it under subscription options.
If you love cooking with your kids, you'll enjoy Kidstir. When you sign up for Kidstir your child will receive a monthly kit that will provide fun food adventures for you to enjoy with them. You'll get tasty recipes and fun new cooking tools that will spark a love of cooking in kids. This is such a great way to create memories with kids in the kitchen.
We have had so much fun with the circus themed kit we just received. We made animal crackers and goldfish crackers with the enclosed cookie cutters and recipes. If you are at all intimidated by cooking, then this is the kit for you. You provide the ingredients and Kidstir provides the rest!
Green Kid Crafts is an earth friendly monthly craft subscription box for kids that sparks creativity while teaching kids a respect and love for the environment. These boxes are themed and each month will be filled with fun projects and creative activities than can be enjoyed by kids from ages 3-10.
Since Green Kid Crafts is an earth friendly company, they use sustainable, safe materials in all of their products. They also give a portion from each sale to environmental non-profits.
Subscription Options
A monthly subscription is $19.95 per month with a six month subscription being $18.95 per month.
KiwiCo were the first subscription boxes for kids that we ever received. As a former teacher, I was really impressed with the quality of materials found in KiwiCo.  These kid tested activities were designed by a community of parents.  They are perfect for busy or working moms.  Some moms have told me that they want to do activities like I do on Mess For Less with their kids, but they just don't have to the time to go buy all the supplies and prepare them for the activity. KiwiCo is the perfect solution.
Every month your KiwiCo will focus on a particular theme like Colors, Dinosaurs or Gardening. KiwiCo offers a variety of projects ranging from crafts, imaginative play, science experiments and more.
Subscription Options
KiwiCo offers a number of subscription options.  Monthly subscriptions are $19.95 per month. A 6 month subscription is $18.50 a month.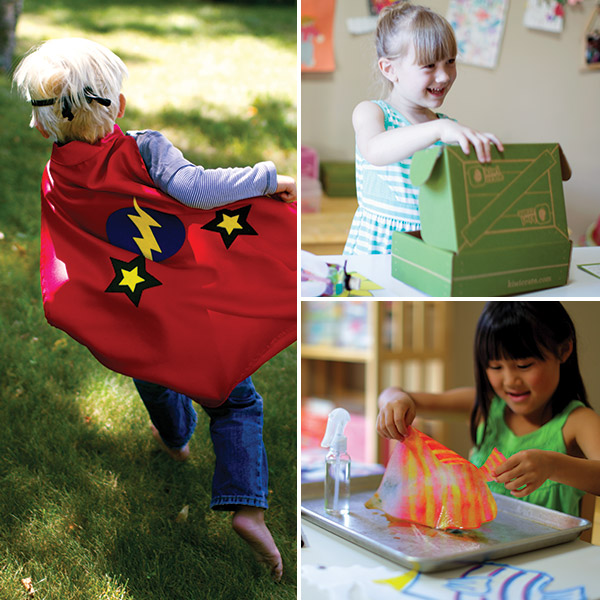 This subscription box takes the intimidation out of doing science with kids. The Spangler Science Club delivers amazing hands-on science to your door every month.  These make great gifts for budding scientists. Each month, your child will receive the most amazing science experiments delivered to your door. A new theme will be explored every month such as kitchen chemistry, the power of air or bubbling potions. Ideal for kids in grades K-6.
Subscription Options
A monthly subscription is $29.99 a month and a 12 month subscription is $24.99 per month.
This kit is great for kids who love exploring and want to learn about the world. I love how it combines learning and fun. Junior Explorers is designed for kids ages 5-11. Each kit will include fun collectibles and activities based on the theme and ecosystem of the month. The collectibles include tattoos, wristbands, stickers, pins, animal fact cards, figurines and activities for kids. Plus, kids receive a secret code to unlock an online experience.
Subscription Options
Monthly subscriptions are $19.00 a month while a six month subscription is $15.83 a month.
If you love to travel then the is the perfect kit for your child. My kids love to explore the country and world and this subscription box contains so many engaging activities for kids. I think even kids who haven't traveled would enjoy getting the world delivered to their mailbox.
Subscription Options:
You can pick between 3 different subscriptions:
Early Explorers is for kids 3-5 and explores a new world theme every month such as dinosaurs or oceans.
World Edition is for ages 6-10 and focuses on a different country each month with souvenirs and activities.
USA Edition is for kids 7-12 and teaches about two different states each month.
World Edition subscriptions start at $13.95 a month and go down to $11.95 per month if you purchase for 12 months.
We love Ivy Kids because their kits are based on classic children's books. Each kit will contain more than 10 activities based on a different book each month. The activities help engage kids with math, literacy and science while developing fine and gross motor skills. The kits are designed for kids ages 3-8.
Subscription Options
A  monthly subscription is $38.95 while a six month subscription is $34.95.
Genius Box creates monthly subscription boxes for kids that provide them with creative hands-on experiences in science, technology, engineering, and math concepts. STEM is so popular and important right now and these boxes will give kids plenty of opportunities to learn, explore and tinker. Each kit contains 3+ activities and experiments. Genius Box kits are geared towards kids ages 8-11.
Subscription Options
A one month subscription is $25 while a three month subscription is $24.
Bramble Box is unique in that they deliver themed pretend play activity kits each month.  I think these boxes are great to bring out for a play date since they contain all the materials needed for hours of open ended play. They are also great for giving parents the opportunity and inspiration to play with their kids.
Bramble Box has lots of fun themes that really interest my kids such as Wizard Science, Post Office, Ice Cream Shop and World Traveler. Bramble Box is designed for kids ages 3 – 7.
Subscription Options
A monthly subscription is $27.95 and a 12 month subscription is $24,70 a month.
We are readers in our house, so this subscription is near to my heart. Bookroo enables and empowers parents to instill a love of reading in their children. Each subscription box contains either 3 board books or 2 picture books. The books are carefully chosen and aim to be hidden gems that you probably haven't heard of rather than popular children's books.
One of the things I love about Bookroo is the fact that the combined retail value of the books always exceeds the subscription price!
Subscription Options
A monthly subscription is $17.99 a month plus $5 shipping while a six month subscription is $16.33 per month plus $5 shipping.
Okay, so this technically is a subscription letter and not a subscription box, but I loved it too much not to include here. My kids love going out to get the mail each day and the excitement only increases when they are getting a letter. These days however, with technology and email, snail mail is a thing of the past. Well, not anymore. Petit Mail Monthly Subscription for Kids offers many options for kids to get snail mail. Letters are full color and doubled sided. They include custom illustrations from an artist.
Subscription Options
A three month subscription is $18 and a twelve month subscription is $72
If you enjoyed learning about the best subscription boxes for kids, you'll love:
Gifts fr Kids to Promote Thinking and Learning
20 Best Outdoor Toys for Summer
Want more Mess?