Subscription boxes make great gifts for kids. Rather than getting a gift once and playing with it and forgetting about it, subscription boxes offer a new treat each month. Kids love to get mail and getting a packjage every month that provides fun and learning opportunities is the best kind of mail there is. We have tried and tested many subscription boxes and have found some favorites that we think would appeal especially to boys. Most girls would also love these boxes, but I think the specific themes and topics would be loved by any boy. These are the Best Subscription Boxes for Boys that I have discovered. Some contain activities geared toward learning, and others are more for fun or hobbies. Whatever the theme, each box contains a ton of fun! For special subscription boxes for all the kids on your list, be sure to check out Best Subscription Boxes for Kids.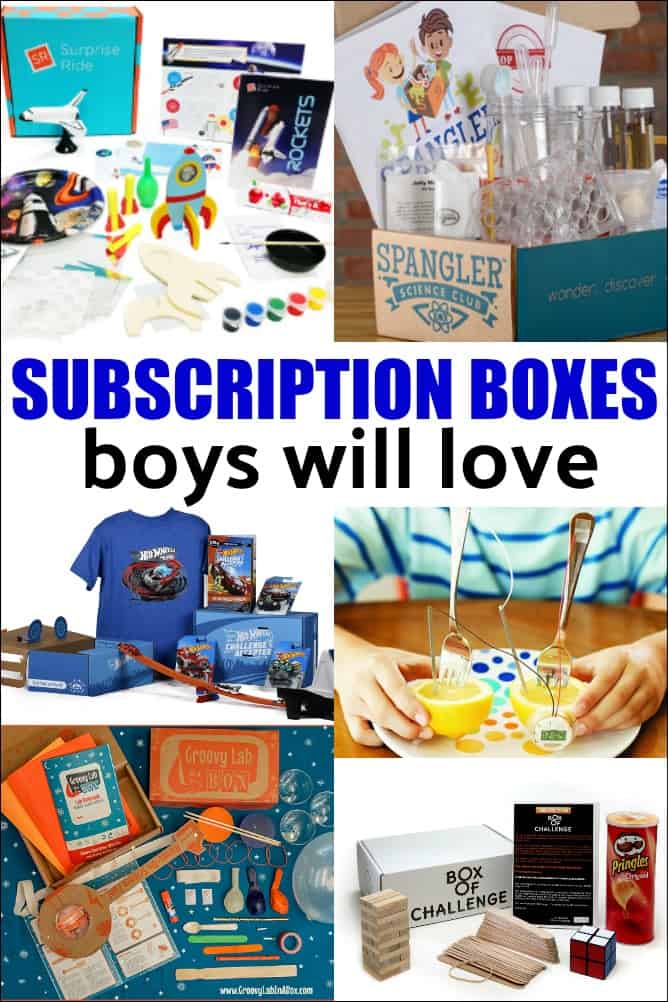 Best Subscription Boxes for Boys
Most of the best subscription boxes for boys include shipping and handling in the cost. When they don't,  I have indicted it under subscription options. All prices were current at the time of this writing, but they may change at any time.
Does your little guy love science? These boxes are presented in partnership with Popular Mechanics so you know you'll be getting some great stuff each month. Boys will love Groovy Lab in a Box because its contains everything they need to do experiments focused on science, technology, engineering and math (STEM). Kids will get all the supplies they need to complete the activities in addition to a cool lab book.
Subscription Options
Monthly subscriptions are $29.95 a month, a prepaid 3 month subscription is $28.95 and a 6 month prepaid subscription is $27.95 per month.
Subscribe here.
Whether your boy likes tinkering, creating, or experimenting there is a KiwiCo box for them. KiwiCo were the first subscription boxes for kids that we ever received. As a former teacher, I was really impressed with the quality of materials found in KiwiCo.  These kid tested activities were designed by a community of parents.  They are perfect for busy or working moms. Moms have told me that they want to do activities like I do on Mess For Less with their kids, but they just don't have to the time to go buy all the supplies and prepare them for the activity. KiwiCo is the perfect solution!
Every month your KiwiCo will focus on a particular theme like Colors, Dinosaurs or Gardening. KiwiCo offers a variety of projects ranging from crafts, imaginative play, science experiments and more.
Subscription Options
KiwiCo offers a number of subscription options for boys of all ages and interests.  Monthly subscriptions are $19.95 per month. A 6 month subscription is $18.50 a month.
Subscribe here.
This subscription box is something the whole family will enjoy. Each pack contains 6 to 8 specially picked items. There are games, activities, and even some individual items for each child. It provides hours of awesome fun for you to do together as a family. It includes games, activities and also a few individual awesome items for each child.
Subscription Options
In every pack you will receive:
Family Board Game
Family Activity
Activity For Each Child
Awesome Goodies For Each Child
Awesome Activity Book
Hours of Family fun
The items are based on a 2 child, 2 adult pack. Every pack is customized to the pack profile, so contents will differ from pack to pack. Awesome pack is $39.99 per month plus shipping.
Subscribe here.
Pley offers boxes that contain quality, name brand toys and activities that kids will love. Boys will go nuts over the Hot Wheels subscription box. It contains an early edition car and exclusive T-shirt in addition to a system to learn, play and build. Even the box adapts to inspire exclusive creations.
Subscription Options
1 box is $29.99, 3 boxes are $86.97 and 6 boxes are $167.94.
Subscribe here.
Give the gift of coding! Every month, kids will receive a new coding concept. If coding isn't your thing, you can get unlimited email help with any subscription. Kids ages 6-12 will be able to pick a coding project, then type the code into the Bitsbox website and watch as they run their app runs on phones and computers. Perfect for creative, techy boys!
Subscription options:
Basic Bitsbox from $24.95 a month.
Deluxe Bitsbox from $32.95 a month.
There is also a digital version for $19.95 a month that lets you download PDF's that you can print yourself.
Subscribe here.
Are you looking to get your child more engaged in learning and educational activities? MyEduCrate delivers educational themed items monthly to kids ages 6-11. They will get learning challenged, hands on learning materials, non-fiction readers and resources selected by certified teachers.
1 month $39.95 per month
3 months $38.28 per month
6 months $38.12 per month
1 year at $37.95 per month
Have a curious boy on your hands? Surprise Ride will send pre-planned activities to your door. Boys can have fun and learn without gadgets. Each box will cover a theme and come with an activity, a book, snack and fun. Best for kids ages 6-11.
1 month $20.95 per month
6 months $19.95 per month
1 year at $17.95 per month
This makes a great gift for even the picky boy on your list. If you have a LEGO and brick lover at home, they will eagerly await the delivery of this subscription box. Each month, subscribers get a box filled with unique and never-before-seen items that are compatible with LEGO bricks. Each box will contain 4-8 hand picked items that boys are sure to love.
Subscription options
1 month $27.00 Month + Shipping
3 months $25.00 per Month + Shipping
6 months $24.95 per Month + Shipping
Subscribe here.
If your family loves doing fun things together, then this is the box for you! Each box contains challenges that center around a theme such as Crazy Circus, Super Geometry or UFOs. Each box will include challenges, brain teasers, instructions and inspiration. I love how this box provides some great bonding family activities and that it wis fun for all ages to do together.
Subscription options
$26.95 (includes tax) per month.
Subscribe here.
Does your child love to experiment and learn about the world around them? The Spangler Science Club delivers amazing hands-on science to your child every month.  These make great gifts for budding scientists. Each month, your child will receive the most amazing science experiments delivered to your door. A new theme will be explored every month such as kitchen chemistry, the power of air or bubbling potions. Ideal for kids in grades K-6.
Subscription Options
A monthly subscription is $29.99 a month and a 12 month subscription is $24.99 per month.
If you enjoyed learning about the best subscription boxes for boys, you'll love:
Gifts for Kids to Promote Thinking and Learning
WANT MORE MESS?