Fall is one of my favorite times of the year and it will be here before you know it. I love watching the leaves change color and wearing a cozy sweater to protect from the slight chill in the air. Our family enjoys spending time outdoors in the crisp, fall weather. We find plenty to do indoors as well, like this fun fall art activity. This Fall Diorama is made with a cereal box and is sure to get you and your kids in a fall mood! This post has been sponsored by Post Foods and Pebbles Cereal.
So what do you do when your family has just finished off a box of delicious Cocoa Pebbles? Normally you would dispose of the box and buy another one. But don't be so quick get rid of that cereal box. I'm going to show you how you can make a fun diorama craft with your kids using the leftover box.
Cocoa Pebbles is a favorite breakfast option in our house, though truth be told, we don't just have it for breakfast. We also enjoy it for snack (with or without milk) or as a crunchy topping for ice cream. Cocoa Pebbles is a sweetened crispy rice cereal that can be enjoyed by anyone who wants to start their day in a chocolatey way. My family loves the tatse, especially how good it is with milk, and I love the fact that it is gluten-free and an excellent source of vitamin D. Cocoa Pebbles contains 11 essential vitamins and minerals and has been a breakfast favorite for over 40 years.
So after you are done enjoying your Cocoa Pebbles, save the box and gather some materials to make an easy kids craft.
Fall Diorama
You will need:
Cocoa Pebbles box
Scissors
Light blue paint
Paintbrush
Green construction paper
White glue
Brown paper lunch bag
Red, green, orange and brown tissue paper squares
Yellow pipe cleaner
Clear or white thread
Tape
To make this fall diorama, you will cut open a Cocoa Pebbles box so that the front part of the box opens downward. This is a good job for an adult.
Paint the inside portion of the box with blue paint. My daughter used a dabbing technique while painting to give the sky some texture and make it look like there were actual clouds in the background.
My kids could not wait for the paint to dry because they were excited to make their fall diorama. To help make the time pass quicker, we took a snack break and enjoyed some Cocoa Pebbles.
Next it was time to make the tree. Cut 2.5 inches off the opening of a paper lunch bag. Then cut strips from the opening of the bag to the part that folds over. Twist the bottom part of the bag to make a trunk and the strips you cut will be sticking out. To form the branches of the tree, gather 2 or 3 of the strips and twist them together until all the strips have been twisted.
Kids love to help make the paper bag tree!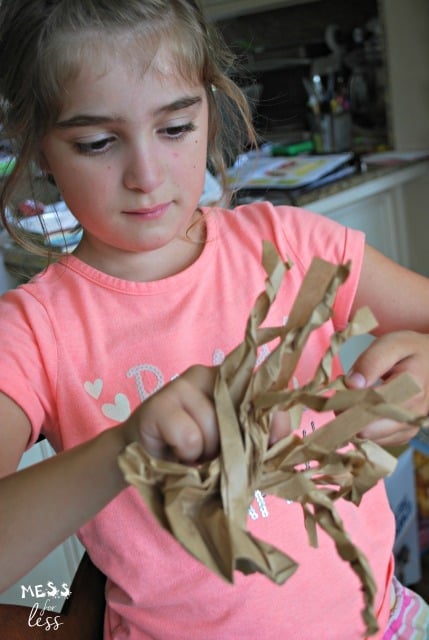 Once the paint on the Cocoa Pebbles box has dried, you can start constructing your fall diorama. Cut and glue some green construction paper to cover the portion of the box that opens up. Cut some hills from green construction paper and glue to the back of the sky scene. Make some grass by cutting a thin strip of green construction paper that will fit the front of the Cocoa Pebbles box. Cut strips in the grass, careful not to cut all the way through. Glue to the front of the box and fold up the grass so that it appears to stand up.
Glue the paper tree into the center of the diorama. Roll the yellow pipe cleaner so it becomes a circle. Tie some clear thread to the yellow pipe cleaner and tape it to the top of the box to represent the sun.
Now it is time to decorate the tree and the scene with some fall leaves. My kids loved this part! You can use pre-cut tissue paper squares in fall colors or just tear small pieces of tissue paper to make the leaves. Squeeze them up a bit and glue them to the tree branches and scatter them around the scene. If you have young children, this tearing and squeezing makes for some great fine motor practice.
And there you have it! An easy fall craft made from something you would have normally disposed of. This project is fun to do as a family and it also helps to teach kids to to reuse household objects for a different purpose.
If you liked this Fall Diorama and are a fan of Pebbles, try this Flower Craft with Fruity Pebbles.