Welcome to the Paint and Play series where I come together with some of my favorite bloggers to share some fun ways to use paint. This week, Tammy from Housing a Forest, Crystal from Growing a Jeweled Rose and new addition Suja from Blog Me Mom, join me in sharing some creative Fall and Nature ideas for paint. We had so much fun creating Kids Window Art that we decided to do some Fall tree window painting. If you have a window at a child's level and some paint, you can make some window art as well.
You will need:
Fall colored paint
Water
Liquid soap
Paint cups
Paint brushes
Large window or sliding glass door
To prepare the window paint, mix one part water with three parts paint in a paint cup and add a squirt of liquid soap. Thinning the paint and adding soap to it will make clean up a lot easier.
I painted a few bare trees on the window since two of my kids did not want to make their own trees. One of my daughters wanted to paint her own tree though, and I think she did a great job.
The kids had different techniques for painting leaves on their tree. One made leaves that looked more like lines or curves while another made more round, circle shaped leaves.
The kids really used a variety of Fall colors to create their trees They also had lots of fun creating Q-Tip Fall Trees..
I love how they even added some falling leaves.
They also added some grass on the ground. We live in California, so the grass is green even through the Fall.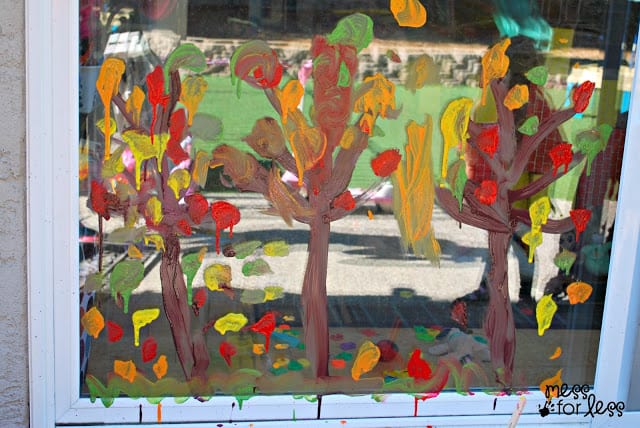 When they were done with their trees they used the other window to paint another scene. The Fall tree window painting cleans up easily with a hose. We do not let ours dry. It might be trickier to remove if you let the paint dry, so we clean it up before it has time to dry. Make sure to get plenty of photos to remember the art you created!
For more Fall painting inspiration check out these posts: