Thanks to Musselman's for sponsoring this post on Apple Bread made with Apple Sauce. This recipe is easy to make and packed with great tasting apple flavor!
I love baking with my kids. It allows us to spend quality time together while making some yummy goodies. My kids are huge fans of banana bread so I am always looking for fruits I can add to make different types of bread. I had the idea to make this delicious Apple Bread when my kids recently enjoyed a healthy snack of Musselman's Apple Sauce.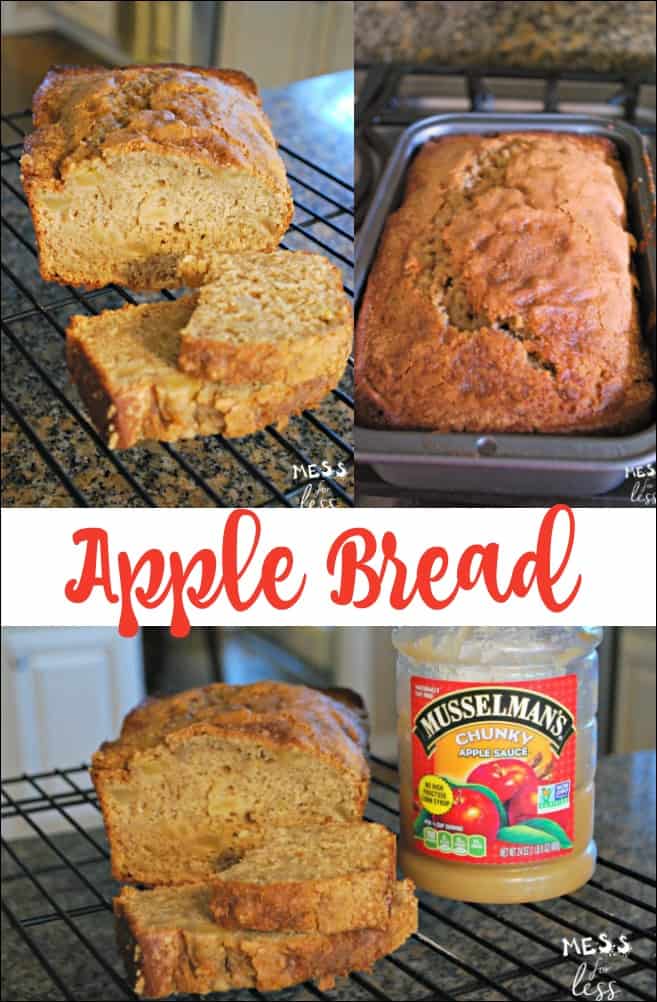 Typically if you are going to be making an apple bread, you would need to cut and cook up some apples which can be time consuming. But thanks to Musselman's Apple Sauce you can have the great taste of apples with less work. Musselman's has lots of varieties of apple sauce such as Original, Cinnamon, Unsweetened and Chunky. My favorite variety to use in this apple bread is Musselman's Chunky Apple Sauce, since it has chunks of apples that give the bread a nice texture.
Musselman's is a grower-owned cooperative that's been making apple sauce for over 100 years. It is made with 100% American grown-apples. It is GMO-free, contains no high fructose corn syrup and is instead sweetened with cane sugar for a better taste. We approve!
Apple Bread
Now that I had the Musselman's, it was time to gather my helpers. My kids helped out with various parts of the process from mixing to eating. My daughter took her job to measure the apple sauce very seriously. We used 1 1/2 cups of the apple sauce which kept the bread from being dry, while giving it a delicious apple taste.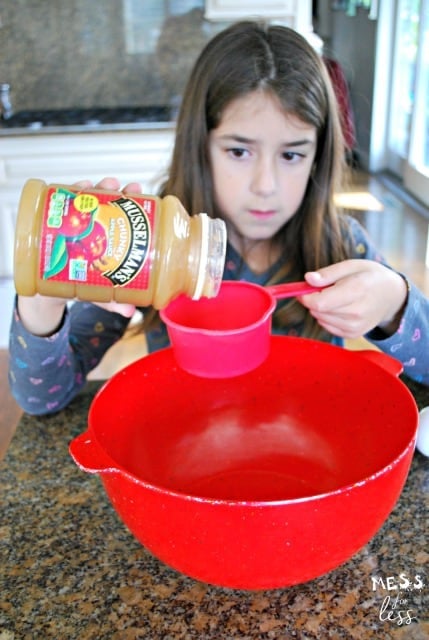 Just look at those apples in Musselman's Chunky Apple Sauce! If you only have the original variety on hand, you can certainly use that instead, but I just love biting into the bread and tasting those apples.
After combining all the ingredients, my daughter helped me pour them into a loaf pan. Then we topped the apple bread batter with some brown sugar before popping it in the oven. The brown sugar results in a crunchy, caramelized topping.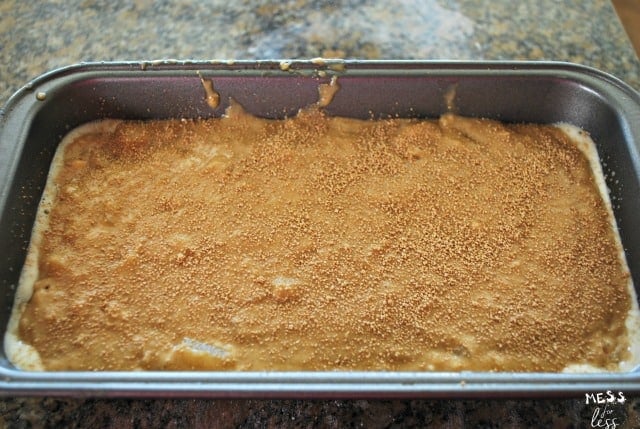 This apple bread smells amazing while baking. Drawn in by the yummy scent, my kids kept running into the kitchen, asking if it was ready.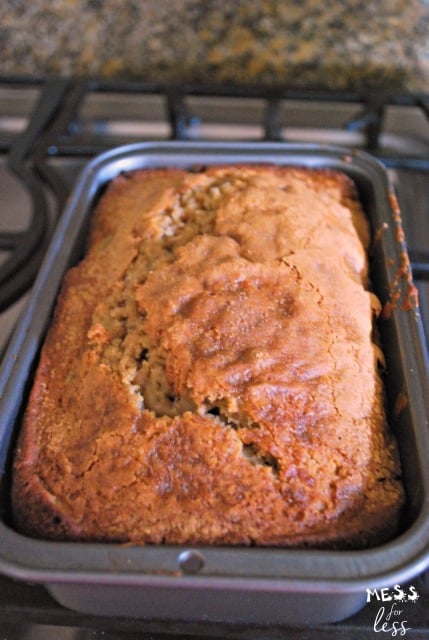 Finally it was time! I usually slather some butter on banana bread, but this apple bread was so soft, spongy and moist because of the Musselman's Apple Sauce that no butter was necessary.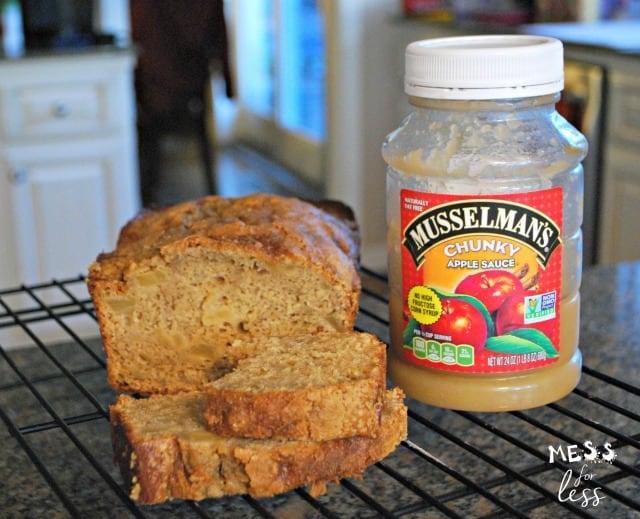 My kids starting gobbling up the apple bread as soon as it had sufficiently cooled. Our apple bread lasted just one day before it was all gone. Luckily, I have lots of Musselman's Apple Sauce on hand so we can make some more!
Musselman's Apple Sauce was an important ingredient in this recipe, but it also makes a great-tasting, healthy snack for kids and adults alike. Since Musselman's apple sauce is available in family-size jars, single-serve cups, and convenient squeeze pouches, you can use it in a variety of ways. I love to add the single-serve cups to my my kids lunchboxes. My kids also enjoy having some when they come home from school.
Musselman's is so versatile because it can be used as a healthy snack, side dish or meal ingredient.
You can connect with Musselman's on Facebook. Get your money saving Musselman's coupons here.
*While Musselman's uses GMO-free cane sugar in all of their apple sauce, the Honey-Cinnamon flavor contains honey, which cannot be verified GMO-free.
Apple Bread made with Apple Sauce
Apple Bread made with Apple Sauce - This recipe is easy to make and packed with great tasting apple flavor!
Cook Time
1
hour
10
minutes
Total Time
1
hour
25
minutes
Ingredients
1 1/2

cups

Musselman's Chunky Apple Sauce

1/2

cup

sugar

1/2

cup

brown sugar

3

tbsp

brown sugar for topping

1

tablespoon

honey

1/4

cup

oil

2

eggs

3

tablespoons

milk

1

teaspoon

vanilla

2

cups

flour

1

teaspoon

baking soda

1/2

teaspoon

baking powder

1

teaspoon

cinnamon

1

teaspoon

nutmeg

1/4

teaspoon

salt
Instructions
Preheat oven to 350 degrees and grease a 9x5 loaf pan.

Combine applesauce, sugars, honey, oil, eggs, milk and vanilla in a large bowl. Mix well.

Add flour, baking soda, baking powder, cinnamon, nutmeg, and salt to a large bowl.

Stir until thoroughly combined.

Pour into greased loaf pan and sprinkle 3 tablespoons of brown sugar on top evenly.

Bake for 1 hour and 10 minutes at 350 degrees. If the top starts to really brown before the inside is totally cooked, place some foil over the top and continue baking.
Nutrition Facts
Apple Bread made with Apple Sauce
Amount Per Serving
Calories 228
Calories from Fat 45
% Daily Value*
Fat 5g8%
Cholesterol 27mg9%
Sodium 156mg7%
Potassium 92mg3%
Carbohydrates 41g14%
Protein 3g6%
Vitamin A 55IU1%
Vitamin C 0.3mg0%
Calcium 32mg3%
Iron 1.3mg7%
* Percent Daily Values are based on a 2000 calorie diet.

WANT MORE MESS?