Don't you just love the summer? Long days, no school and outdoor fun. Of course, it can be challenging to find things to occupy the kids when they are home so much. I don't know about your kids, but mine love art. Whether they are painting, drawing or crafting, art is something the will keep them engaged. So I have put together 15 Summer Art Activities for Kids that all have a summer theme. These art activities are perfect for hot days and are sure to keep your little ones busy. If you are looking for summer play ideas, you won't want to miss this Water Balloon Hunt or these 15 Summer Activities Kids Will Love.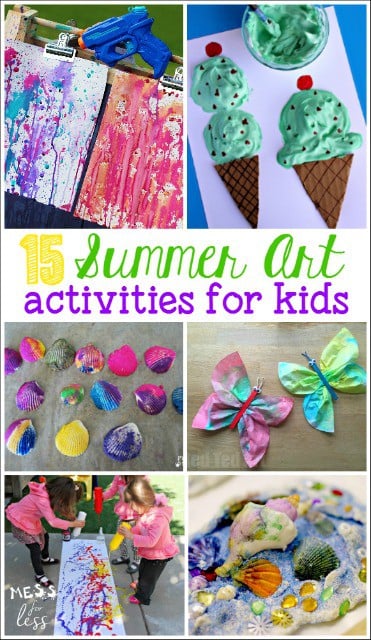 A lot of our favorite summer art activities involve paint and easel paper rolls so be sure to stock up!
Summer Art Activities
1. Slide Painting Activity from Mess for Less - kids will be fascinated as they watch the paint drip and pour down the paper.
2. Summer Sunset Art for Kids from Taming Little Monsters - this not only makes a fun summer art project, but a great keepsake and gift idea!
3. Summer Collage Art for Kids from My Nearest and Dearest - this open ended summer art experience is a perfect way to explore creativity during the hot summer months.
4. Summer Painting for Kids from The Pleasantest Thing - When the weather is nice, head outside to paint and don't worry about making a mess.
5. Paint with Frozen Paint Cubes on a Hot Day from Hands on As We Grow - This paint activity is very refreshing on a hot day. Kids get to experiment with paint in a new way.
6. Squirt Bottle Painting from Mess for Less - These condiment bottles usually go on sale during the summer. Pick up an extra set to use for painting.
7. Squirt Gun Painting from Fireflies and Mudpies - I would have never thought to use a water gun to paint with. Kids will get a kick out of this!
8. Painting with Nature from No Time for Flashcards - There are so many things outdoors that kids can find to make summer art!
9. Colorful Shell Sculptures from Fun-A-Day - After a day at the beach, use those sea shells to make these sculptures. The perfect souvenir of your beach day.
10. Puffy Paint Ice Cream Cone Craft for Kids from Crafty Morning - Ice cream is a summer staple and kids can paint their own cones using homemade puffy paint.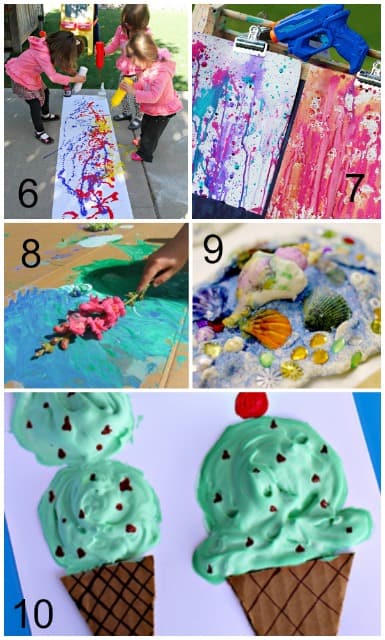 11. Sea Shell Craft from Mess for Less - If you haven't taken a trip to the beach, many craft stores sell shells that you can use for this craft or you can get some here.
12. Colored Sand Art from Totschooling - Painting with sand? What a fun art experience to try!
13. Coffee Filter Butterfly Crafts from Red Ted Art - This is a classic art activity that will brighten up your summer.
14. Sunshine Air Dry Clay from Nothing If Not Intentional - Kids will have fun making this clay and playing with it.
15. Sidewalk Puffy Paint from Mom Inspired Life - Kids will have lots of outdoor fun this summer with this easy puffy paint recipe.
I Spy Games for Summer
With these printable I Spy Games for Kids, your kids will never get bored this summer. Students will search for each object, count how many of each they discover, and then record their findings. They benefit from this in terms of writing, counting, and visual discriminating abilities. These printables are available at my Etsy store.
For more summer activities check out:
20 Summer Activities for Preschoolers