We have been having so much fun discovering different ways to paint. You may recall we did some Slide Painting and Kids Window Art. Today we explore painting with squirt bottles. That's right, those condiment bottles that you probably already have at home can be used for painting. Painting with condiment bottles is an outdoor activity, as it can get messy. Wear play clothes and get ready for fun!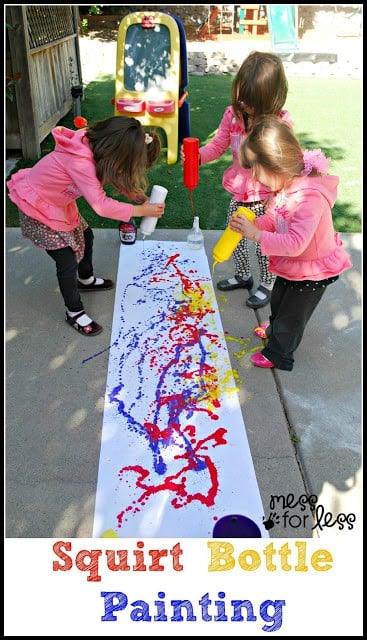 Condiment squirt bottles
Tempera paint
Easel paper
Large box
Add some paint to your squirt bottles. I added one part water for every four parts paint. This will thin the paint and make it easier for it to flow through the bottles.
Set up your easel paper on the ground. We did this on a pretty windy day, so we used some bottles to hold down our paper. Give the kids the squirt bottles and invite them to go crazy! My kids were really able to work collaboratively to create a beautiful work of art.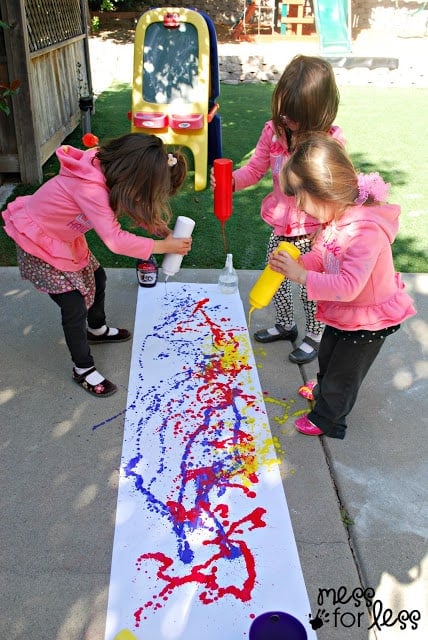 They noticed that where the colors had mixed, swirls were emerging.
I love the swirled color effect and the kids got an impromptu lesson in color mixing.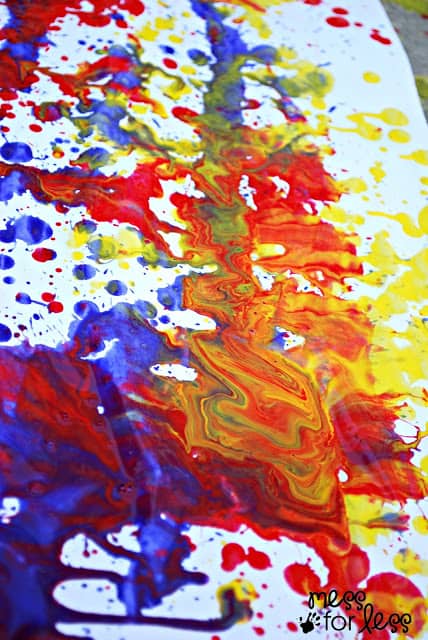 When we were done painting the easel paper, we still had lots of paint left over so we decided to paint in a large empty box.
Once they squirted their paint, they tilted the box to see what would happen. They turned the box in many directions and were delighted to see the paint mixing and creating new colors.
Would you believe after all this we still had paint left in our squirt bottles? Guess I really filled those bad boys up! Since we had such a great experience with Kids Window Art, we decided to take our squirt bottles filled with paint over to the window.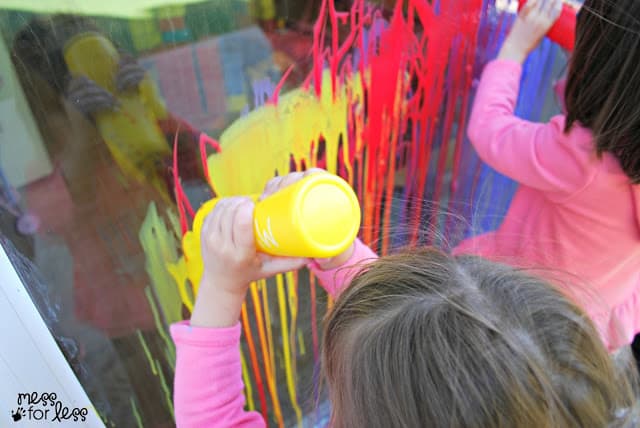 This required more fine motor work on the part of the kids since the bottle wasn't turned completely over. They had to work hard, using two hands at times, to squeeze the paint out of the bottle.
They had so much fun watching the paint drip down the window. I had less fun cleaning the whole thing with a hose when they were done. Even so, I would say that this painting activity was a hit, much like this Slide Painting Activity.. It offered some lessons in color mixing and art with some fine motor work thrown in for good measure.
For more fun ways to paint check out: