With the warmer weather approaching, my kids and I have turned our attentions to the outdoors. One of our favorite outdoor activities is planting. I can't think of a better place to plant than these pretty Drip Painted Flower Pots. They are fun for kids to make and so eye catching. You can even fill these pots with the seedlings you get from this DIY Seed Starter for Kids.
Drip Painted Flower Pots
To make these Drip Painted Flower Pots you will need:
Terra cotta pot (I used a 6 inch wide pot)
Acrylic paint with a flip top lid in various colors
Tray
Water proof sealer
You may want to have your kids wear a smock for this activity as it can get messy. We just rolled up our sleeves and and were fine. I let my kids pick out various colors of acrylic paint to use on their pot. Once they chose, it was time to start decorating. We did this project on a reusable plastic tray to contain the mess. Turn the pot upside down, then flip open the top on the paint and hold the bottle over the pot and start squeezing.
My daughters squeezed paint on the top and on the sides and watched as it dripped down the pot.
We enjoyed watching the colors mix as the paint dripped. I love the fact that gravity does most of the work on these drip painted flower pots.
When the kids were done painting, I set the pots out to dry for a few hours. Before I did, I made sure to move the pot to a different location on the tray so it didn't dry with all the paint hanging off the bottom. Simply place your finger in the hole in the pot and move it. You will get some some paint on your finger, but it easily washes off. When the pot is dry, paint over it with a thin layer of water proof sealer if you plan to use the pot outdoors.
We have been watering our plants each day and waiting for those seeds to sprout.
If birds or other small animals are a problem in your area, it is a good idea to start these seeds indoors until they have sprouted. Ours are currently enjoying the sunshine and the care my kids are providing.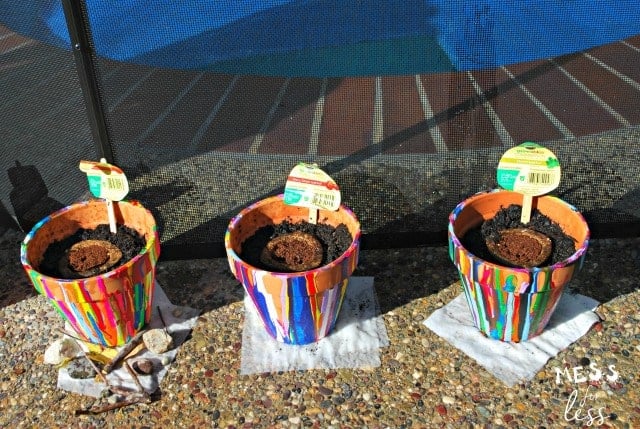 These drip painted flower pots make great gifts too! I am thinking they would be fabulous for Mother's Day or an end-of-year teacher gift. You can start the seeds at home and by the time they sprout, present the teacher with a gift of a beautiful pot and a new plant. This would truly be a gift that keeps on giving.
Do you like to garden as a family? What tips do you have for growing plants with kids?