This post brought to you by Miracle-Gro Gro-ables. The content and opinions expressed below are that of Mess For Less. With the warmer weather approaching, my kids and I have turned our attentions to the outdoors. One of our favorite outdoor activities is planting. To make planting an easy and fun experience for our family, we use Miracle-Gro Gro-ables, which contain everything we need to grow a fruit, herb, or vegetable in a seed pod. I can't think of a better place to plant our Gro-ables than these pretty Drip Painted Flower Pots. They are fun for kids to make and so eye catching. You can even fill these pots with the seedlings you get from this DIY Seed Starter for Kids.
Drip Painted Flower Pots
To make these Drip Painted Flower Pots you will need:
Terra cotta pot (I used a 6 inch wide pot)
Acrylic paint with a flip top lid in various colors
Tray
Water proof sealer
You may want to have your kids wear a smock for this activity as it can get messy. We just rolled up our sleeves and and were fine. I let my kids pick out various colors of acrylic paint to use on their pot. Once they chose, it was time to start decorating. We did this project on a reusable plastic tray to contain the mess. Turn the pot upside down, then flip open the top on the paint and hold the bottle over the pot and start squeezing.
My daughters squeezed paint on the top and on the sides and watched as it dripped down the pot.
We enjoyed watching the colors mix as the paint dripped. I love the fact that gravity does most of the work on these drip painted flower pots.
When the kids were done painting, I set the pots out to dry for a few hours. Before I did, I made sure to move the pot to a different location on the tray so it didn't dry with all the paint hanging off the bottom. Simply place your finger in the hole in the pot and move it. You will get some some paint on your finger, but it easily washes off. When the pot is dry, paint over it with a thin layer of water proof sealer if you plan to use the pot outdoors.
My kids were so excited to plant their Gro-ables, that they kept checking on the pots and asking if they were dry yet. After a few hours (an eternity to my kids) the drip painted flower pots were dry and it was time to start planting.
There are quite a variety of Gro-ables which you can learn about at the Gro-ables Project. We planted spinach, basil, sweet pepper, cucumber, cilantro, globe tomato, cherry tomato and zucchini.
I was amazed that foods that my kids would never touch, like cucumbers and cilantro, suddenly seemed very exciting to them. They couldn't wait for the plants to grow so that they could try the food. I guess when you help to grow something, you are more willing to try it.
Gro-ables make planting a breeze. Scoop some potting mix into your pot.
Now it is time to add the Gro-able. Gro-ables are great to use with kids since each Gro-able is guaranteed to grow! Kids won't be disappointed wondering why their plant didn't grow. You don't need to be an expert gardener to have success. All you do is push the seed pod into the loosened potting mix until the top is level with the potting mix surface. Water it daily and soon (in about 1-2 weeks) your seed will sprout. Flowers appear several months after planting so you will know that fruit is close at hand.
Kids will marvel at the process and learn responsibility as they care for their plant. This is such a fun hands-on way to learn and spend time together as a family.
Here is a handy tip for keeping track of your Gro-ables. Tape the label from the Gro-able to a popsicle stick and place in the potting mix. Now you'll know exactly what you've planted.
We have been watering our Gro-ables each day and waiting for those seeds to sprout.
If birds or other small animals are a problem in your area, it is a good idea to start these seeds indoors until they have sprouted. Ours are currently enjoying the sunshine and the care my kids are providing.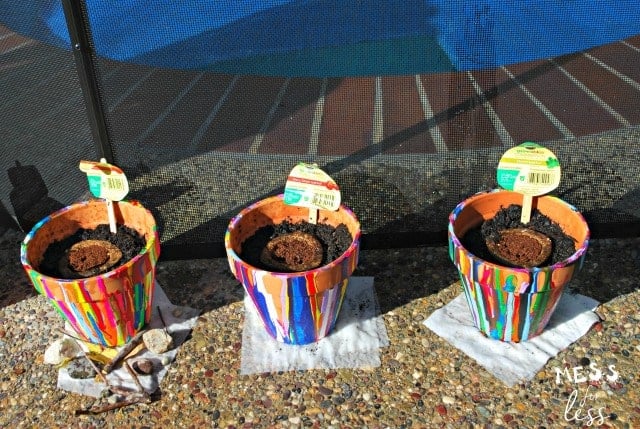 These drip painted flower pots and Gro-ables make great gifts too! I am thinking they would be fabulous for Mother's Day or an end-of-year teacher gift. You can start the seeds at home and by the time they sprout, present the teacher with a gift of a beautiful pot and a new plant. This would truly be a gift that keeps on giving.
Do you like to garden as a family? What tips do you have for growing plants with kids? #GroablesProject
Want more Mess?