Spring is upon us and we are scheduled for a few days of rain in my Northern California town. My girls like the rain because they know that it helps flowers to grow, and they LOVE flowers. As you can see from this Flower Counting activity and these Coffee Filter Flowers we made. Today, I am sharing a simple way to make Sponge Flowers. I just love using materials in new ways!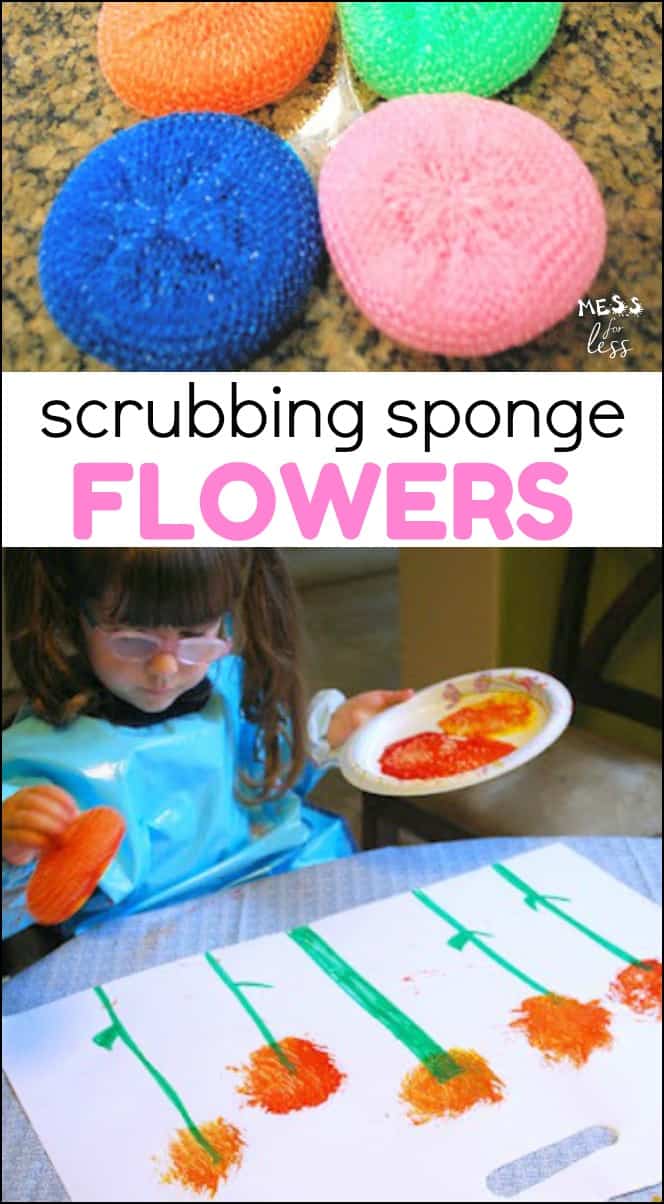 Supplies: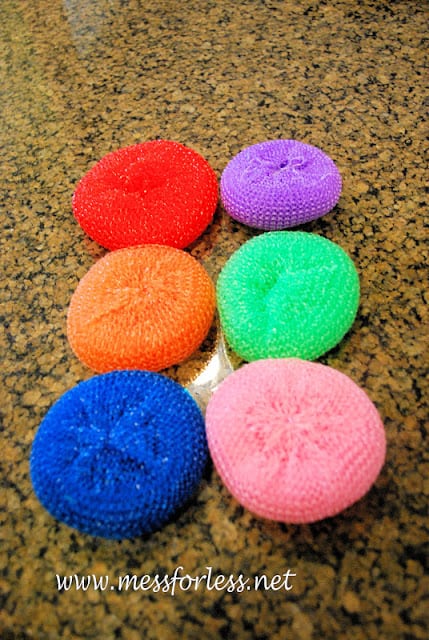 I found the scrubbing sponges at Target where they have the dollar items. I am pretty sure you can find them at the dollar store too.
I drew some stems with a green marker on some art paper. This is about the extent of my artistic ability, drawing stems on paper.
I used some thicker coated paper plates as paint palettes. I squirted some paint colors onto a plate. We went with red, yellow and orange since that seemed very spring-y.
Give your child the stem paper, a scrubbing sponge and the paint and let them explore.
Even my youngest, "C", was able to get the flowers right on the stems. At least at the beginning...
She eventually decided that this looked better.
When the kids were done making flowers, I gave them some paper and just let them create whatever they wanted.
I love to paint with different objects and these sponges were a big hit. The kids even liked playing with them when they were clean and dry. If you see something around the house or in a store that you think might be fun to paint with, give it a try. I bet you will love the results.
If you are looking for more fun activities for kids, check out Green Kid Crafts, an earth friendly monthly craft subscription box for kids that sparks creativity while teaching kids a respect and love for the environment. These boxes are themed and each month will be filled with fun projects and creative activities than can be enjoyed by kids from ages 3-10.
Since Green Kid Crafts is an earth friendly company, they use sustainable, safe materials in all of their products. They also give a portion from each sale to environmental non-profits. Learn more about a monthly subscription of fun!
If you liked making sponge flowers, you'll love: