Whenever my family hits the beach, we go on a hunt for shells. Kids love looking for and finding these natural beauties and we often end up bringing a bunch home after a trip. I am always looking for ideas to use those shells and came up with this easy art activity for kids. Watercolor Painted Seashells are so easy to make and very eye catching. If you have extra shells, try our Bubbling Shell Craft.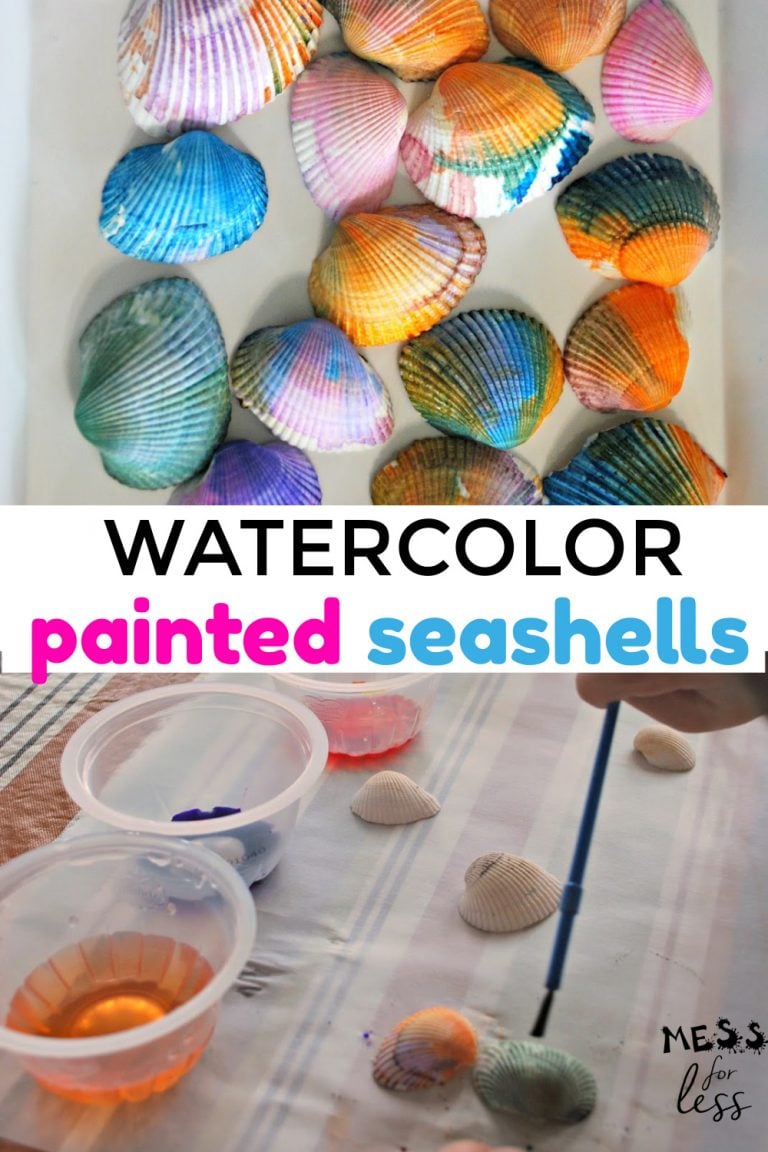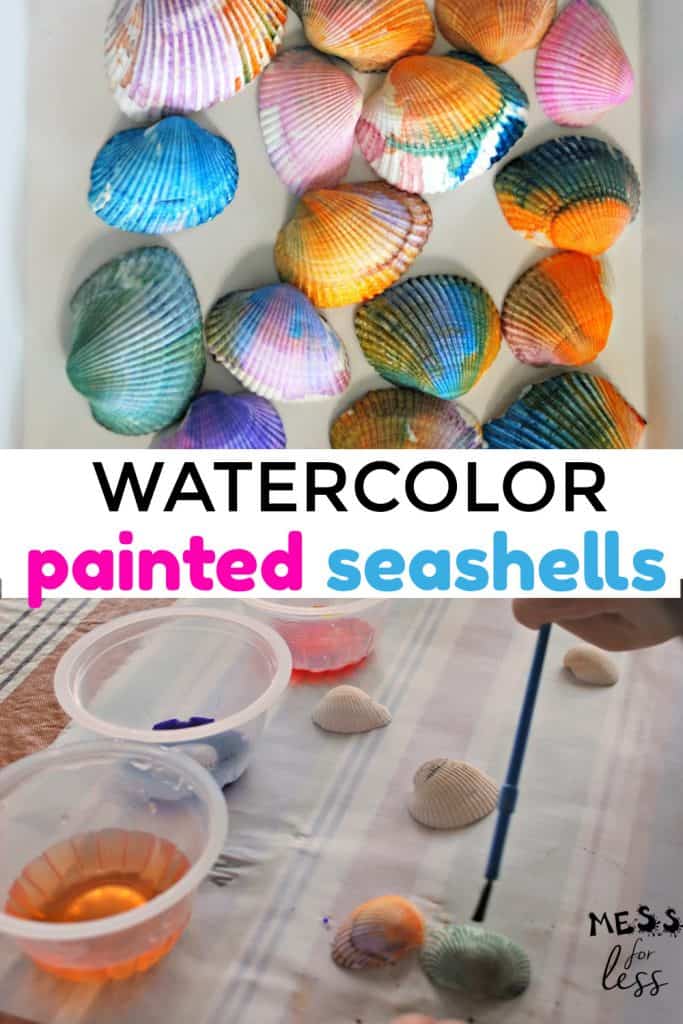 WATERCOLOR PAINTED SEASHELLS
My favorite kinds of shells to use for this activity are clamrose shells. They come in a variety of sizes and the grooves in them really do a good job of holding the paint.
Now if you haven't been to the beach lately, no problem! You can buy some clamrose shells on Amazon that are perfect for crafting. If you don't have liquid watercolors, try using traditional watercolor paints. I prefer using liquid watercolors because they are so vibrant, plus they are great to use for lots of other kids art projects.
WHAT DO YOU NEED TO MAKE PAINTED SEASHELLS?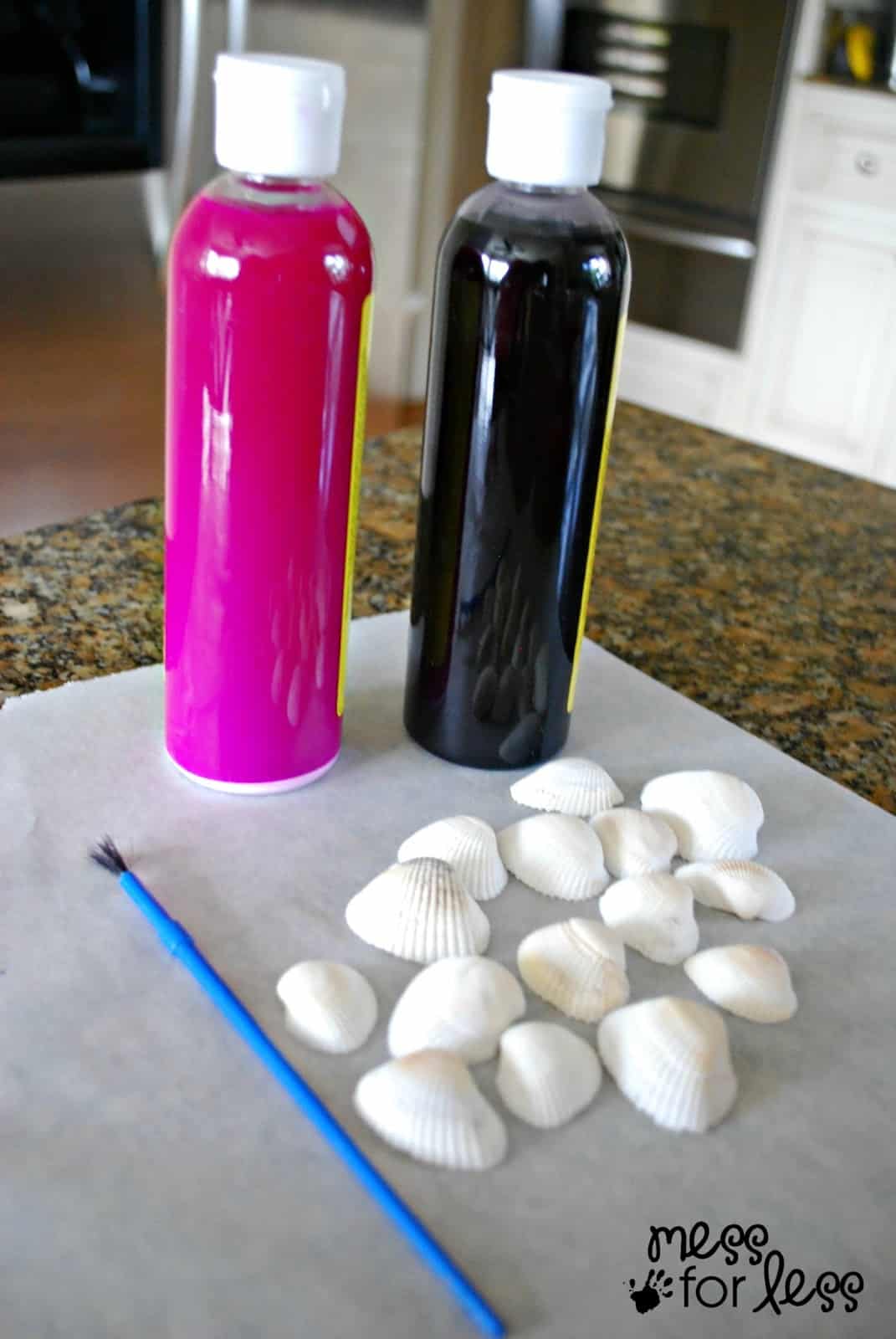 HOW DO YOU PAINT SHELLS?
Squeeze a few drops of liquid food coloring into a cup and add some water to dilute it a bit. Do this with as many colors as you wish. We used four colors. Provide your child with a smock or old tee shirt, paintbrush, shells and cups of watercolors and let them get creative. You will want to place something on the table to protect it. I used a sheet of parchment paper.
Providing a variety of colors is fun because it lets kids really get creative and experiment with color mixing. You can even try mixing some new colors while having children predict what will happen. "What do you think will happen if we mix red and blue together?"
You can paint one coat or do one coat and add another after it dries for deeper colors. You can leave these for a few hours to dry or place them out in the fun. When they are done, they will make a beautiful memento of your beach trip.
The results of painting seashells in watercolor are so eye catching, wouldn't you agree? These are great for pretend play or for for decorating. You can place a bunch of them in a basket or glass jar.
If you enjoyed these Watercolor Painted Shells, you'll also love: