Oh how my daughters wish they lived in a place with snow. Two of my kids were born in New York but moved to sunny California before they could see snow. Having grown up with harsh winters on the East coast, I have never been a fan of snow. But I am a fan of winter crafts for kids. In the past we have done some fun Snowman Activities and even made a snowman during our Snow Gak Sensory Play. Recently, we used one of our favorite learning and play tools, q-tips, to create an adorable Q-Tip Painted Snowman Craft. The best part of this craft is that you can make this snowman indoors.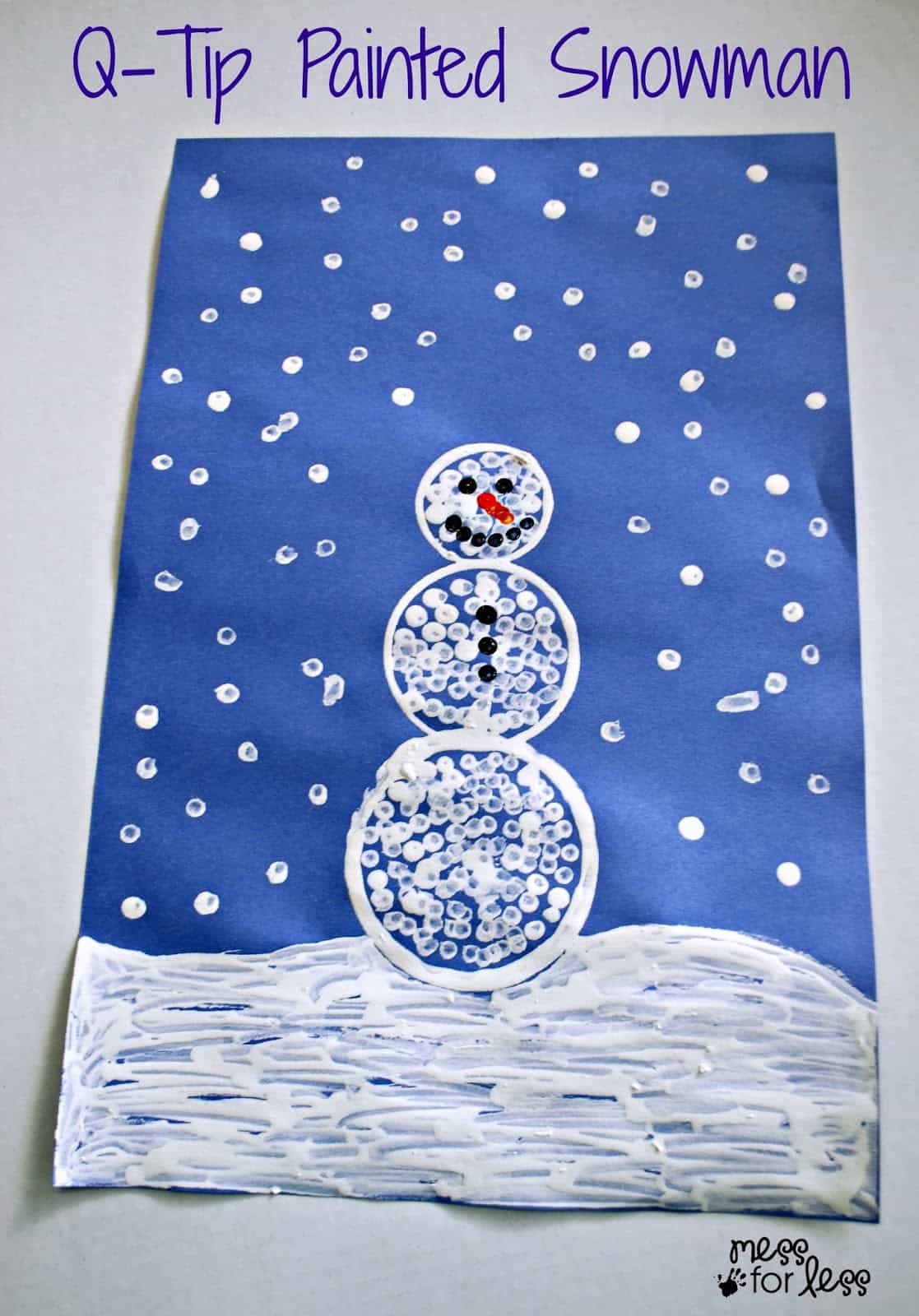 Q-Tip Painted Snowman Craft
You will need:
Tray
3 q-tips
3 different sized cups
To make the circles for this snowman craft you will be using three cups of various sizes. I tried to find one large cup, one medium cup and one small cup. Pour some white paint into the tray. Dip the open part of the large cup into the white paint and press down on the blue construction paper. You will want to leave some space on the bottom of the paper to make a snow bank.
Dip the medium cup into the white paint and press onto the paper directly over the large white circle you previously made.
Dip the small cup in the paint and press on the paper to make the snowman's head.
Wait for the snowman to dry. We let it dry overnight and came back to the project the next day. I poured some white paint onto a tray and gave my daughter a q-tip so she could start painting the snowman.
She would dip her q-tip in the paint and dab it on the snowman, filling the circle. This snowman craft also helps kids to strengthen their fine motor skills as they hold the small q-tip in their hand and dab it into the circle.
At some point in the process, my daughter got tired of using dots to paint her snowman and just used the q-tip to paint the circles with white paint. I love when my kids get different ideas about the process.
When she finished her snowman, she used her fingers to make snow falling and paint her snowbank.
You can also use a q-tip to paint the snowflakes and snowbank.
When the snowman was painted, we used black and orange paint and more q-tips to paint the face on the snowman.
I would love to show you the finished product that my daughter worked on, but her snowman face did not turn out like she wanted, and in her anger she smeared orange paint all over the rest of the snowman. These are the job hazards of working with a preschooler. So here is the snowman that survived her wrath.
If you liked this Q-Tip Painted Snowman Craft, check out these kids crafts:
Contact Paper Crafts with Q-Tips