Are you looking for a fun winter craft to do with your kids? Everyone loves a snowman, but did you know that a melted snowman is just as cute? If you don't believe me, check out this Melting Snowman Craft for Kids and see for yourself. The best part about this snowman craft is it can either be used as is, or can be easily turned into an ornament for your Christmas tree. If you are looking for more snowmen crafts, check out Q-Tip Painted Snowman Craft when you're done with this one.
Melting Snowman Craft for Kids
Supplies you will need to make a melting snowman craft:
Directions to make a melting snowman craft
Glue two eyes on each white pom pom. You can use Elmer's glue or a glue gun. If you are working with kids, use the white glue just to be safe. Cut an orange pipe cleaner into small pieces and glue onto the pom poms to make a carrot nose. Using a small paintbrush, paint a smile on the pom poms by making 4-5 dots of black paint. Set aside the pom poms and let them dry.
Cut out cloud shaped circles from the white felt to represent the melting snow. A good size to make these are 3-4 inches wide. Cut out small top hats out of the black felt.
Glue the white pom pom head and black felt hat near the top on the white melting snow felt. Again, if working with kids use white glue, or else use a glue gun as it dries quicker.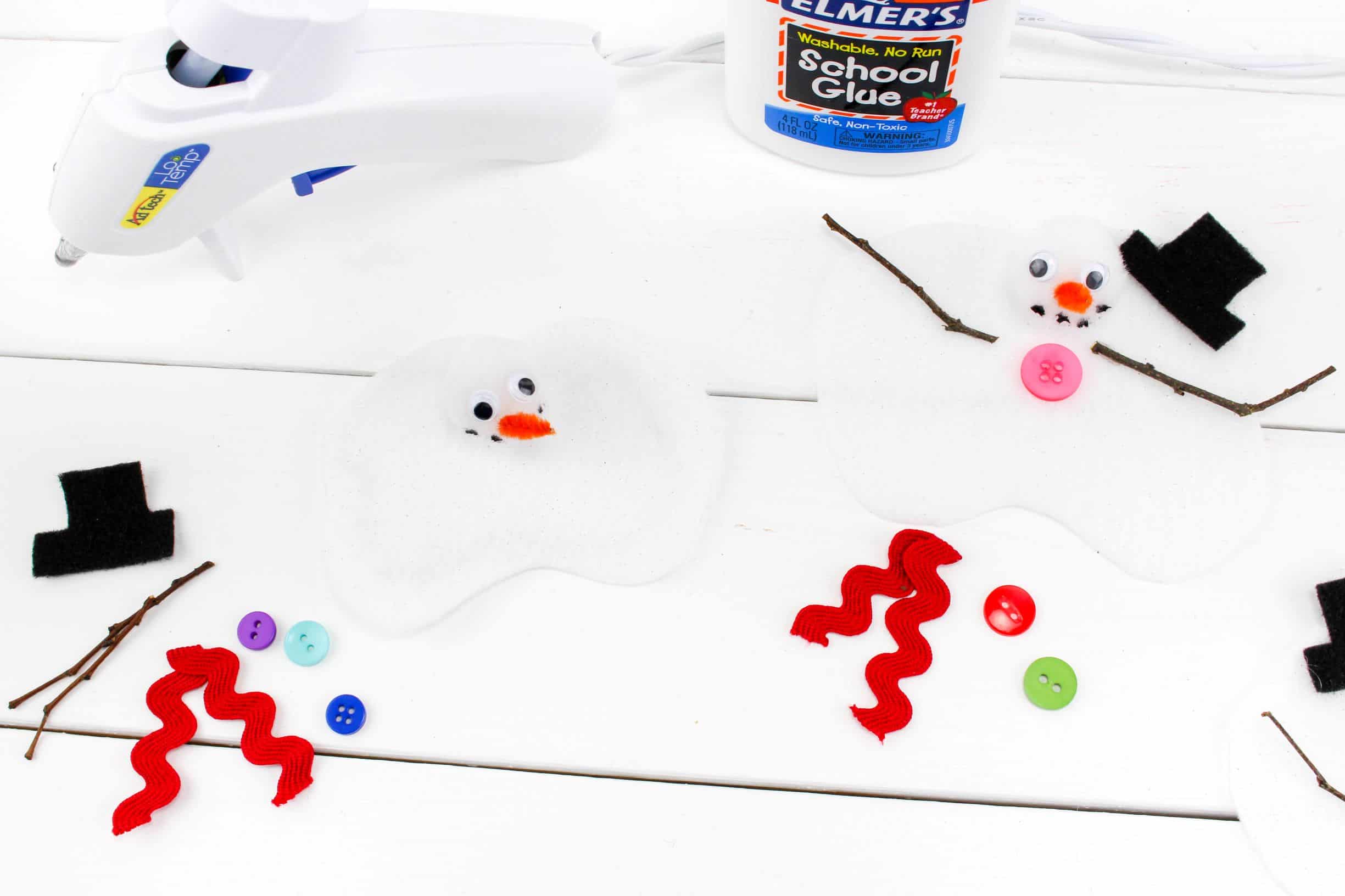 Cut about 3-4 inches of red ric rac trim for the scarf. If you can't find this kind or trim, red ribbon works just as well. I just like the curvy look of the ric rac trim. Fold the trim in half and glue to the right or left of the white pom pom. Then, cut small "arms" off the tree branches. Glue each of the branch arms to the melting snow.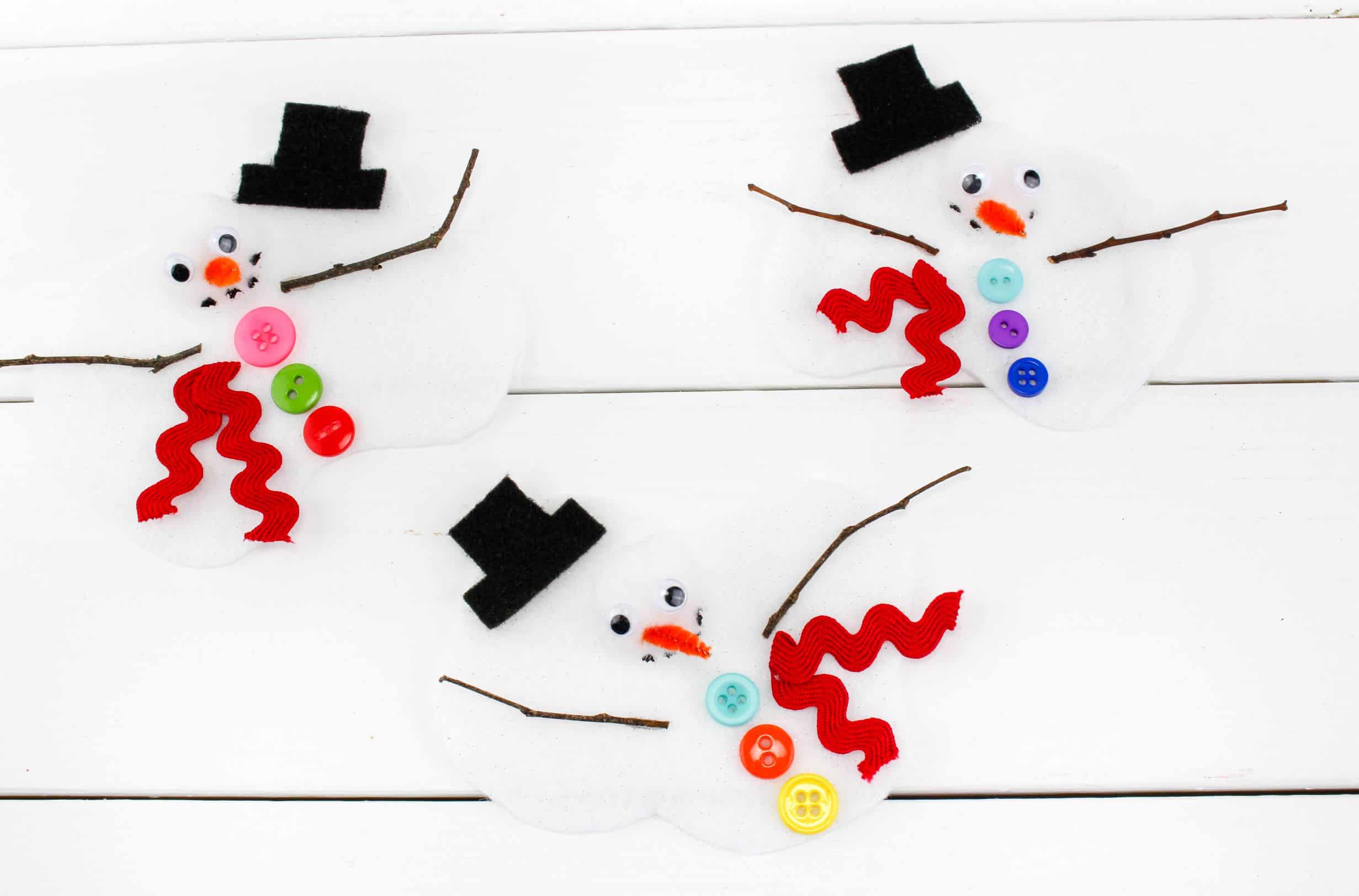 The last step is to glue 3 buttons to each felt snowman.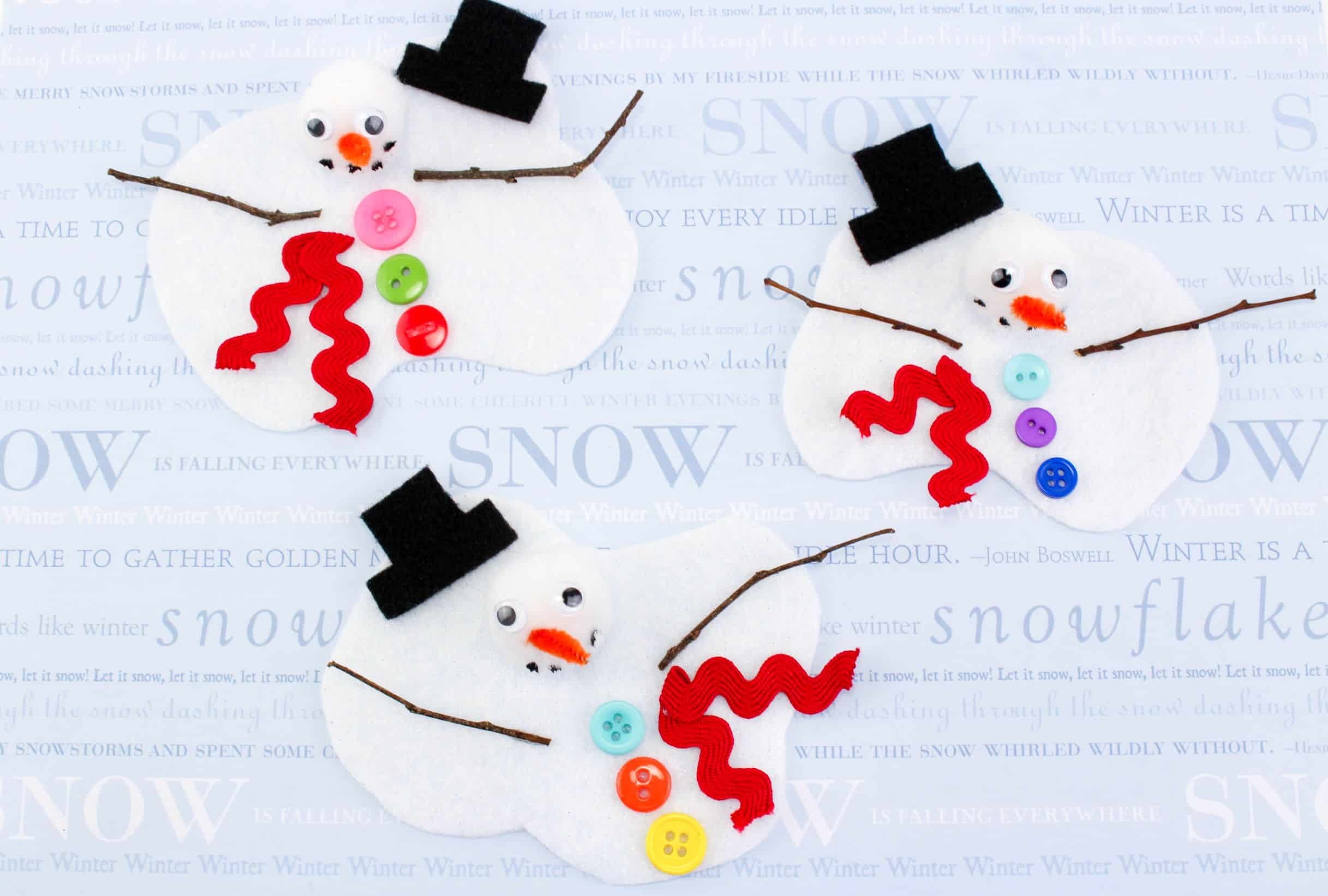 There you have it! You now have a cute a Melting Snowman Craft for Kids.
It is very easy to make this cute little snowman into a Christmas ornament. Simply glue a loop of ribbon to back and hang on your tree. For more cute snowmen ornaments, check out this Handprint Snowman Ornament from Simple Fun for Kids.
GOT A CRAFTY KID?
The folks at Annie's know crafting, so you know they have put together some amazing kits for your kids.
For girls:
The Creative Girls Club subscription box will get your girl's creative juices flowing. Girls get two kits each month full of crafting fun. Best of all, the crafting can be done with minimal adult supervision. While she is creating, she will be learning valuable skills such as painting, beading, stitching, paper crafting, and much more!
For boys and girls:
These Young Woodworkers Kits have everything your little builder needs to create crafts and toys they can enjoy, while learning important woodworking skills along the way. Your child's first three kits will include 5 kid-sized, high-quality tools they'll use again and again. A new woodworking project is delivered every four weeks, with a new and exciting skill to master. Each project teaches a new, real world skill that kids will use for years to come.
If you liked this melting snowman craft, you'll love: