With rain and unseasonably frigid temperatures in much of the country, I decided to compile a list of our favorite bad weather activities. Something happens to kids when they are cooped up indoors. They go kinda crazy. This in turn makes mamas a little crazy as well. In the interest of reducing the crazy (always a good thing) I picked activities that are done indoors and require supplies that most people already have at home. No one wants to go out in a blizzard or downpour to pick up supplies for a kids activity. So whether you are home because of snow or rain, these bad weather activities will keep your kids from going off the deep end...and taking you with them.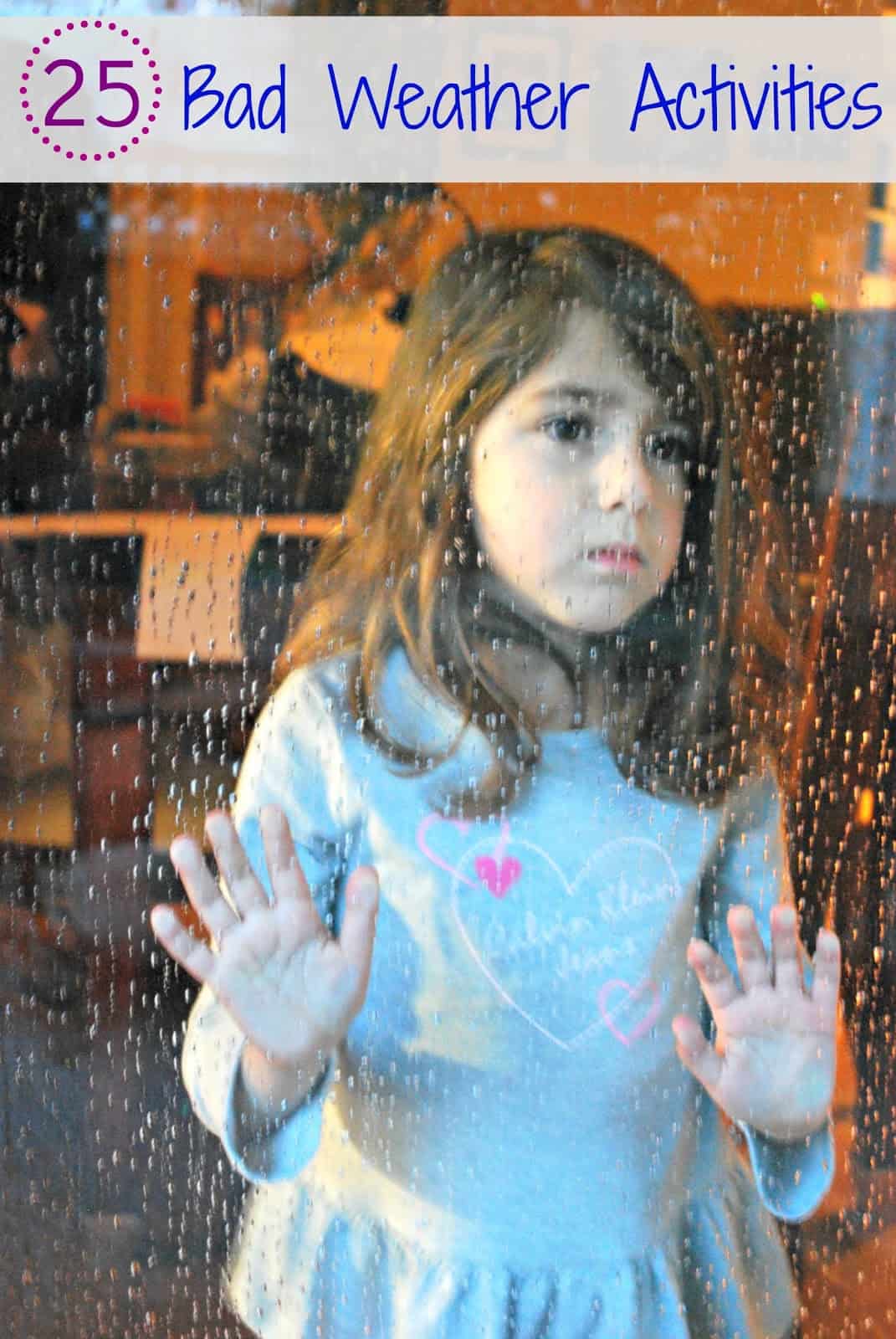 Bad Weather Activities
K- Cup Activities for Kids - Lots of ways to play and learn with K-Cups! Dunkin' Donuts K-Cups are delicious for adults and fun for kids.
Painting Popcorn - Kids will love painting their popcorn before they eat it. The paint is simple to make and edible.
Homemade Finger Paint - This homemade finger paint uses just a few common household items and is super fun for kids. Great art activity!
Fruit Loop Towers - These fruit loop towers are a simple way to practice fine motor skills with little ones.
Fine Motor Skills Activity with Tongs - Kids transfer pom poms using a pair of tongs.
Make a Balloon Zip Line - find out how to use a helium balloon to make a fun zip line!
Colorful Dancing Milk - This Colorful Dancing Milk experiment is truly magical. Kids discover what happens when they add food coloring and soap to milk. The results will amaze them!
Bubble Wrap Prints - Don't throw out that bubble wrap! Save it to make bubble wrap art prints with the kids.
Watercolor Art You Can't Resist- Such a fun way to paint with little ones!
Homemade Harmonica - This simple craft that will delight your kids!
Paper Pattern Snakes - A fun way for kids to learn about patterns and make a cool snake toy at the same time!
Painting with Shaving Cream - You won't believe how easy this stuff is to make. Such a fun way to paint!
Fun with Pipe Cleaners - Kids will have a ball while pushing and pulling pipe cleaners.
Counting Game with Buttons and Muffin Cups - This is an easy way to help preschoolers with their counting skills.
Dripping Salt Painting - Dripping Salt Painting is an easy art activity to do with kids. You already have all the items you need at home.
DIY Shape Stickers - Such an easy way to create stickers using paint and contact paper. You can then arrange the stickers on a piece of paper to create art. You might also enjoy learning how to make your own scratch art paper..
Birthday Party Play Dough - Kids will have fun pretending to celebrate a birthday with these play dough props.
Exploding Milk Experiment - Find out how to make Exploding Milk in vibrant colors. My kids were amazed!
Glitter Oobleck Recipe - A few simple ingredients are needed to make this fun slime that kids love to play with. A great sensory experience for little ones!
Square Collage - Children create a collage using paper squares and glue.
Erupting Play Dough - A baking soda based play dough that erupts when kids add vinegar. What a fun way to teach science!
Rising Raisins - Kids will love watching the raisins rise and sink and discovering the science behind the process.
Calming Bottles - These sensory bottles are great for little ones to explore and for preschoolers to use during a cooling off period.
No Cook Lotion Dough - This dough only uses 4 ingredients and is simple to make. No cooking over a stove or messing up pots. The lotion makes it super soft!
Baking Soda Experiments - Kids create their own mini colorful eruptions with the Baking Soda Experiments. This kept my kids entertained for over an hour!
DO YOU WANT YOUR KIDS TO LEARN ABOUT THE WORLD IN A HANDS-ON WAY?
If your kids love travel or science, then Little Passports the is the perfect subscription box for your child. My kids love to explore, and this subscription box contains so many engaging activities for kids. I think even kids who haven't traveled would enjoy getting the world delivered to their mailbox. Plus, Little Passports also offers science and stem based subscription boxes designed to get kids started on a lifelong journey of learning. Little Passports has boxes for kids as young as 3 to as old as 12. Check out subscription options here.
If you enjoyed these bad weather activities, you'll love: