I'll let you in on a little secret about those of us who blog about kids activities. We often buy things having no idea what we will use them for, but knowing that they can be used somehow in a craft or activity down the line. Such was the case with a package of fall colored pipe cleaners I recently purchased. When I saw them, they caught my eye immediately and I knew I would use them for some Thanksgiving crafts for kids. I thought they would work well as colorful turkey feathers but I wasn't sure how I would construct this pipe cleaner turkey until I found some inspiration in some old party supplies. This is a simple craft that would be perfect for kids to make on Thanksgiving day when the food is being prepared. I think they would also make adorable place cards at a Thanksgiving table. If you are still looking for turkey crafts, then you'll enjoy this Scrapbook Paper Turkey Craft and Paper Roll Turkey. Gobble, gobble!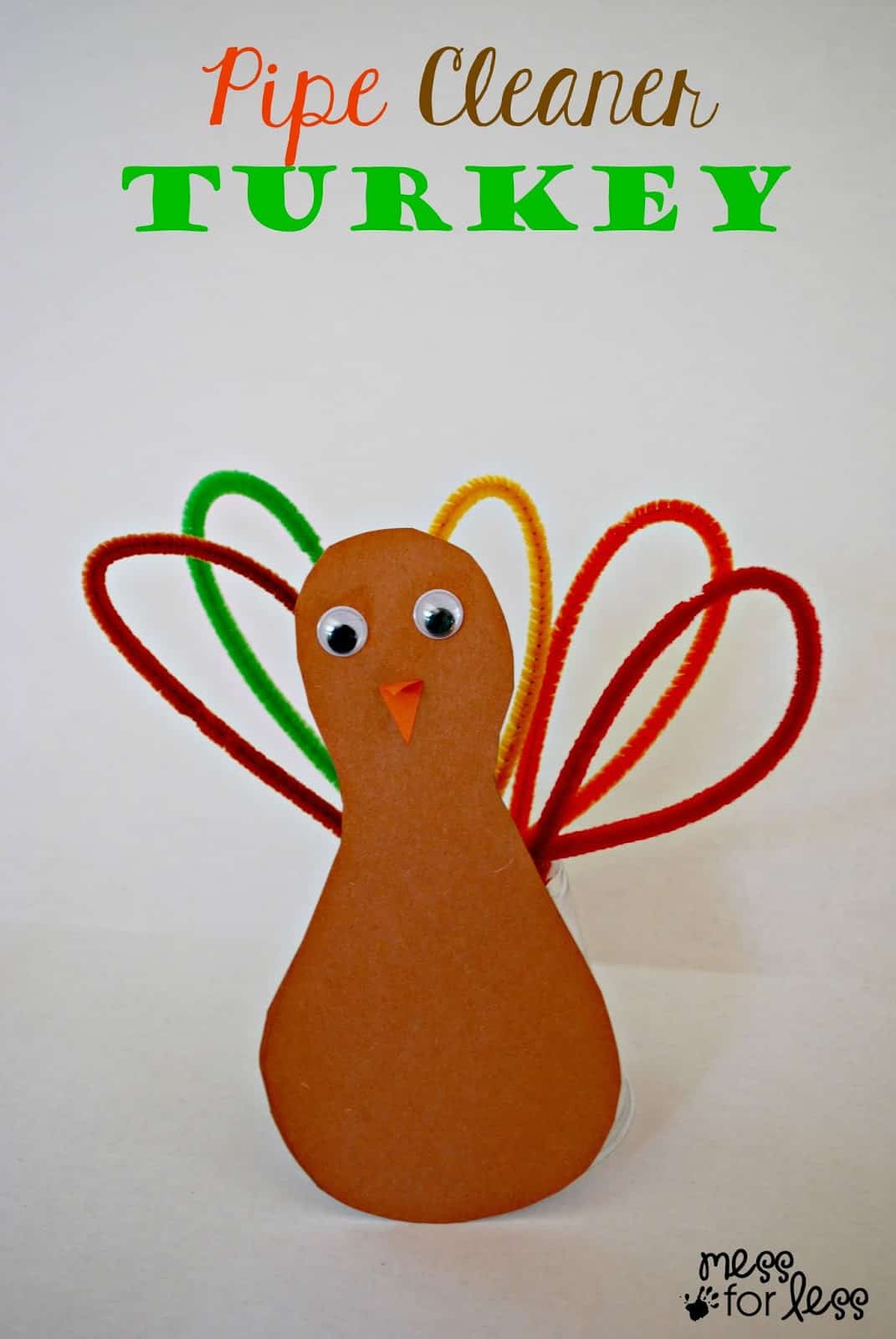 Pipe Cleaner Turkey
Plastic or paper cup
Orange and brown construction paper
Adult scissors
Tape
Glue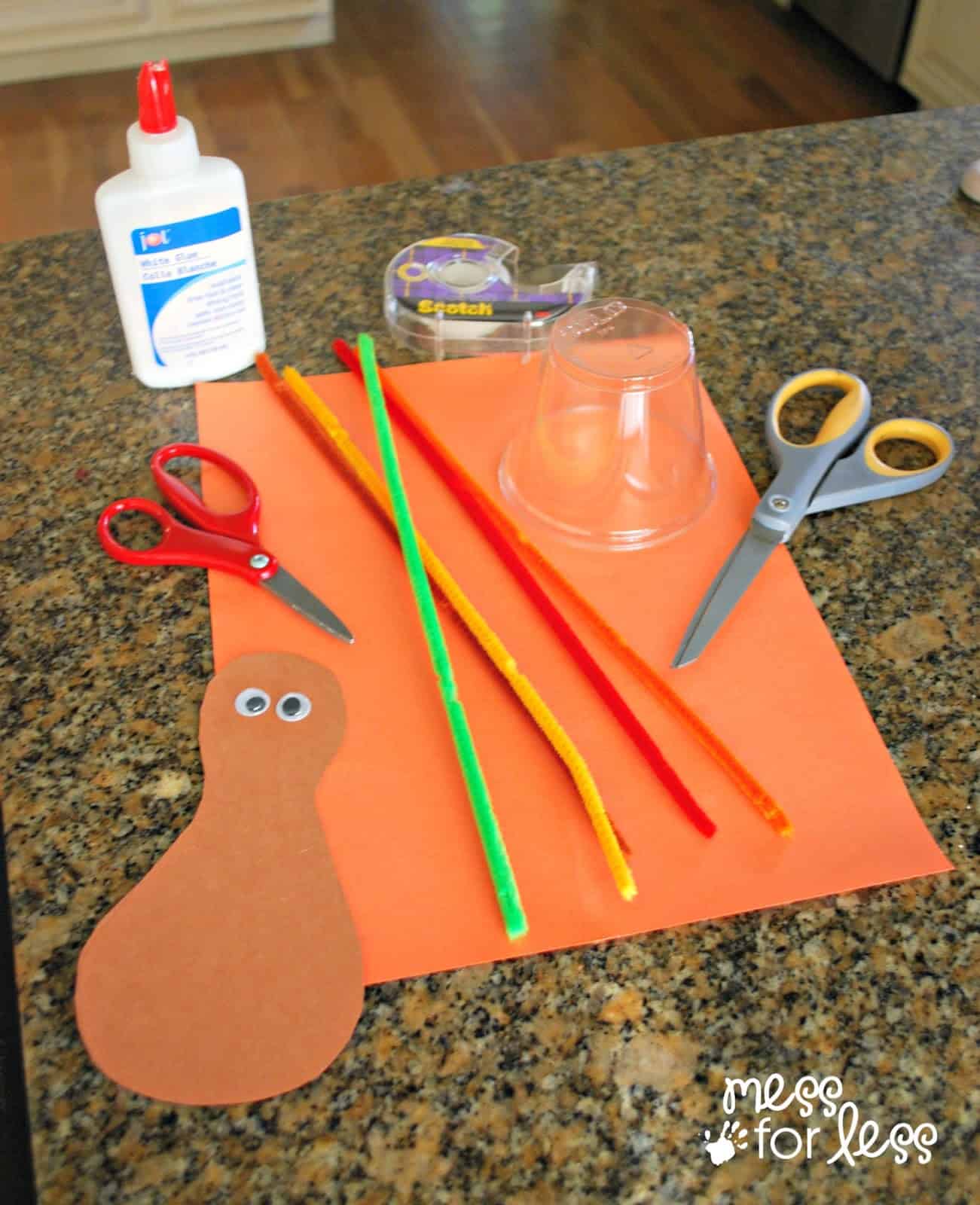 I used a plastic cup for this activity because I had some leftover from a previous party. You can use a paper cup as well. If you are using paper cups, poke 5 holes in a rainbow shape into the bottom of the cup. If you are using a plastic cup, you can make easy holes by heating up the tip of adults scissors over a flame and holding the hot scissors on the plastic until holes have been melted. Obviously, this step if only for adults. Please use caution when working with hot scissors.
Provide your child with 5 pipe cleaners in various colors and the cup with the holes. If you have fall colored pipe cleaners, they would work well for this activity. Explain that two ends of a pipe cleaner must be pushed into one hole. Depending on the age/skill level of the child, this step will provide some good fine motor practice.
Even my daughter who broke her arm was able to do this activity while wearing her cast.
Cut a turkey body out of brown construction paper. I am no artist, but this is pretty easy to do. Just draw and cut a shape that looks like a bowling pin. You will want a shape that is big enough to disguise the cup but not so big that it will flop over when attached to the cup.
Have your child use the glue to attach the googly eyes.
They can then make a beak by cutting and gluing orange construction paper to the turkey. At this point kids can decorate the bird further if they wish.
When the glue has dried, tape the body to the cup and spread out the wings. My kids have been playing with their turkeys by holding the cups on their hands and pretending they are puppets.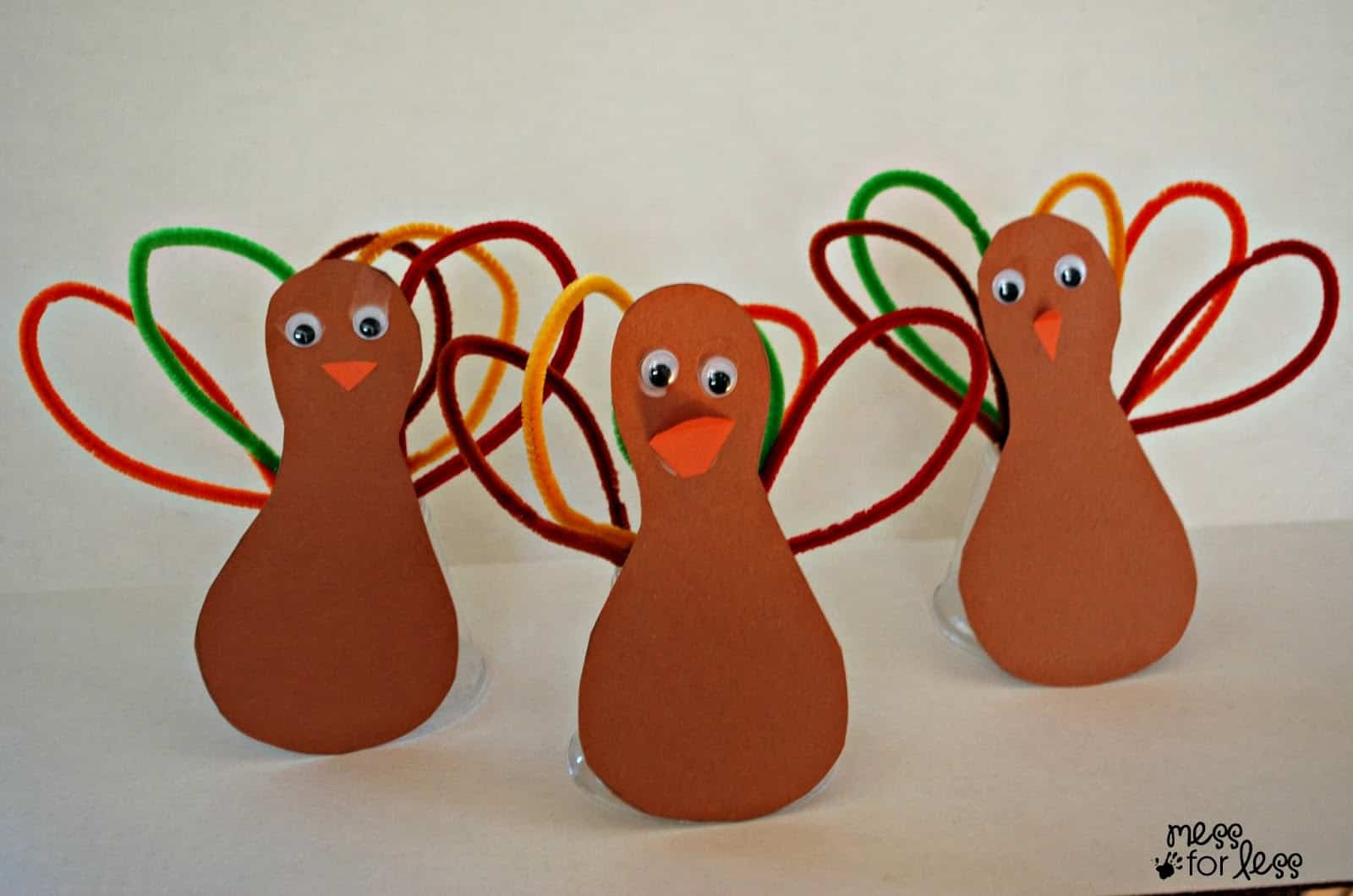 GOT A CRAFTY KID?
The folks at Annie's know crafting, so you know they have put together some amazing kits for your kids.
For girls:
The Creative Girls Club subscription box will get your girl's creative juices flowing. Girls get two kits each month full of crafting fun. Best of all, the crafting can be done with minimal adult supervision. While she is creating, she will be learning valuable skills such as painting, beading, stitching, paper crafting, and much more!
For boys and girls:
These Young Woodworkers Kits have everything your little builder needs to create crafts and toys they can enjoy, while learning important woodworking skills along the way. Your child's first three kits will include 5 kid-sized, high-quality tools they'll use again and again. A new woodworking project is delivered every four weeks, with a new and exciting skill to master. Each project teaches a real world skill that kids will use for years to come.
For more Thanksgiving Crafts for kids check out: