My kids are off for the entire week of Thanksgiving, so I've been trying to figure out some fun crafts and activities to keep them busy. I wanted to find some Pilgrim activities, because so much of Thanksgiving crafts are dominated by turkeys. Now don't get me wrong, I appreciate a good turkey craft as much as the next guy. The pilgrims are such an important part of the Thanksgiving story, I thought it was time to focus on them a bit more. So, here are the best Pilgrim crafts for kids. You can do these on their own, or incorporate them with a book or a lesson about the Pilgrims as you prepare to celebrate Thanksgiving.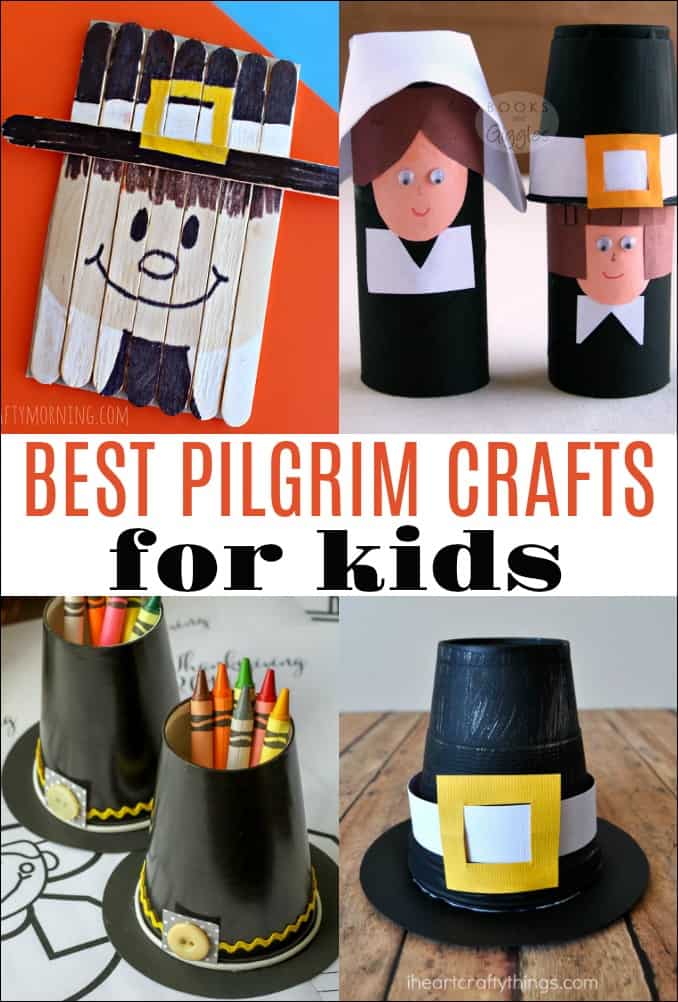 Best Pilgrim Crafts for Kids
Popsicle Stick Pilgrim Craft from Crafty Morning – Popsicle sticks are such an age old craft supply, but kids still enjoy crafts made with them. Grab the kiddos and some Popsicle sticks and create a pilgrim family!
Styrofoam Cup Pilgrim Hat Craft from I Heart Crafty Things – Sometimes the best crafts are the ones that can be used for a purpose afterward. These Styrofoam pilgrim hats could be used as placeholders for Thanksgiving dinner.
Cardboard Tube Pilgrim Hat from Creative Family Fun – Maybe you don't have Styrofoam cups laying around to make a pilgrim hat, but you probably have some empty cardboard tubes which will work for this hat!
Footprint Pilgrim Craft from Crafty Morning – This craft would be perfect for a toddler! Their feet are the perfect size to make little pilgrims!!
Pilgrim Photo Puppets from Toddler Approved – In looking for the best pilgrim crafts for kids, I could not get over the cuteness of this one. Kids can create an adorable craft and keepsake you will treasure for years to come. Plus, kids can create plays with the little puppets they make.
Howdy Pilgrim Craft from No Time for Flashcards – This Pilgrim craft is super customizable and will take a bit of time to complete, but the process will entertain little ones for hours!
Pilgrim Handprints from Happily Mother After – Don't forget about the vehicle that got the Pilgrims to the America-the Mayflower! This cool craft has your child creating a ship full of Pilgrims – using their fingers!
Pilgrim Thanksgiving Napkin Rings from Crafts by Amanda – This craft is a little more suited for older kids because of the detailed involved. These napkin rings would make a nice addition to any Thanksgiving dinner table.
Toilet Roll Pilgrims from Books and Giggles – Do your kids always want to keep the used toilet paper rolls? There seems to be endless possibilities for ways in which they can be used. Now you can add making pilgrims to that list! 🙂
Pilgrims STEM Activity from JDaniel4's Mom – Crafts go to a whole new level when they end in an activity! This one includes water and sailing the Mayflower!
Pilgrim Hat Crayon Cups from Lil' Luna – Is your family hosting Thanksgiving dinner? Setting up a kids table is always something fun for the kids and these little crayon cups would be an adorable decoration to add to their table.
Milk Carton Mayflower from Stir the Wonder – Creating this Mayflower would be the perfect way to display some of the Pilgrims that you make with your children, or it would even make a festive container for a centerpiece!
Try KiwiCo
Looking for more fun activities to do with your kids? I highly recommend KiwiCo, which you can enjoy no matter the weather. As a former teacher, I was really impressed with the quality of materials found in KiwiCo.
Some moms have told me that they want to do activities like I do on Mess For Less with their kids, but they just don't have to the time to go buy all the supplies and prepare them for the activity. KiwiCo is the perfect solution. Every month your KiwiCo will focus on a particular theme like Colors, Dinosaurs or Gardening. KiwiCo offer a variety of projects ranging from crafts, imaginative play, science experiments and more.
If you liked learning about the best Pilgrim crafts for kids, you'll love:
Paper Plate Turkey Craft for Kids
How to Make Turkey Pudding Cups