If you are looking for a classroom snack for a Thanksgiving celebration, have I got the treat for you! Today you'll be learning how to make turkey pudding cups, which would be super fun for a classroom party. You can also easily make these for your own Thanksgiving celebration. I know for lots of years, my kids did not enjoy pumpkin pie as a dessert on Thanksgiving day. These turkey pudding cups are a fun alternative for kids at your Thanksgiving feast.

How to Make Turkey Pudding Cups
You will need:
- 4 Cinnamon Twist Churro Snack Pack Pudding Cups
- Construction or Scrapbook Paper (Red, Orange, Yellow, Green, Blue, Pink)
- 8 Stick on Google Eyes
- Red Pipe Cleaners
- Orange Foam
- Elmer's Liquid Glue, Glue Stick, or Glue Gun
I like using Cinnamon Twist Churro flavored pudding since the pudding is a little darker than your traditional vanilla pudding and looks better for the turkey body. I have also made these with chocolate pudding, and they have turned out every bit as cute.
To make the feathers for the turkey pudding cups, cut the paper into ¼ inch wide and 6-inch long strips. You'll need 4 strips of each color.
Glue the ends together to make a loop with each one. The easiest way to do this is with a glue gun, since it dries the quickest. A glue gun should only be used by adult and should be kept away from children. If you use liquid glue or a glue stick, make sure to hold the ends together for a minute or two, until the glue dries a bit.
Cut out 4 orange triangles from the foam and 4 wattles from a red pipe cleaner.

Now it is time to glue the "feathers" on the back of the upside down pudding cups. Again, the glue gun worked the best for this, but the other types of glues will work as well. If you decide to use use the liquid glue or a glue stick, hold each feather on for a few minutes to allow the glue to dry.
It really doesn't matter what order you glue the feathers in. I like the look of having a red strip on each side, but this is just a preference. You will want to glue the strips next to each other.
Peel off two googly eyes and attach them to the front of the pudding cup. Next, glue on a nose and wattle.

Aren't these just the cutest little Thanksgiving treats?
They really are so simple to make, and with supervision kids can help, as long as they are not using the glue gun. If you are just using plain glue, this would be a fun project for kids to make while you are cooking up Thanksgiving dinner.
These turkey pudding cups would also be great to use as a place setting at the Thanksgiving table. You can just write each person's name on the cup with a permanent marker and place it where you want them to sit.
Whether you decide to use these turkey pudding cups for a class party, or a treat at home, I'm sure you'll agree, they make an adorable and tasty treat.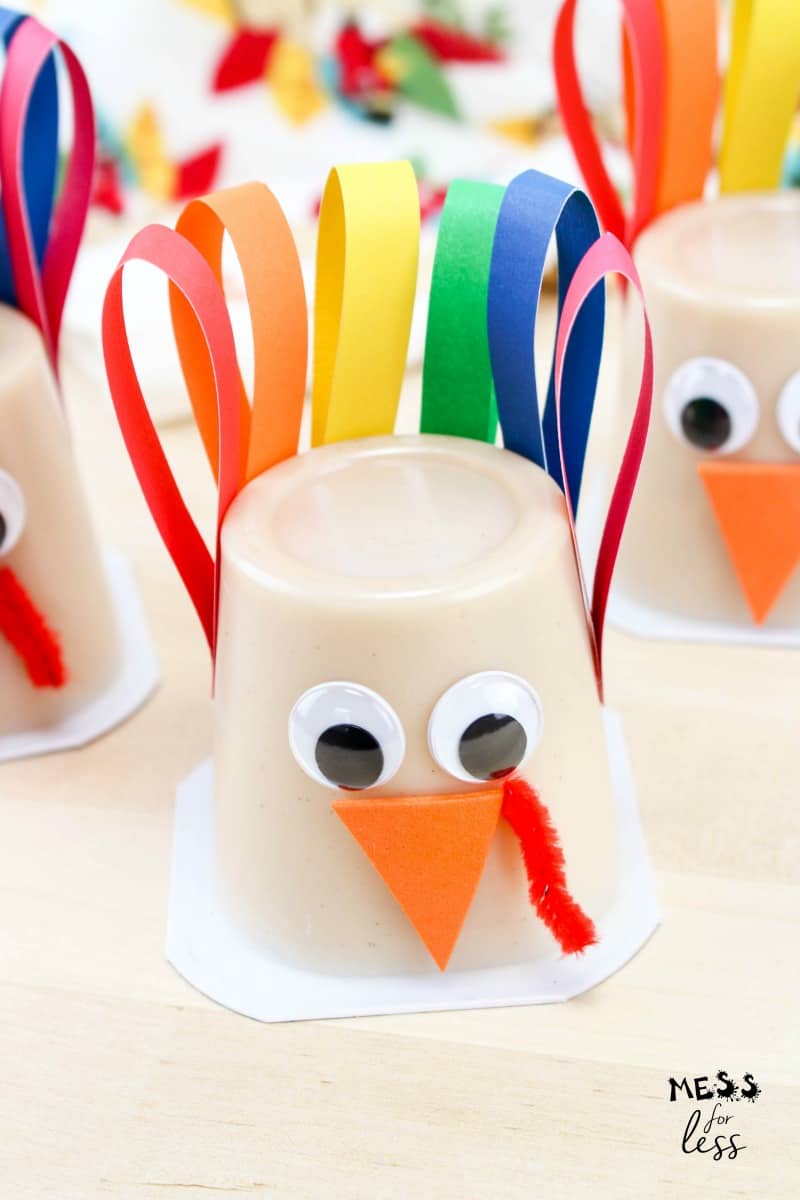 If you liked learning how to make turkey pudding cups, you'll love: