For many years my kids didn't exactly enjoy the Thanksgiving meal. In fact, the only thing they would eat was plain turkey and pumpkin pie. They never quite saw the big deal that went into the meal preparation. One of the ways I got my kids more involved in the Thanksgiving festivities was by including them in making some fun Thanksgiving Snacks for Kids. The following snack ideas are some of cutest ideas I have found, that kids will love to make and eat. These ideas also work well for a classroom Thanksgiving party. Once you make these adorable snacks, craft up a Handprint Turkey Place Card to decorate your Thanksgiving table.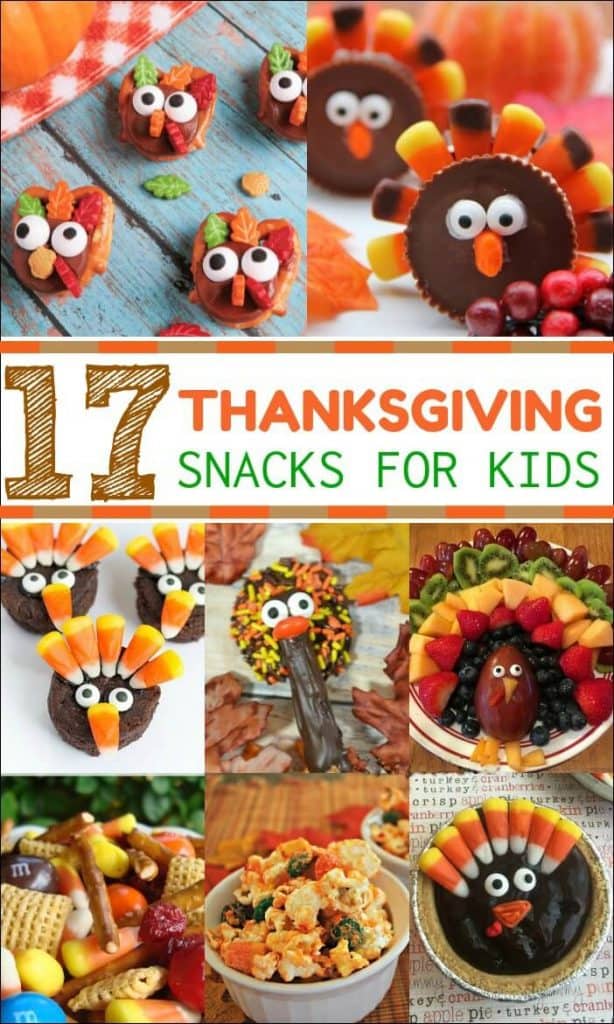 Thanksgiving Snacks for Kids
Fall Popcorn from Mess for Less - You only need a few minutes and a few ingredients to turn plain popcorn into Fall popcorn.
Turkey in the Straw Treats from B-Inspired Mama-The kids are sure to be excited to get involved in creating this special thanksgiving treat!
Teepee Thanksgiving Treats from Pre-K Pages-If you're looking for something special to take to school as a treat in your kids' class or to take to a family gathering for the younger guests, this one is a good one!
Turkey Pretzels from ABCs to ACTs- If you have older kids who want to make a Thanksgiving treat or if you enjoy details on your snacks, then this is the recipe for you! So adorable!
Fruit Turkey Snack from Coffee Cups and Crayons-Maybe you would like to have a special treat for the kids with a turkey theme, but would like to stay away from the sugar and processed foods. If that is you, then this is the perfect snack for you!
Wide-Eyed Turkey Cupcakes from Bitz & Giggles-These cupcakes look like a cartoon turkey! Kids will love them-and the sugar rush that is sure to come!
Mayflower Munch Mix from Shaken Together Life-A Thanksgiving snack with a meaning. The kids can help put this mix together as you talk about the meaning of each ingredient and what it represents about the first Thanksgiving.
Pilgrim Hat Cookies from Tips for a Typical Mom-This super easy Thanksgiving snack can be put together in just minutes and the kids will love helping to assemble them and then helping to eat the hats!
Turkey Leg Treats from Bitz 'n' Giggles-This twist on crisped rice treats is always a crowd pleaser. When displayed on a platter, these Thanksgiving snacks for kids look just like a bunch of turkey legs.
Brownie Turkey Treats from Mom Inspired Life-These brownie treats can be super simplified if you choose to buy the brownie bites at the store, or can have more of a homemade flair if you choose to make the brownies from scratch. Either way, the kids will be excited with such a cute snack!
Pumpkin Pie in a Cup from Pre-K Pages-Some kids don't like the idea of pie for some reason, but they may enjoy the flavor of pumpkin pie in a cup instead. Love this great, simplified idea!
Fruit Turkey Platter from Crafty Morning-Thanksgiving is a day full of eating, so if you want to try to keep some parts of healthy, you could set out this cute turkey fruit tray so that everyone can enjoy some fruit throughout the day.
Thanksgiving Cornucopia Snack from B-Inspired Mama-Cornucopias are a beautiful Thanksgiving tradition, now you can introduce them to your children through this quick snack.
Acorn Donuts from The Joys of Boys-The kids and the adults will enjoy this special treat! These acorns will serve as a great decoration on the dessert table as well as a delicious snack.
Turkey Pretzel Sticks from Spaceships and Laser Beams-There's just something about the sweet and salty taste of chocolate covered pretzels-yum! These pretzel sticks are even better with their bright fall colors and turkey theme!
Cute Turkey Chocolate Pies from Mom Endeavors- These chocolate pies are just about the cutest thing ever. I'm pretty sure the adults will want to enjoy these along with the kids.
Reese's Oreo Turkey Treats from Bitz 'n' Giggles-If you're looking to send your Thanksgiving treat over the top, this is the one that will do it. This treat includes two full size Reese cups and a Double Stuffed Oreo cookie!
Eat at Home Meal Plans
Have you heard about Eat At Home Meal Plans? If the cost of eating out or the decision of what to make for dinner each night is stressing you out, then you must try these. When you sign up, you get access to four separate meal plans each month (Traditional, Wholesome Traditional, Slow Cooker, and No Flour/No Sugar). All you do is print the plans, color-coded grocery lists, and recipes you want for that month. Don't worry, there are lots of options, so even picky eaters will find something they like.
Then when it is time for dinner, make that night's recipe (choices include make-ahead, freezer meals, slow-cooker recipes, and other time-saving strategies).
That's it! Dinner is on the table and you can enjoy a home cooked meal with the family – without the stress!
We all have more important things to do than meal planning. Let someone else do it for you with Eat At Home Meal Plans. Monthly, quarterly and annual plans are available.
If you liked these Thanksgiving Snacks for Kids, you'll love: