If you're looking for some sweet treats this Fall, look no further than our Hand Dipped Fall Pretzels. These are fun to make, so you'll want to include the kids in the process. Like our
Muddy Buddy Recipe
and Ultimate Caramel Apple Dessert Pizza, these pretzels add a little sweetness to the season.
If you would like to purchase the supplies we used, this post contains affiliate links.
You will need:
Candy melts (we used white and orange)
Pretzel rods
Fall themed sprinkles
Mug for dipping
Spoon
Cooling rack or wax paper
We only made 5 pretzels (one for each of us in the family) because these things are so good, you will end up eating whatever you make. I used ¾ cup of white candy melts and ¼ cup of orange candy melts and had candy left over.
I melted the candy melts in a mug by putting them in the microwave for 1 minute at 40% power. Then I stirred the candy melts and microwaved them for another 30 seconds. I repeated the stirring and microwaving until the candy melts were completely melted.
If you are having a kid helper, make sure the mug is no longer hot to the touch before starting the next step. My daughter helped to dip the pretzel in the mug while I spooned some of the melted candy on top.
Shake off the excess melted candy into a bowl or back into the mug.
I must warn you, if you have helpers, they will take a sample.
I put the pretzels on a cooling rack to cool the candy. While it hardens, you can melt the orange candy melts (using the same method as before).
When the pretzels have hardened, it's time to drizzle on the orange melted candy. This can be done with a spoon and is honestly so easy, a child can do it. Make sure you cover the area under your work space with wax paper to catch the mess.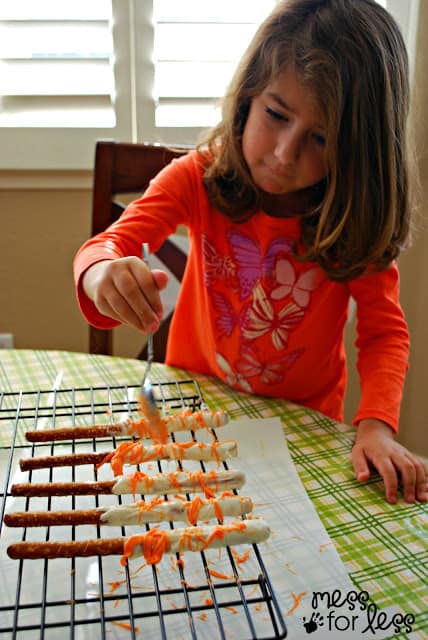 Now it is time to add your festive Fall sprinkles.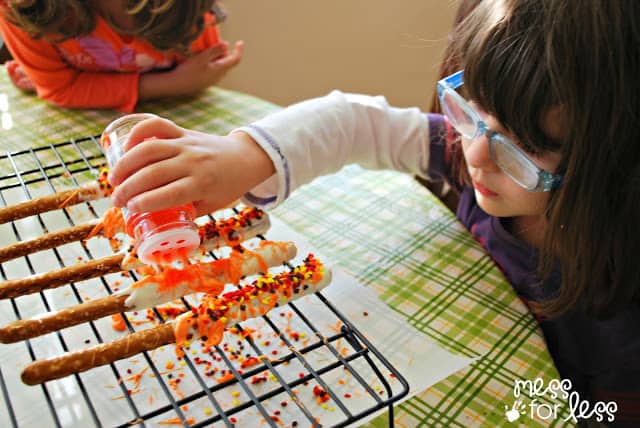 If your child is helping with this step, you will use A LOT of sprinkles.
Place the pretzels on a rack or wax paper to harden and then enjoy!
The kids loved their sweet Fall snack! You know they tasted even better because they helped to make them.
For more Fall Snack ideas check out: