The last few years I have made chocolate dipped pretzel rods to give as gifts. Recently, when my girls saw me making a batch, they wanted to help. If you've ever had kids helping you in the kitchen, you realize it's not really that helpful. But kids benefit so much from these kinds of hands-on experiences, so we gave it a try. Here are our surprisingly successful results. These make great gift ideas as do our Biscotti Bites.
Chocolate Dipped Pretzel Rods
Supplies you will need:
Milk Chocolate candy melts or chocolate chips
Pretzel rods
Mug for dipping
Spoon
Drying rack or wax paper
Tray for sprinkles
We only made 5 pretzels since I didn't want a bunch of these things around the house. I have enough food temptations around, thank you. I used about one third of the bag of candy melts and that was plenty. I had some extra melted chocolate at the end and just made some chocolate candies.
Since I wasn't making a bunch, I just melted the candy melts in the same mug we would use for dipping. One less thing to clean! I put them in the microwave for 1 minute at 40% power. I would then stir the candy melts and microwave for another 30 seconds. I repeated the stirring and microwaving until the chocolate was totally melted. Take care not to overheat the chocolate. Most times as you are stirring, it will melt to the correct consistency.
When the chocolate is melted, you can start dipping. This works best with a long, tall cup. I just used my mug and a spoon. My daughter ended up dipping a bit of the pretzel and then I helped scoop some chocolate on more of the pretzel with a spoon. After that, I would shake off the excess chocolate into a bowl or back into the mug. If you skip this step, when you go to put sprinkles on the pretzel, gobs of chocolate will fall off into your sprinkles.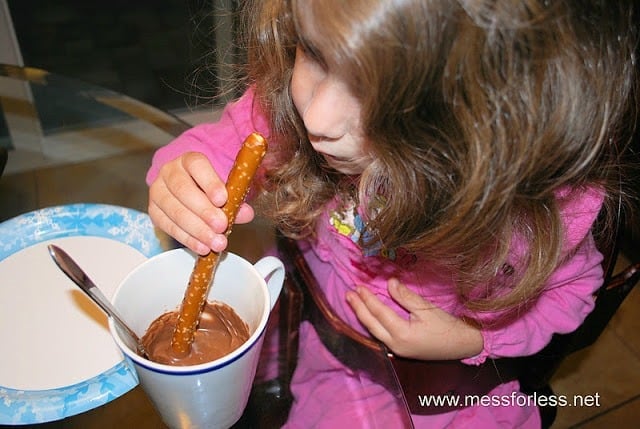 Some people like to cover almost the whole pretzel in chocolate, but I've gotta live with the these kids and I didn't want them on too much of a sugar high. Also, if you are giving these to young kids, you want them to have something to hold on to.
I poured some festive sprinkles in a tray and my daughter dipped her pretzel rod in the sprinkles while the chocolate was still melted.
All of my kids had a different dipping method.
While my youngest was waiting her turn, she took a bite from the top of her pretzel. She is not known for her self control.
Can you spot her pretzel?
We put them to dry on our drying rack. As the chocolate dries it gets harder and keeps all those yummy sprinkles on. There are lots of variations you can try with these pretzels. You can use white chocolate with crushed candy canes for peppermint bark pretzels or roll in M and M's or chopped nuts. The options are endless. This is a fun snack for kids and a great gift for everyone on your list.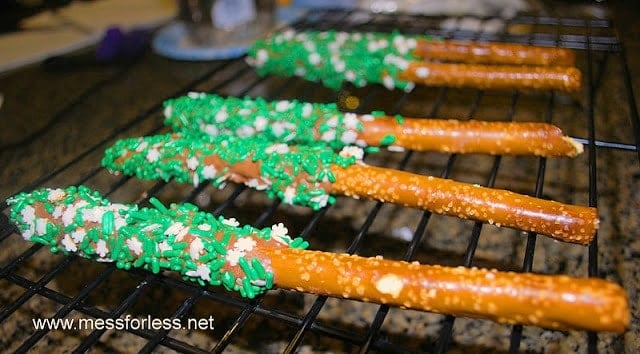 If you liked these chocolate dipped pretzel rods check out:
Peppermint Bark Bell Cookies