Peppermint bark is everywhere this time of year, and no wonder, it's easy to make and tastes great. However, many kids aren't that fond of the taste of peppermint. One of my kids in particular will not eat anything with a minty flavor. I was looking for an alternative to Peppermint Bark and found some cherry flavored candy canes. They were not only colorful, but they had a sweet cherry flavor that my kids loved. I decided to make
Candy Cane Bark
for my daughter to enjoy. It's great to serve at a party or package up in a tin for gift giving along with some
Candied Pecans
.
You will need:
Unwrap the candy canes and place a few in a zippered bag. For the amount of bark that we made, we used three candy canes. The next step is really fun for kids. Have them smash the bark into small pieces using a small hammer.
When smashing the candy canes, be sure to leave some large chunks as well as smaller pieces.
Place a piece of parchment paper onto a cookie sheet. Melt the chocolate chips in the microwave and pour into the parchment paper covered cookie sheet. Spread the chocolate in an even layer. It will not cover the entire pan. You just want to create a square or rectangle of chocolate.
Next, melt the white chocolate in the microwave. Pour it on top of the semi sweet chocolate.
Spread it over the chocolate layer evenly until the chocolate layer is covered.
Now it's time to sprinkle the candy cane pieces on the bark. The kids had lots of fun with this step. We also added some festive holiday sprinkles to the bark. Press the candy cane pieces and sprinkles into the bark a bit so they will not fall out when it hardens.
Doesn't it look pretty? We put the cookie sheet in the refrigerator so that the bark could harden. This took about an hour to completely harden.
Once it hardens, you can remove it from the parchment paper and break it into chunks.
This Candy Cane Bark is simple to make with kids and great for children who may not be fond of the taste of peppermint. It is so colorful and pretty and makes a great gift as well.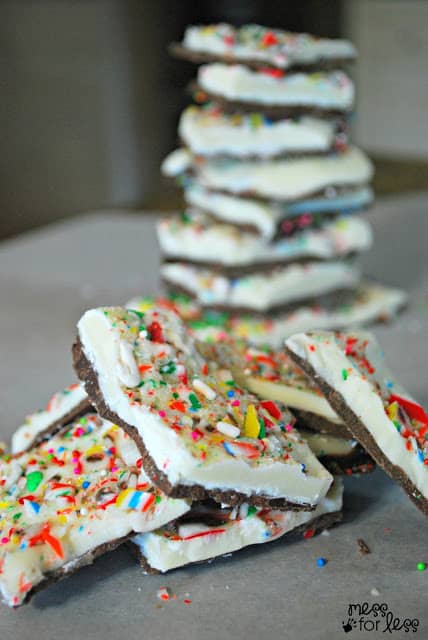 For more holiday treats check out:
Hot Cocoa Popcorn Balls Peppermint Bark Bell Cookies