Thanksgiving just has a way of sneaking up on us doesn't it? As I prepare for the holiday, I struggle with the guest list and the dinner menu. One thing I don't want to have to struggle with, is entertaining my kids as we prepare for the big day. So I've been looking for ways to keep them busy while creating some cute art in the process. This Paper Plate Turkey Craft for Kids is fun and not too complicated, so older kids can do it with minimal parental help. After all, you've got a dinner to plan!
Paper Plate Turkey Craft for Kids
You will need:
1 paper plate
1 coffee filter
Watercolor paints
Scissors
Glue
Googly eyes
Brown craft paint
To make this paper plate turkey crafts for kids, you will want to start by cutting a paper plate in half.
You will then paint that half of the paper plate with brown craft paint and set it aside to dry.
Now it's time to paint your coffee filter using your watercolor paint. Since the coffee filter absorbs a lot of the water and paint, you won't actually need a lot. Now is the time to get creative. Use whatever combination of colors you wish to make your turkey as colorful as possible.
When you're done painting the coffee filter, set it aside to dry.
When your coffee filter is dry, cut it in half and glue it to the brown paper plate half that you painted earlier. You will want to leave some of the brown edge of the plate showing.
Use the other half of the paper plate that you previously cut to make a head for the turkey. You can do this by tracing a glass onto the paper plate and then cutting it out.
Paint the circle with brown craft paint and set it aside to dry.
Cut out a small triangle beak and a wavy wattle using the remaining paper plate. Paint the triangle beak orange and the wattle red.
Once all the items are dry, it's time to assemble the turkey's face. Start by gluing the turkey head onto the center of the paper plate.
Next, glue on the beak and wattle.
Finally, it's time to add your googly eyes.
Now let your little gobbler dry completely. This paper plate turkey crafts for kids makes a great Thanksgiving project.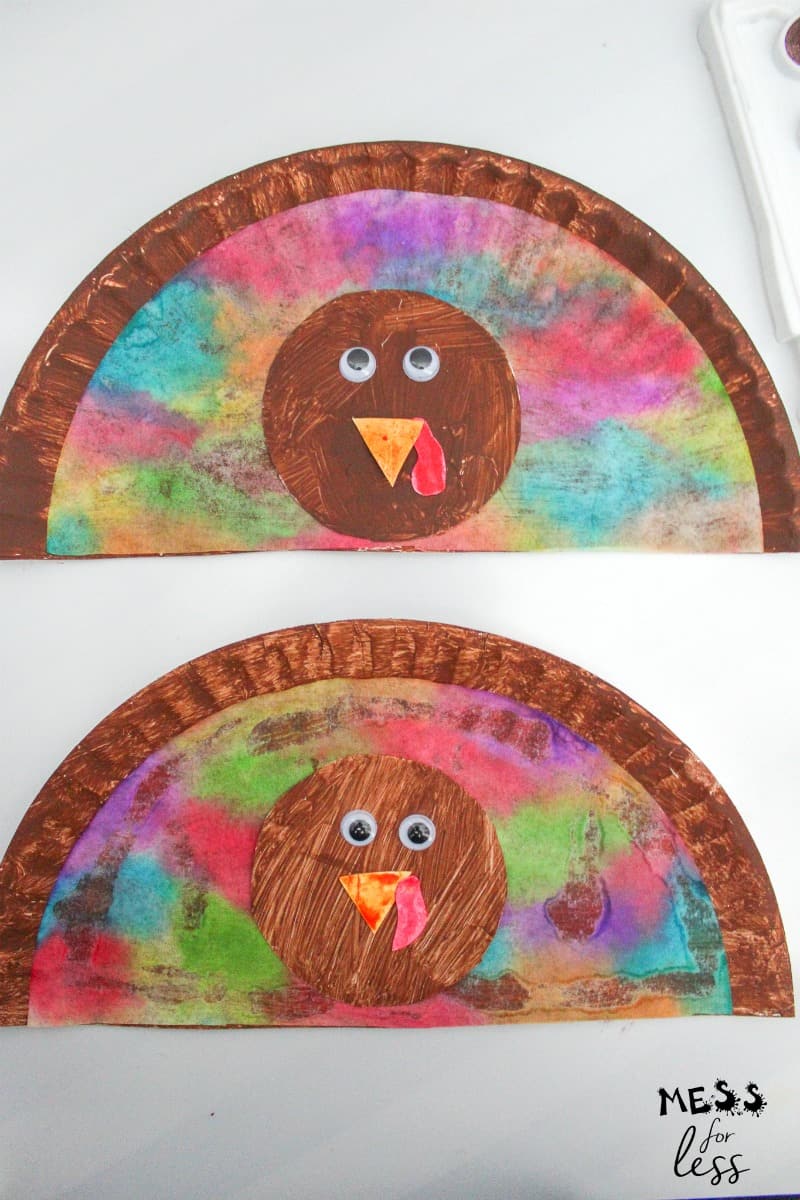 You can hang it up as is for a festive decoration, or add a name to it to make a fun place setting for your Thanksgiving table. We also had fun making this Doily Turkey from I Heart Crafty Things, which I encourage you to check out.
Try KiwiCo
Looking for more fun activities to do with your kids? I highly recommend KiwiCo, which you can enjoy no matter the weather. As a former teacher, I was really impressed with the quality of materials found in KiwiCo.
Some moms have told me that they want to do activities like I do on Mess For Less with their kids, but they just don't have to the time to go buy all the supplies and prepare them for the activity. KiwiCo is the perfect solution. Every month your KiwiCo will focus on a particular theme like Colors, Dinosaurs or Gardening. KiwiCo offer a variety of projects ranging from crafts, imaginative play, science experiments and more.
If you liked this Paper Plate Turkey Craft for Kids, you'll love:
How to Make Turkey Pudding Cups