Who doesn't love the Peanuts gang? If you are reading this, you probably grew up with the classic characters in comic strips and TV specials. They are part of our popular culture. It is cool to be able to pass something down to my kids that I grew up with. My kids love watching the Peanuts specials on TV each year, and this November they will have even more reason for excitement as The Peanuts Movie debuts. To help celebrate the movie's release and pay tribute to our favorite characters, we created this easy-to-make Peanuts Charlie Brown Pudding Snack. Thanks to Safeway for sponsoring this post.
To make this snack, we started with some Snack Pack Pudding which I found at Safeway. They have a variety of flavors, but I thought lemon and vanilla would work best for this snack.
Since Safeway is the official grocery partner of the Peanuts movie, they are offering two Peanuts themed trick or treat bags. These bags are sturdy and reusable, and most important to kids, hold a ton of candy. The bags are just adorable and feature your favorite Peanuts characters, who are all ready for Halloween.
They are available for a limited time in stores (while supplies last) when you purchase three participating items from the following brands:
Horizon Organics
Coke (Honest and Pure Leaf)
Nestle
Johnsonville
Ziploc
Johnson & Johnson
All
Tyson
Pop Secret
Snack Pack (ConAgra)
DPSG
Schwan's (Red Baron's)
Rich Products(sugar cookies and cakes in the deli)
ACH Foods/Spice Islands
Bertolli/Ragu
Kellogg's
Be sure to head to your local Albertson Safeway store and get your own Peanuts Trick or Treat bag and see The Peanuts Movie November 6th!
This Peanuts Charlie Brown Pudding Snack could not be easier to make. I will be showing you how to make two kinds of Charlie Brown pudding snacks. You will need a black Sharpie marker for both. If you decide to make the snack in the plastic cup, you will need a 4-5 inch high clear plastic cup as well.
Even if you are not an artist, you can draw a Charlie Brown face. I referred to a picture from a book for drawing mine. Trust me, I am no artist and I was able to draw this and have it be recognizable. As soon as my kids saw it they said "that's Charlie Brown!"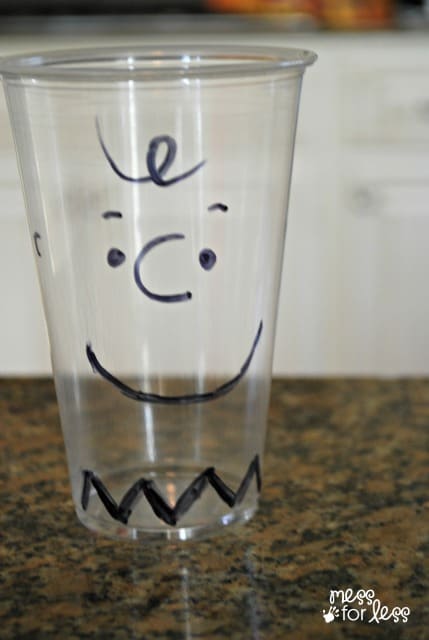 After you draw on the face and Charlie Brown's classic zig zag, you can fill it with pudding. I used almost one container of the Snack Pack Lemon Pudding for Charlie Brown's shirt. Then I scooped in the contents of two containers of Snack Pack Vanilla Pudding for his face. The vanilla works perfectly for Charlie Brown's face. I thought my Charlie Brown snack was quite clever until my husband mentioned that each cup contained a lot of pudding and kids might appreciate a smaller size.
So my husband's idea was to draw Charlie Brown's face on a vanilla pudding cup and his zig zag on a lemon pudding cup. Now I admit, this looks just as cute and was even easier than my idea. Score one for my husband!
I will leave it up to you to decide which you prefer.
These pudding snacks would be the perfect addition to a Halloween party or to celebrate the release of The Peanuts Movie on November 6th.
If you've taken your kids to the movies lately, you may have already seen the trailer to The Peanuts Movie. If you haven't seen it or want to see it again, you can check it out here and see the movie in theaters starting on Friday, November 6th, 2015. To help celebrate the movie release, Safeway a a trip to Snoopy's home in California or a Peanuts move themed XBox console and game.
This is a sponsored conversation written by me on behalf of Albertsons Safeway. The opinions and text are all mine.
DO YOUR KIDS LOVE COOKING?
I have long been a proponent of cooking with kids. There are so many things kids learn helping out in the kitchen. Math, reading, chemistry and cooperation and more are used while following a recipe.
​Raddish is a monthly subscription box for kids that is a cooking club, culinary lesson, and mealtime solution all-in-one. Young children get to work with an adult, while older kids and teens independently indulge their culinary curiosity! And it's perfect for picky eaters — kids who cook, eat!
​A new kit is delivered to your doorstep every month​!
Each kit features a new culinary theme! You'll also get a shopping list emailed to you prior to delivery so you will be ready to cook. These kits are a great way for kids to develop new cooking skills and confidence in the kitchen while the entire family builds memories together. Find out more here.