Do your kids love scratch art? If you are unfamiliar with scratch art, it uses multicolored boards that have been coated with black on top that can be easily scraped away. When you scrape away the black, you reveal vibrant colors underneath. You can make some really colorful images using scratch art paper. My kids love scratch art, but since the sheets are pretty expensive, we only buy them on rare occasions. But I discovered a way to make your own scratch art paper at a fraction of the cost! Kids can even use this method to make scratch art paper and personalize the colors underneath to be exactly what they want. For more vibrant art check out Foil Pouch Art and this Color Mixing Art Activity.
You will need:
White paper
Oil pastels in a variety of colors (make sure you have black)
When I was in elementary school, my art teacher would bring out oil pastels on special occasions. I was obsessed with these bold crayons that could be easily blended and I felt like a real artist when using them.
Making your own scratch paper is incredibly easy. Simply take a piece of white paper and draw stripes of bold colors using the vibrantly colored oil pastels. I have tried this making thin and thick stripes and each produces a different effect. Experiment!
When you are done, color over the whole thing with a black oil pastel. If you make a lot of these, you will use up most of your black. Just a warning. If you run out, you can buy only back oil pastels here.
Then just use a scratching stick to make designs and enjoy the vibrant colors underneath.
This project is simple enough for a child to do as well. My seven year old enjoyed choosing the colors for hers.
After she covered her colors with a black oil pastel, she started to write a special message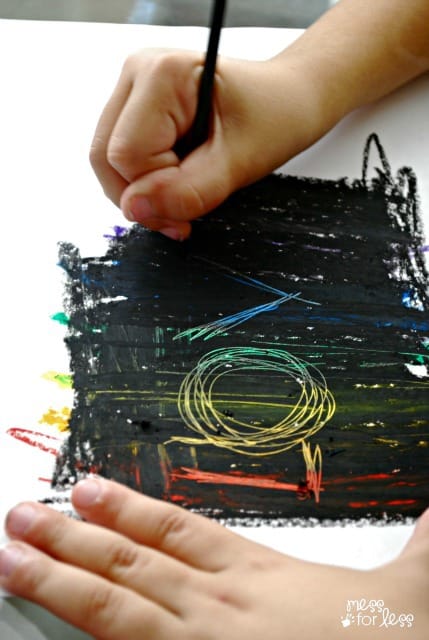 As you can imagine, it made me very happy!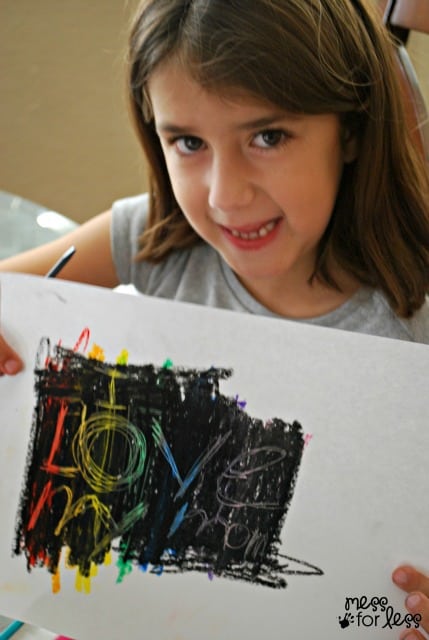 I am so happy to be able to make scratch art paper whenever we want and save money. That is a win-win in my book!
If you liked this make your own scratch paper activity, you'll love: