We have made art in some pretty unorthodox ways in the past, such as painting with rolling pins and making soap foam prints. One of our favorite unique ways to make art is by salt painting. If you have never tried salt painting before, it is a technique that uses something found in most households to create beautiful, textured art.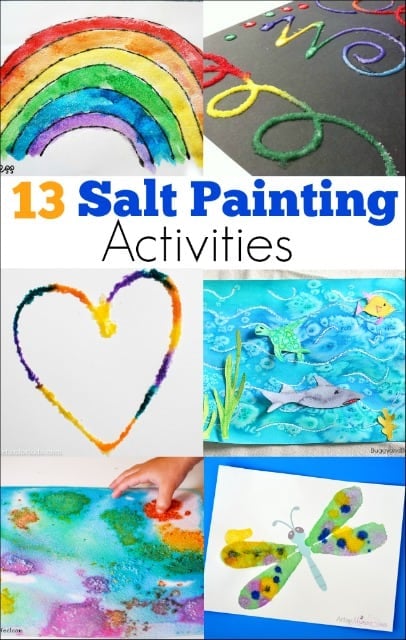 If you plan on trying salt painting with your kids, you'll need some basic supplies like glue, eye droppers, and liquid watercolors .
Salt Painting
1. Black Glue and Salt Watercolor Rainbow from Mess for Less
Have you ever painted with black glue before? Check out how easy it is to make and how it just makes salt painting come alive.
2. Raised Salt Painting from One Perfect Day
Doing this activity on black paper really makes it pop!
3. Salt Painting from Housing a Forest
I love the various designs made and the focus on the process.
4. Zoo Animal Salt Painting for Kids from Toddler Approved
Even little ones can enjoy salt painting with this fun giraffe craft.
5. Sticky Salt Painting from I Can Teach My Child
If you don't have a lot of time, this is the activity for you. Just two minutes of prep time needed!
6. Dripping Salt Painting from Mess for Less
With this activity, kids get to move and turn the paper to create art.
7. How to Do Salt Painting from Powerful Mothering
Kids paint using an eyedropper which helps to strengthen fine motor skills.
8. Colored Salt Painting for Kids from A Little Pinch of Perfect
Kids will love this textured art experience.
9. Painting on Salt and Glue from Simple Fun for Kids
Kids learn about absorption in this salt painting activity.
10. The Magic of Salt Painting from Artsy Momma
Get the templates to make a pretty butterfly and dragonfly using salt.
11. Ocean Art Project for Kids Using Watercolor and Salt from Buggy and Buddy
Combines salt art with a ocean theme.
12. Salt and Watercolors On Sticky Paper from What Do We Do All Day
Expand upon salt painting by making art prints.
13. Erupting Salt Art from Paging Fun Mums
Love the fizzy elements to this art project.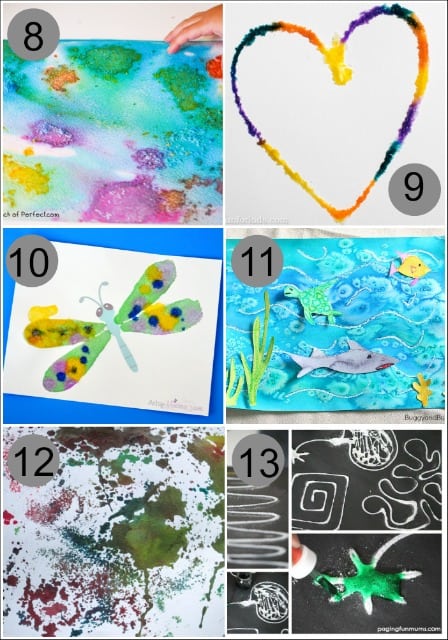 ENVIORNMENTALLY FRIENDLY KIDS CRAFTS?
If you are looking for more fun activities for kids, check out Green Kid Crafts, an earth friendly monthly craft subscription box for kids that sparks creativity while teaching kids a respect and love for the environment. These boxes are themed and each month will be filled with fun projects and creative activities that can be enjoyed by kids from ages 3-10.
Since Green Kid Crafts is an earth friendly company, they use sustainable, safe materials in all of their products. They also give a portion from each sale to environmental non-profits. Learn more about a monthly subscription of fun!