We have made art in some pretty unorthodox ways in the past, such as painting with rolling pins and making soap foam prints. One of our favorite unique ways to make art is by salt painting. If you have never tried salt painting before, it is a technique that uses something found in most households to create beautiful, textured art.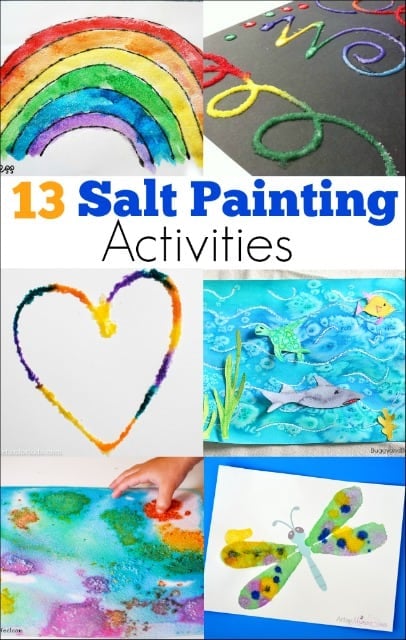 Jump to:
Why your kids will love Salt painting
Allows them to create textured, three dimensional art
Fun process art activity that doesn't take long to complete
Kids get to us a household item in a different, creative way
Supplies needed
If you plan on trying salt painting with your kids, you'll need some basic supplies like white glue, eye droppers, and liquid watercolors paint, water color paint, paintbrush, food coloring, salt.
Painting with Salt Activities
1. Black Glue and Salt Watercolor Rainbow from Mess for Less - Have you ever painted with black glue and watercolor paint before? Check out how easy it is to make and how it just makes salt painting come alive. This really is magic with a paint brush.
2. Firework Salt Painting from Busy Mommy Media - This firework salt painting art is ideal for a summer art project with your children! It generates a cool effect by using salt.
3. Salt Painting from Housing a Forest - I love the various designs made and the focus on the process. So much fun!
4. Zoo Animal Salt Painting for Kids from Toddler Approved - Even little ones can enjoy salt painting with this fun giraffe craft.
5. Sticky Salt Painting from I Can Teach My Child - If you don't have a lot of time, this is the activity for you. Just two minutes of prep time needed!
6. Dripping Salt Painting from Mess for Less - With this activity, kids get to move and turn the paper to create art.
7. How to Do Salt Painting from Powerful Mothering - Kids paint using an eyedropper which helps to strengthen fine motor skills.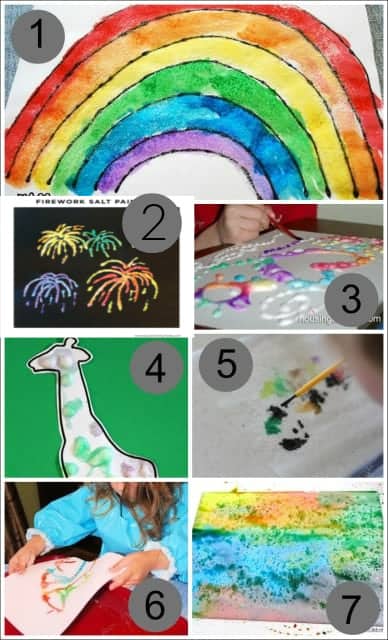 8. Colored Salt Painting for Kids from A Little Pinch of Perfect - Kids will love this textured art experience.
9. Painting on Salt and Glue from Simple Fun for Kids - Kids learn about absorption in this salt painting activity.
10. The Magic of Salt Painting from Artsy Momma - Get the templates to make a pretty butterfly and dragonfly using salt. Kids will love the texture on their art.
11. Ocean Art Project for Kids Using Watercolor and Salt from Buggy and Buddy -Combines salt art with a ocean theme.
12. Salt and Watercolors On Sticky Paper from What Do We Do All Day - Expand upon salt painting by making art prints in this watercolor salt painting activity.
13. Erupting Salt Art from Paging Fun Mums - Love the fizzy elements to this art project.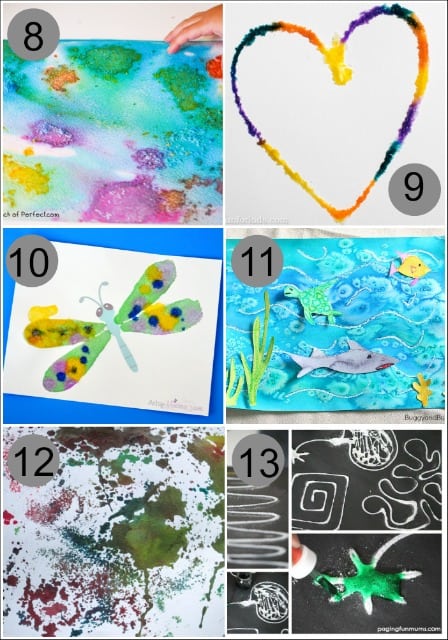 Got a crafty kid?
The folks at Annie's know crafting, so you know they have put together some amazing kits for your kids.
For girls:
The Creative Girls Club subscription box will get your girl's creative juices flowing. Girls get two kits each month full of crafting fun. Best of all, the crafting can be done with minimal adult supervision. While she is creating, she will be learning valuable skills such as painting, beading, stitching, paper crafting, and much more!
For boys and girls:
These Young Woodworkers Kits have everything your little builder needs to create crafts and toys they can enjoy, while learning important woodworking skills along the way. Your child's first three kits will include 5 kid-sized, high-quality tools they'll use again and again. A new woodworking project is delivered every four weeks, with a new and exciting skill to master. Each project teaches a new, real world skill that kids will use for years to come.
Related posts