Summer is coming and that fills some parents with terror. What will you do with your preschooler all summer? I have been there and I am sharing these 20 Summer Activities for Preschoolers that will save your sanity. There are lots of great ideas here to fill those long summer days! Since you'll be spending lots of times outdoors this summer, don't forget to pick up some of the best outdoor toys for summer.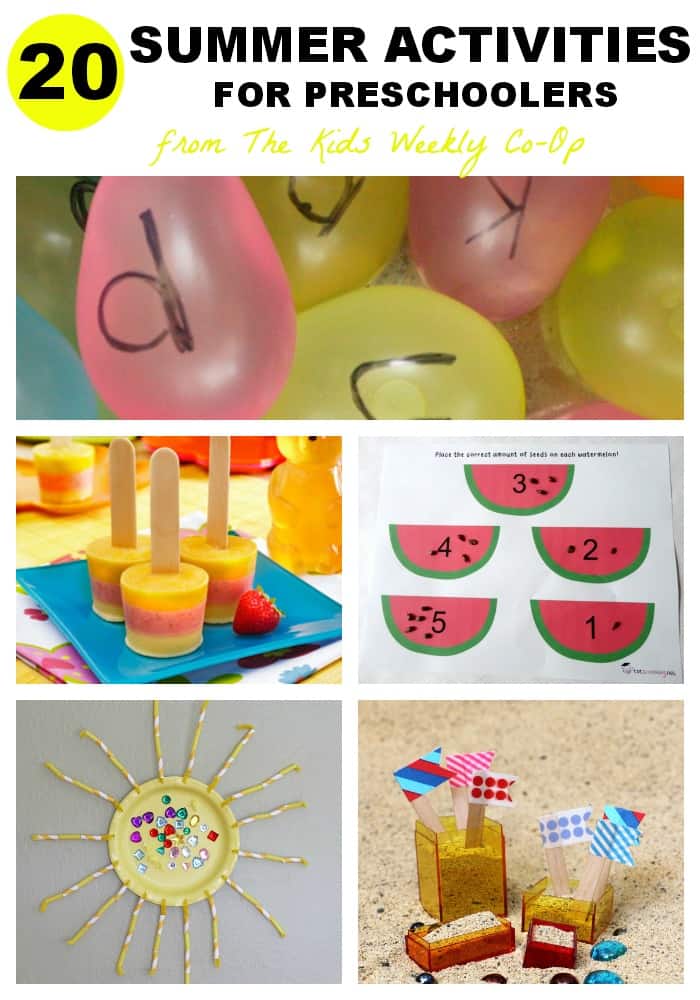 Many of our favorite summer activities involve paint and easel paper rolls so be sure you have some on hand.
Summer Activities for Preschoolers
Watermelon Seed Fine Motor Activities from Totschooling
If your kids love watermelon as much as mine do, they will have so much fun using watermelon seeds in new ways.
Fruity Frozen Yogurt Pops from Baby Bees House
These pops, made with yogurt and honey, are the perfect way to cool off this summer.
5 Ways to Help Your Child Develop Concentration this Summer from Living Montessori Now
Help prepare your child for a school experience in the Fall with these tips and be sure to check out Helping the Shy Child Prepare for Kindergarten..
20 Best Outdoor Toys for Summer from Mess for Less
Our most played with, most loved toys. These keep my kids busy and having fun for hours!
Outdoor Scavenger Hunt for Kids from Buggy and Buddy
This free printable will give you the chance to get out with your kids and search and sketch.
Water Balloon Name Game from Fantastic Fun and Learning
Nothing says "summer fun" like water balloons. I love how this activity combines that fun with learning to spell your name.
Quick n' Easy Giant Paper Pinwheels from Kids Activities Blog
You can make these yourself and even customize the paper used! These would be great for a summer party!
10 Water Activities, No Pool Required from Teachers of Good Things
You don't need a pool to have fun this summer. These fun water activities will make a splash with your kids!
Swatting Bubbles from My Nearest and Dearest
Kids can burn off so much energy with a fly swatter and bubbles. You will love this frugal activity!
Creating a Butterfly Snack from Rubber Boots and Elf Shoes
My kids love looking for butterflies in the summer. If you have a butterfly lover as well, they will enjoy this healthy snack.
Fine Motor Sun Craft from Buggy and Buddy
Here comes the sun! Celebrate the warm days with this adorable craft that doubles as a fine motor activity.
Summer Pom Pom Tree from Play Trains
I just love this pipe cleaner tree! Kids will have so much fun adding the pom pom leaves.
Travel Friendly Mini Sandcastle Kit from Play Trains
The cute kit is self contained and will provide your child with everything they need to make sandcastles. The best part is its small size. Perfect for trips to the beach or park.
Summer Reading Resources from B-Inspired Mama
Printables, scavenger hunts, crafts and more that inspire reading.
Summer Playdough Mats from Totschooling
Print these out and extend your playdough play. I just love free printables!
Best Summer Activities for Kids Under 5 Years Old from Powerful Mothering
Simple ideas to fill your summer days. The perfect solution for when kids say, "I'm bored!"
The Ultimate Guide for Summer Fun with Kids from KC Edventures
Ideas to keep kids active both at home and on the road.
I SPY GAMES FOR SUMMER
Have kids keep their skills up this summer with these printable I Spy Games for Kids. They will love these printable I Spy games. They will look and find each item and then write down how many of each item they find. These worksheets help with visual discrimination, writing and counting skills. You can find these printables at my Etsy shop.
If you enjoyed these summer activities for preschoolers, you'll love these:
Summer Art Activities for Kids