When I taught preschool, one of the ways that we painted with the kids was by adhering bubble wrap to a rolling pin. I have posted on how easy this is to do in Painting with Rolling Pins and Bubble Wrap. In the past, we used small kid sized rolling pins and small paper. Today, we worked on making some big art with easel paper and an adult sized rolling pin. They are not just for dough! To add some interest, I cut the bubble wrap into strips before sticking it to the rolling pin. This made such fun patterns!
You will need:
Rolling pin
Bubble wrap
Tape
Scissors
Tray
Whenever I get a package with bubble wrap I am sure to save it because there are so many fun things you can do with it. For this kids painting activity I used the same black bubble wrap we used for Painting on Black Bubble Wrap. You can use whatever bubble wrap you have on hand. In the supply photo above I even show larger sized bubble wrap.
The first thing you need to do is cut strips of bubble wrap to go around the length of the rolling part of the rolling pin. Attach them to the rolling pin using tape. I made sure to use the tape on the underside of the bubble wrap so it would not interfere with the paint.
In a tray, I squirted some paint colors to line up with the placement of the bubble wrap on the the rolling pin.
The kids rolled the pin through the paint a few times to get the paint evenly distributed.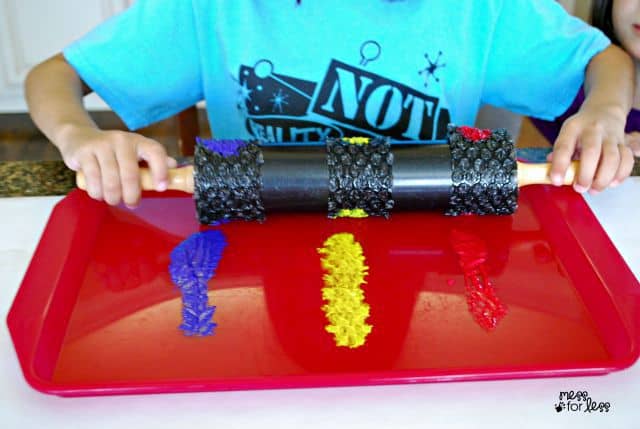 I taped some easel paper on our counter and we rolled the rolling pin on the paper to create some beautiful patterns.
We experimented with changing up the direction of the stripes. My daughter thought it looked like a tic tac toe board!
This was the result as we went over it a few more times with paint. In between each new roll, my kids dipped their roller back into the paint tray. I just love the effect when the colors mix!
If you plan to do this with a lot of different colors, pre-cut the bubble wrap strips to make it easier to switch between colors.
For more kids painting activities check out: