Normally when I share a kids activity with you, I have photos of the supplies you will need along with photos of each step of the activity. That will not be the case today since my kids came up with this balloon zip line all by themselves and by the time I noticed it (yup, I was cooking or cleaning or some sort of thing) they were at the end. I will share how they created the activity and what you will need to do the same with your kids, but there won't be any photos of the process. I do however have plenty of photos of the fun that occurs when you make a balloon zip line and perform balloon experiments.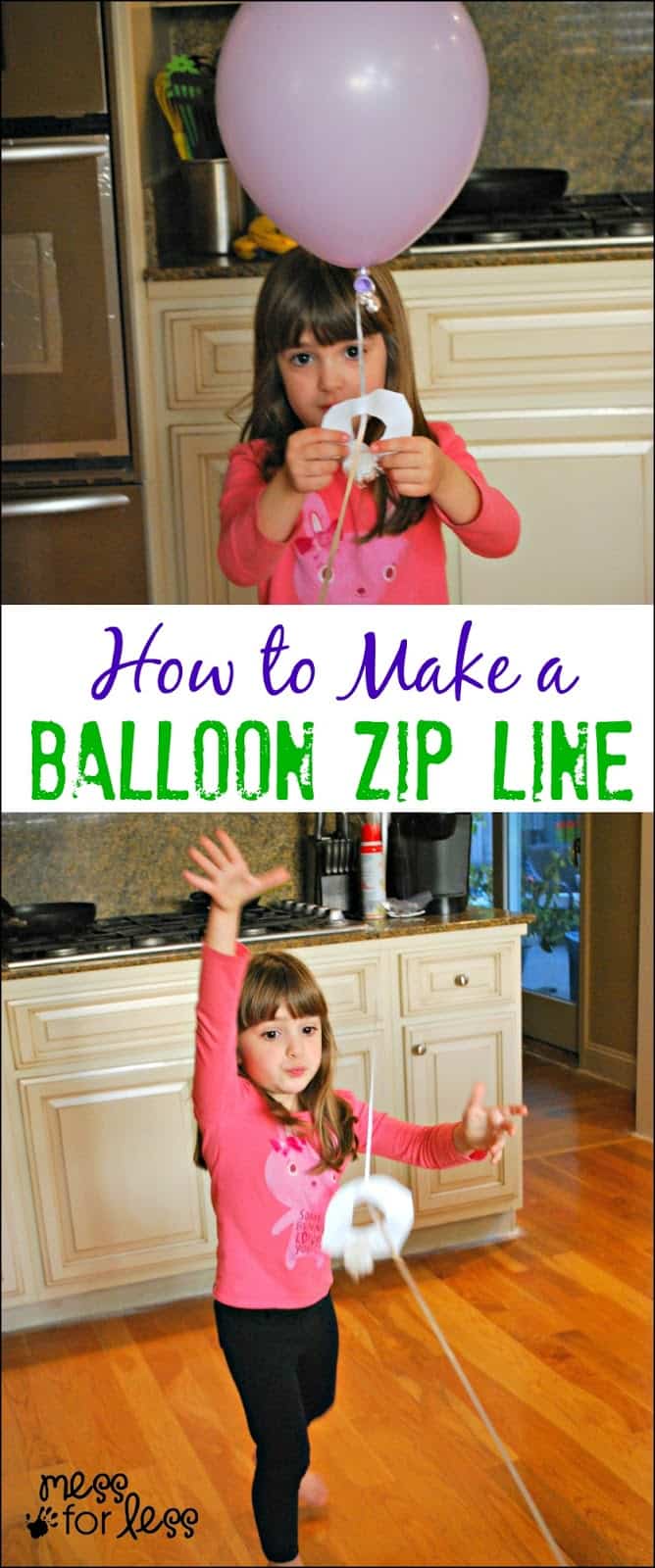 Make a Balloon Zip Line
You will need:
We had gone to a birthday party earlier in the day and the kids got to take home some helium balloons. They usually keep themselves pretty occupied with balloons so it was no surprise when I saw they had rigged something up in the kitchen. Little did I know they were trying to make a balloon zip line!
They started out by cutting a donut shape out of some paper and stringing it through the end of the balloon string. They then tied the end of the string to a chair and pulled back the paper. They were hoping the paper would slide down the string but the helium carried the balloon and the paper up.
My 6 year old figured out that the paper needed to be heavier, so she made a ball out of plastic wrap and attached it to the paper donut with tape. That worked!
My daughter stood back so that the string on the balloon was extended and pulled the weighted paper circle up towards the balloon.
To make the zip line work, all they had to do was release the weighted paper circle.
The helium in the balloon caused the paper circle to rise and the weight on it caused it to slide down the string.
I was so pleased watching the kids experimenting and tinkering until they got their zip line to work.
Up next, zip line races!
Next time your kids bring a helium balloon home, encourage them to experiment with it. I bet you'll be surprised with what they come up with!
Easy experiments are fun for kids and simple for parents. The Spangler Science Club delivers awesome hands-on science to your door every month.
Did you like this make a zip line activity? You'll enjoy these other activities using balloons.
How Many Balloons Can Lift a Bag?