Do your kids love to pretend and make believe? When I taught Kindergarten, the dramatic play center was on of the most popular parts of the classroom and with good reasons. Kids could go in there and transform into a fire fighter, teacher, builder or anything they could dream up. Pretend play ideas help kids develop social and emotional skills and language skills. Best of all, they get to use their imagination while doing so. Setting up a pretend play activity can be intimidating, but it doesn't need to be. Here are some easy pretend play ideas to try with your child.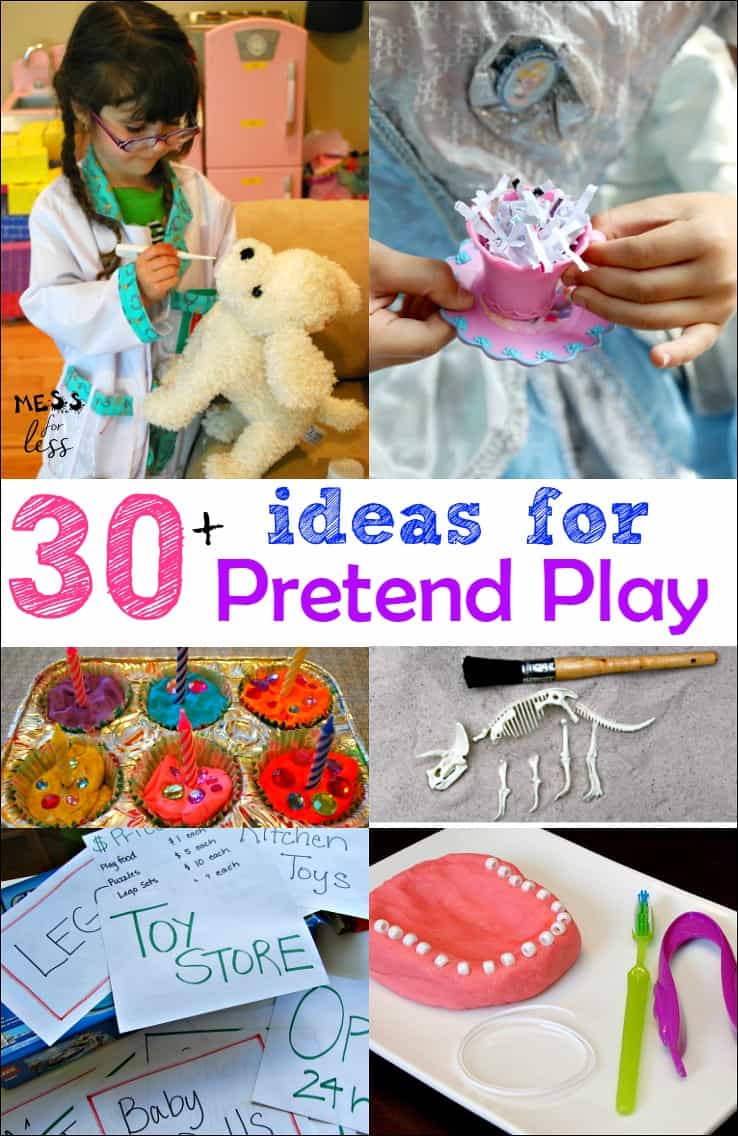 Pretend Play Ideas - Cooking and Food
Birthday Party Playdough from Mess for Less
Pretend Cooking with Real Food Scraps from Learn Play Imagine
Coffee Shop Pretend Play from Happy Hooligans
Ice Cream Pretend Play from Adventures of Adam at Frogs, Snails and Puppy Dog Tails
Picnic Pretend Play from Uno Zwei Tutu
Pretend Play Tea Parties from Housing a Forest
Pretend Play Grocery Shopping from Darcy and Brian
Pretend Play Ideas - Sensory
Penguin Sensory Bin and Small World Play from Learn Play Imagine
Pretend Play Perfume Factory from Happy Hooligans
Giant Frog Pond World from Fun at Home with Kids
Under the Sea Pretend Play from Powerful Mothering
Outdoors Small World Pretend Play from Sugar Aunts
Pretend Play Ideas - Professions
Vet's Office with Free Printable from Mess for Less
Astronaut Pretend Play and Study of the Moon from Train up a Child
Hair and Beauty Salon Pretend Play from Imagination Soup
Library Pretend Play from The Pleasantest Thing
Dentist Play Dough Pretend Play from Fantastic Fun and Learning
Pretend Play Toy Store form No Time for Flashcards
Astronaut Pretend Play from My Mundane and Miraculous Life
Pretend Play Hair Salon from Childhood 101
Archaeologist Pretend Play from Happy Brown House
Post Office Dramatic Play from Buggy and Buddy
Space Pretend Play from You Clever Monkey
Pretend Play Ideas - Life Experiences
Pretend Elevator from Housing a Forest
Zoo Keeper Pretend Play from 123 Homeschool for Me
Pretend Play Dog Park from A Mom with a Lesson Plan
Movie Theater Pretend Play from Research Parent
Laundry Day Pretend Play from Happy Hooligans
Road Construction Pretend Play from Still Playing School
Birthday Party Pretend Play from Kids Activities Blog
Camping Pretend Play from Where Imagination Grows
Pretend Play Garden from Pre-K Pages

Bird Bath Pretend Play from My Nearest and Dearest
As you can see, creating pretend play opportunities for kids can be pretty simple and fun!
If you enjoyed these activities be sure to check out these fun ways to play with kids: