I just love this time of year! The weather is warming and flowers are blooming. Just taking a walk outside and seeing all the new life emerging really inspires me. I am hoping to inspire you today with some fun and beautiful Flower Activities for Kids. What a way to celebrate a new season! If it's still cold in your neck of the woods, hopefully these ideas will give you something to look forward to. As soon as we finish making some Coffee Filter Flowers we will be trying some of these other activities.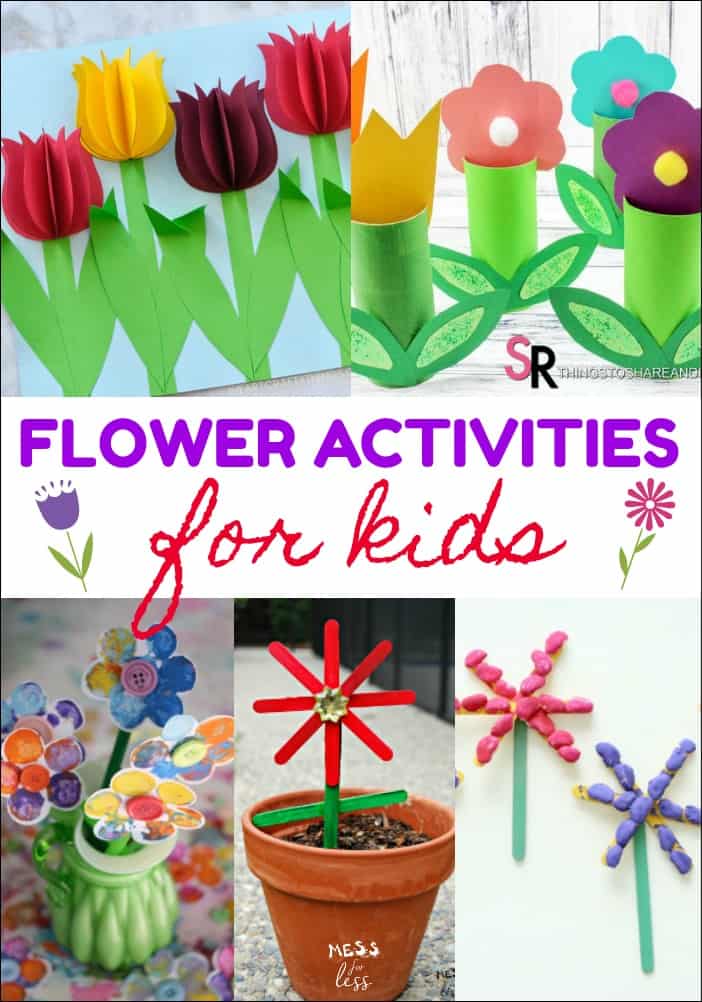 If your kids love flowers as much as mine do, don't feel limited by these crafts and activities. Get outside with your child and do some planting of Wildflowers. You don't need a lot of space, in fact, a flower pot will do perfectly. You can also take a shortcut (no shame in that) with this kids gardening kit. Before you know it, you'll be surrounded by actual blooms and raising little gardeners!
Flower Activities for Kids
Making Sponge Flowers from Mess for Less - You can create a whole field of flowers with a large art pad, some paint and...sponges.
Spring Flowers Hand Print Art from Homeschooling Mom 4 Two - If you enjoy your coffee and have extra filters around the house, then this spring hand print art would be the perfect way to put them to use.
Stamped Flower Craft from Happy Hooligans - Looking for some good fine motor skill practice that results in an adorable craft that can be displayed as spring decor? Look no further than this cork and button craft.
Stained Glass Flower Craft from Pink Stripey Socks - Stained glass activities are fun and stretch the imagination as a wonderful process art experience.
Spring Flower Activities from Fantastic Fun and Learning - If you're looking for some fun ways to celebrate spring, this is a great starting place! Lots of creative ideas and even fun snacks to celebrate!
Popsicle Stick Flowers from Mess for Less - This fun summer craft is a great way to reuse Popsicle sticks. Stick them in a pot outdoors for an easy decoration!
Textured Tissue Paper Flowers from Buggy and Buddy - Children will love the process and the fuzzy texture of these tissue paper flowers! They can be customized with any colors.
Water Bead and Flower Sensory Bin from Where Imagination Grows - Maybe the weather is not yet cooperating where you are and it's not warm enough to get outside and celebrate spring, but with this water bead and and flower sensory bin, bring the festivities inside!
Bottle Print Flowers from Mess for Less - Looking for an art craft that is simple but fun? This one only requires a few items but turns out looking just as fantastic as the more involved activities.
Spring Flower Sensory Bottle from Kids Craft Room - Bring spring inside for your little ones to enjoy with this flower sensory bottle!
Craft Stick Spring Flower Craft from Fantastic Fun and Learning - Such a fun 3D flower craft to bring in spring!
Paper Roll Spring Flower Craft from Things to Share and Remember - If your kids are into the 3D type crafts, here's another one to try - it is a little more complex but turns out looking so cute!
Paper Tulip Flower Craftfrom iHeart Crafty Things - Tulips are such a beautiful indicator of spring and this tulip flower craft is a beautiful way to decorate your house and it will last longer than those tulips outside!
Fingerprint Flower Counting from Mess for Less - What can be more fun than incorporating finger painting and counting?! If you are looking for flower activities for kids that incorporate learning, this is a great one.
If you love these flower activities for kids, check out:
Tissue Paper Flower Art Activity